Up your firepower with a selection of the best rifles
The varmint hunting crowd is not very interested in muzzleloaders, but that's about to change. Four years ago, a guy named Randy Johnson was hunting prairie dogs with the folks at H.S. Precision of Rapid City, South Dakota. He ran out of targets because a local plague had thinned out the grass rats. H.S. contacted me and I got the Johnson team on some dogs. On that hunt, I was introduced to a bolt-action, large-ring Mauser. It retained a .50-caliber rifled barrel, full shorter-style stock, and a varmint Pentax scope with the ring design. With a series of projectile elevation rings, the .50-cal could shoot a 300 grain or better slug out to 400 yards. Yes, folks, a muzzleloader system that accurately could pound rats 400 yards away. Easily one of the best rifles.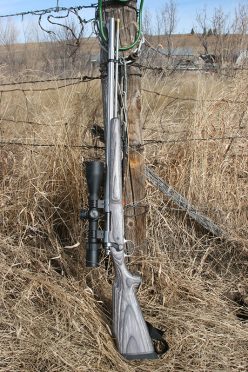 Part bolt-action, all-powerful
I was skeptical about the whole deal. They informed me which sight ring of the Pentax glass I should use when I got to the bench rest. Moments later, I was on target. I promptly set off four sticks of Triple 7 propellant (double the normal muzzleloader charge). At 200 yards, I destroyed both the "dog" and the forward edge of his lodge. The 300 grains of copper and lead cut a trench up to the dog, then blasted it with sand, rock and bullet fragments.
After reloading, I was told to pull two more rings in elevation and shoot for the red rock about the size of an elk's vitals at 400 yards. The shot sent gray dust flying from the rock and left a red and white hole about where an animal's heart would be. Needless to say, I was impressed. That was my introduction to Johnston's Big Super .50-cal muzzleloader. For the next two days, I took part in some amazing shooting with a charcoal burner on dogs.
Last year, Remington Arms invited me to hunt whitetails back in my home state of Minnesota. A team of eight hunters–including Remington engineers and other writers–was turned loose on Kruger Farms, a game operation near Starbuck. Gun towers covered several sections of land. We all wanted to see if someone could send a big, 250-grain, .50-cal bullet into a trophy buck. The gun was a brand new Remington Ultimate Muzzleloader.  The gun was licensed from Mr. Johnston and based on his design. I had now come full circle with the Ultimate 50.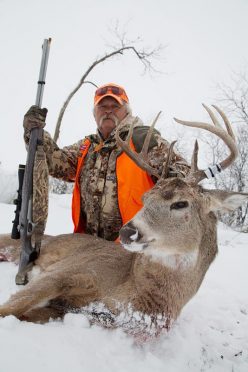 The Remington muzzleloader is based on the Model 700 bolt-action receiver and mounts a fluted, stainless-steel barrel that pushes a 250-grain Barnes copper bullet at 2,400 f.p.s.. The rifle's UML ignition system uses a cut-down .308 case primed with a magnum primer to blast through a flash hole and set off the massive, 200-grain powder charge. The gun features an X-Mark Pro externally adjustable trigger from 2.5 through 5 pounds. The whole system, with good glass, is a tack driver. Quite a long way away from a primitive weapon. As for field effectiveness regarding the big .50-cal, I currently hold the long-range record at Kruger Farms for a 200-yard shot. The 200-pound, 4 X 5 whitetail buck was dead on its feet. Even at -20 degrees F, the Remington Ultimate Muzzleloader functioned perfectly.
Chassis rifles and Howa firearms manufacturing go back quite a ways. After hauling around my Weatherby Vanguard Back Country in .257 Weatherby Magnum for almost ever, I can vouch that the basic Howa production quality is also applied to my Weatherby. The folks at Howa, in effect, build Weatherbys. Trust me, Howa is a top-end barreled-action design worthy of respect among shooters.
I am no stranger to chassis rifles and their ultra-high performance at long range. In fact, I'm writing my fourth book on the subject of long-range, high-performance rifles. Have no doubt, this design has completely changed the quest for rifle accuracy within the past 10 years. Everyone who is anyone now offers a chassis rifle as a better-grade, more-accurate option.
The all-metal advantage
The Howa-designed HCR chassis rifle is an example of the all-metal rifle versus conventional products with stocks. Long-range shooters learned long ago that marrying a barreled action to a rifle stock system with a solid bolt-to-frame linkup delivers consistent, accurate results. The bottom line is that the total system won't change the impact point of bullets, as some standard wood- and plastic-stocked designs do. In terms of accuracy, the all-metal chassis rifle takes the cake as one of the best rifles of 2017.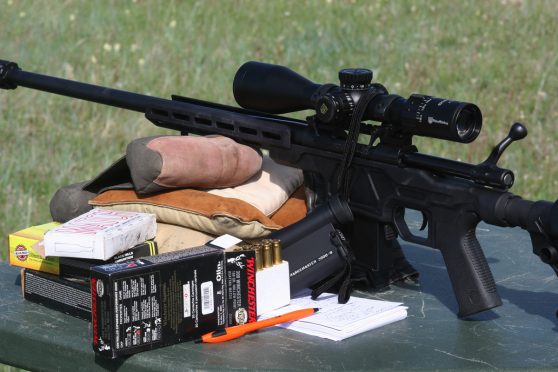 Howa Chassis rifle
The rifle sent to me by Legacy Sports/Howa, had a medium-heavy barrel (.880). It also came with a threaded muzzle and steel cap installed as a suppressor-ready system. It was chambered in .308 Winchester and is also available in .223 Rem, .243 Winchester, and 6.5 Creedmoor. The .308 Winchester had a 24-inch barrel with a 1-10 twist (right hand). This one and the 6.5 Creedmoor, have a longer, 26-inch barrel available.
The receiver of the chassis rifle is built from the basic Howa Model 1500, and a CNC-machined steel block. As a "short action" throw, this push-feed, twin-lug bolt travels 4.54 inches. Howa changes the bolt travel length based on cartridge length. Receiver controls consisted of a left side bolt release that is easy to use, and a sliding thumb safety on the rear, right side. The 10-round AI-style Accurate Mag box is coated to function smoothly.
built to be the best
The fore-end and receiver base housing is 6061-T6 aluminum, a special blend for strength and durability. This complete chassis is built by Accurate-Mag with a free-floating M-LOK mounting system. The outstanding quality of a chassis rifle is its barrel, which stands alone down the fore-end tube, attached only to the receiver ring itself. The butt stock is AR-styled with full length-of-pull and comb adjustments. This system is from LUTH-AR MBA-3, and has six adjustments for length. The chassis stock is also adaptable with add-on AR-type accessories. The rifle could be used for competitive shooting, varmint applications, or informal long-range steel. It can become exactly what the shooter desires.
The trigger on this rifle is a two-stage system. My Timney trigger scale measured its let-off at 2 pounds, 9 ounces. The trigger is very smooth with a clean, sharp let-off.
My test rifle retained a set of high rings and bases that locked onto a 20 m.o.a. angled Weaver-style rail. The scope was a Nikko Stirling Diamond Long Range, which had a 4-16X50 optic with m.o.a. graduations on a large volume turret setup. With four m.o.a available off the reticule directly, the second focal plane system was, without question, set up for direct turret elevation applications. It was evident that this rifle was set up for long-range applications. Suggested retail price is under $1,600.
Best hunting rifle: A good gun for a big buck
He was a good buck for the Black Hills of South Dakota. I had drawn a rifle tag, but decided to take the new Traditions Mountain Hawken afield. What better way was there to field test a muzzleloader than to take on this nice 4X4 whitetail. The deer came up from behind where I sat in my 18-foot ladder stand. I had complete stealth conditions setting up for the shot. I eased back the large .50-caliber's hammer, then aligned the deer's neck with the partridge-style open sights. The buck pushed past me at about 45 yards, then hesitated when it saw my life-size Flambeau buck deer decoy. I dropped about 2 pounds off the big rifle's rear set trigger. The 100 grains of Pyrodex burned, and the heavy, 250-grain SST-ML Hornady sabot-housed bullet crashed into the buck's neck, sending him sprawling.
"No tracking here," I muttered to myself as the smoke cleared  from around the big pine I was sitting in. I was shooting less than 100 yards away from a deep canyon we commonly call "The Dragon's Nest." It's almost impregnable with its twisted dog wood, windfall pine, and heavy brush. I took a chance shooting this new muzzleloader on a big whitetail so near this problem area. But I had no worries. I understood exactly what I had been seeing during some pre-hunt practice shooting of the new Traditions charcoal burner during the previous week.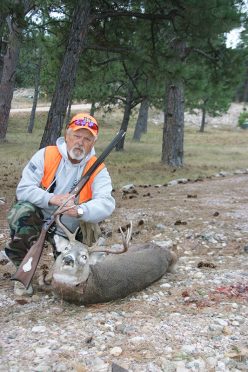 One shot was all L.P. Brezny needed to drop this buck at 45 yards, thanks in part to the New Traditions Mountain Hawken–one of the best rifles of 2017.
Leading loads
Since I was burning my first rifle buck tag drawn in the hills in over three years, I built a load around the Hornady 250-grain, low-drag SST sabot-launched bullet. The bottom line here is that I trust Hornady. Running Traditions' wet patch bore lubrication ahead of the bullet, I was ready to fire. The first charge of 100-grain Pyrodex set off by a CCI cap drilled an illustrated whitetail target in the heart at 50 yards. Seldom, if ever, do I get everything to line up that correctly when starting out with a new gun and a new load system. Two additional rounds then produced a solid three-inch cluster of impact holes. For high elevation tree stand hunting over my Flambeau deer decoy, I was already good to go.
Classic look, packs a punch
Priced at $519.99 retail, the new Traditions Mountain Hawken is a lot of classic muzzleloader for the money. Designed with a 1-48 twist, 31-inch barrel, the gun shoots both patched ball and modern conical bullets. Weighing 8.25 pounds loaded, the rifle is a bit muzzle-heavy with its extended, longer-range mountain barrel. I liked the balance and general feel of the gun a whole lot. Steady the barrel against a solid tree trunk, and you're good to 100 yards all day long. Stock construction is a classic Hawken design with octagonal browned barrel and flat iron-color hardware. I put my primer caps in the well done patch box inlet on the butt stock. This includes wood to metal fit at the receiver, as well. The double set triggers make for additional accuracy. All of this is set along a nicely finished, case-hardened sidelock plate.
In conclusion, I have a late-season muzzleloader any-deer tag. When hunting from high in the pines, the Mountain Hawken .50, and Hornady bullets will get the call for sure. Not only does this rifle look the part, it brings the punch, making it easily one of the best rifles.
Notes
L.P. Brezny has worked in research and development across the shooting industry for 37 years. He has developed and marketed systems for 12 gauges, designed ammunition for Winchester and Federal Cartridge, designed separator quiet slugs, shotshells and one-choke do-it-all systems. Brezny was the first ballistics writer to measure shotgun pellets in flight to ranges as great as 100 yards. He has published three books on shooting (Gun Digest Books), and is completing a fourth on long-range rifles.
You can be among the first to get the latest info on where to go, what to use and how to use it!
---

Writing on outdoor subjects for over 40 years, L.P. Brezny has written four books on shotgun and rifle (ballistics and performance). He's an expert at smoothbore, and high-power, ultra-long-range shooting. He's a specialist, producing reviews covering general products used in the outdoors industry.
All author posts
---