ATI/GSG Hits Bullseye with M1911 and Firefly
M1911: history in your hands
People who follow the Shoot 'N' Plink columns and videos know my passion for Browning semi-automatic pistols and my 1911-22 and Buck Mark. So, when American Tactical/German Sports Guns offered to let me try the Firefly for a second time, and the M1911 in .22 caliber, it was going to take a lot to win me over.
I decided to keep an open mind on the two pistols, even though I wasn't completely impressed with the Firefly on the first go around. Once they arrived, it was love at first sight. The quality of the Firefly had improved immensely. It looked like the SIG Mosquito, which was the original model manufactured by GSG. As for the M1911, it looked like it would be great. However, the proof would be in the actual use of both.
New Firefly
This second one was a tan model. I prefer black, but tried to keep that out of my mind and focus on the pistol's overall quality. Design-wise it has everything thing a person wants. It has an easy slide action, single/double action, slide release, easy operating safety, de-cocking lever, a quick teardown lever, adjustable rear sight for windage, three front sight posts (tall, medium and short), yellow dot sights, two slide springs (high velocity for above 1200 fps; low velocity for below 1200 fps), and an easy loading magazine for 10 rounds of .22-caliber ammo.
My setup was to use the medium front sight, which is factory installed. I recommend using this, if at all possible, as changing to one of the others will raise or lower the spot of impact by around 7.5 inches. It did not have to be changed, but the rear sight did need a slight adjustment.
Brass down the barrel
Ammunition was mainly CCI Mini Mag, CCI Standard and Federal HV Match and HV Hunter, with some Remington Thunderbolt. The Mini Mag preformed about the best. I couldn't see a difference in the springs. Perhaps there was a mix up in this test model. The lower velocity is supposed to be marked with white, and neither had white. This was not a big deal, as it still shot nicely.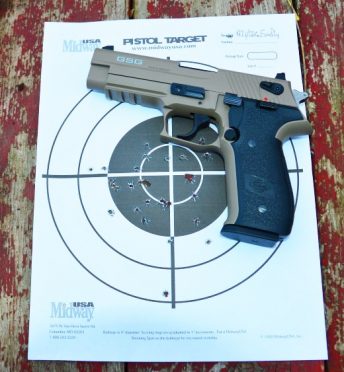 Heavy haul trigger
Shooting was great, but best in single action. Pulling the trigger for double action was a bit difficult, as the trigger pull was extremely heavy. I allowed two Scott County Conservation rangers to try it. They said the same. This was the only negative, but a big one if it was for a smaller person with less hand strength, and they wanted to use the double action.
The reach for the de-cocking lever is slightly difficult, but manageable with a slight canting of the gun to use the thumb to engage the lever. No huge minus for that. All in all, I would give the Firefly a strong 4 stars, and a full 5 stars for the improved quality.
Are you enjoying this post?
You can be among the first to get the latest info on where to go, what to use and how to use it!
M1911
This pistol strongly impressed me. The M1911 is like a full-size 1911 .45-caliber in dimensions and weight. Even most parts are interchangeable with a regular 1911. It has yellow dot sights, adjustable rear sight for windage, three front sight posts (short, medium and tall), lever safety, grip safety, slide lock, easy loading 10-round .22 caliber magazine and normal 1911 teardown. My unit had nice walnut grips.
As with the Firefly, I would recommend staying with the medium front sight. It worked great with that sight. The rear sight never had to be touched for adjustment. It is the first semi-automatic pistol I've held that did not need to be adjusted, hitting the mark right out of the box. Several rounds fell into a 4-inch area, with a lot of those hitting within a 2-inch area. Later, I fired at another target and drilled out the center area with a tight grouping.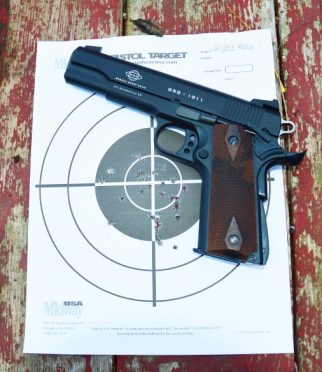 Leading lead
Ammunition used was primarily CCI Mini Mag and Federal HV Match. This pistol definitely needs higher-velocity ammo to get it to cycle properly. The only problem encountered was with the magazine. Fully loaded, it would not fully insert unless given a harder tap than needed when empty. A couple of times it was not inserted fully, immediately apparent as the trigger won't pull without the magazine.
De-cocking the weapon definitely takes two hands, one to pull the trigger and the other to grip the hammer for a slow release. This is actually a good idea to keep it even safer. The slight difficulty of inserting the magazine was not enough to deduct a rating star. In fact, I give few five-star ratings, but this one definitely receives five stars for quality, handling and overall shooting.
Top marks for manufacturers
All in all, ATI/GSG has hit two bull's-eyes with these semi-auto .22-caliber pistols. You can find full information on their website at americantactical.us.
You can see video reviews of these pistols on my Dan's Fish 'N' Tales YouTube Channel. Another video there shows how to tear down and switch the springs in the Firefly. You also can check out a couple more videos on the first Firefly, including one with the SIG Mosquito.
If you have further questions about this or any other subject, drop Dan Galusha a line through the Dan's Fish 'N' Tales Tales® website at dansfishntales.com, the Facebook page at facebook.com/dansfishntales or facebook.com/shootnplink.
You can be among the first to get the latest info on where to go, what to use and how to use it!
---

Dan Galusha has fished all of his life, worked more than 45 years in the outdoor/media industry, and was inducted into the Fresh Water Fishing Hall of Fame as a Legendary Communicator.  Direct questions through dansfishntales.com, facebook.com/dansfishntales and facebook.com/shootnplink.
All author posts
---