Since 1948
Here at Triangle, we strive to bring you the service and knowledge you would expect from a first class bait and tackle shop. We take care of everyone from the weekend warrior to the full time tournament fisherman. It doesn't end there either. Triangle is much more than a bait shop. Services include: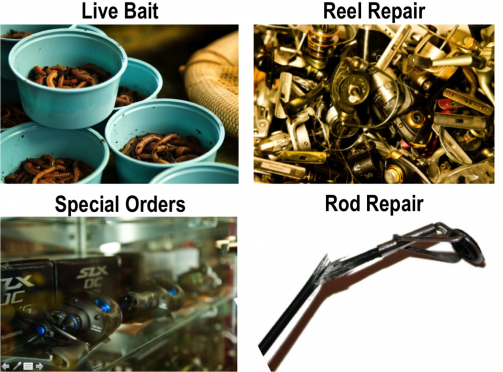 Located just west of the corner of Grass Lake Road and Route 83.
Please feel free to contact us anytime.

23480 W Grass Lake Rd,
Antioch, IL 60002
(847)395-0813
Hours of Operation:
M-F – 6:30 am to 7:00 pm
Sat – 5:00 am to 7:00 pm
Sun – 5:00 am to 6;00 pm
More about Triangle Sports & Marine. Excerpt from "Tackle Dealers Declaration of Independents" MidWest Outdoors Magazine, March 2021.
Family owned and operated for more than 70 years, Triangle Sports & Marine has been a staple independent fishing retailer for the Chicagoland outdoorsman. Originally founded in 1948 under the name Triangle Bait & Tackle, owner Greg Dixon rebranded the store in 1983. The 2,600-square-foot store has remained in the same location for all these years, with no plans to change anytime soon.
Triangle Sports & Marine has always been focused on the fisherman, with live bait being a major priority. For Greg, availability and selection has always been a focal point. Nothing shows this better than the store hours, opening at 5 a.m. on the weekends gives fishermen the ability to get all their fishing needs before heading out to the lake. Greg even goes the extra mile by hand sorting every single arrival of live bait to ensure quality and accuracy for the customer.
Providing more than just top-of-the- line live bait, Triangle also offers plenty of tackle for all types. Going beyond a typical bait shop, they provide additional services, offering in-house reel and rod repair, auger blade service, and, as of recently, stainless steel prop service under the name D.A.H. Propeller.
When asked what has kept Greg going for so long, he said it all comes down to being able to survive. For almost 45 years now Greg has seen his share of obstacles. Everything from the original Gander Mountain opening 8 miles away to the influx of big box stores and online retailers. Being able to provide the service and a commitment to––and from––his customers has helped overcome these obstacles and make up some of his favorite memories.
Greg's planning and forward thinking have helped him overcome the most recent obstacle––the Covid pandemic. The relationships he has built over the years have enabled him to get items in stock that others may not be able to get. This has led to a well stocked store that is ready for the spring push.
You can be among the first to get the latest info on where to go, what to use and how to use it!
---
We believe being outdoors is good. With more than 1,000 articles each year, MidWest Outdoors magazine is all about sharing outdoor experiences with you—where to go, what to use and how to use it… whether you're close to home or on that trip of a lifetime.
All author posts
---