Modern Tools and the New Age of Boat Control
I remember fishing with my dad as a young kid, pulling up to a fishing spot and my dad telling me to drop the anchor. As a kid it was part of the fun of fishing as well as a test of manhood…getting the anchor out, clanging it against the boat gunnels, lifting it over the water and watching it splash into the lake. I'm sure my dad cringed a few times as the anchor splashed into the water, as he knew the fish would probably have vacated the spot due to the commotion. He would put a smile on his face and jig anyway, or maybe put on a bobber and try to cast away from the boat in hopes of catching a few lingering fish. Then, when it was time to move to another spot, I would struggle to pull up the anchor rope, hand-over-hand, using the side rail of the boat for leverage.
Every now and then, I painfully recall having to un-lodge the wedged anchor from the rocky depths below. Eventually as I got stronger, it was still my job to lift the anchor and lower it into the water gracefully while trying not to spook the fish below. The ironic thing is, as I continued to get bigger and stronger, the fun of pulling out and dropping the anchor decreased to the point of it being a chore. And although I could lift the anchor with relative ease, raising and lowering from spot to spot became annoying.
The new age of electronics has all but eliminated the need for an anchor and very nearly a need for a boat driver. This past January I was invited down to the Florida Keys to view the new Lowrance High Definition System (HDS) Gen3 electronic units. These units are not only more fishermen-friendly with touchscreen technology for ease of operation, they have greater target separation for enhanced identification of structure and fish, outstanding side and downscan imaging, and also offer a wide range of features that are designed to save fishermen time, make fishing easier and more enjoyable, and ultimately, allowing anglers to put more fish in the boat! Wow, they've come a long way.
Let me briefly touch on three key features of these new units:
Hands-free steering
Lowrance's new High Definition System (HDS) Gen3 series units feature an outboard and trolling motor autopilot system allowing fingertip steering. A new SmartSteer interface provides outboard control as well as the ability to control a MotorGuide Xi5 Pinpoint electric-steer trolling motor. Since the Gen3 units use touchscreen technology, it's just like working your motors using a smartphone or tablet.
Now, when fishing a particular lake and you have depth contours that you would like to follow, or a weed lines, or even a specific shoreline that you know produces fish, you can either troll a path with your outboard or set your MotorGuide Xi5 trolling motor to follow a specific trail/route just by adding waypoints on the screen. The boat will automatically follow the course allowing you to fish instead of steer the boat.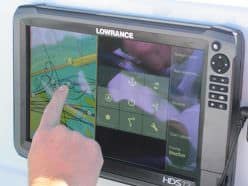 There are a couple of ways to use the system to your advantage. The first would be to pre-run the course or route the way that you would like to fish it, while setting waypoints on the touchscreen unit as you go. The second is to preview your map and then set waypoints in areas that you would like to go fish. Then with just a push of the "Nav" button on the HDS unit, you can use your outboard motor to troll the course, or your trolling motor to follow the route. The interface technology also allows you to switch from outboard motor to trolling motor with the push of a button. Either way, it's hands-free operation, allowing you to fish instead of worry about driving the boat.
The units also feature preset interface buttons, which allow you to change headings port and starboard by one- or 10-degree increments, increase speeds, or even follow predetermined patterns. For instance, let's say that you have a large weed bed that you would like to fish. There are preset "Zigzag" and "Lazy-S" patterns, which will allow you to cover a larger area and fish at the same time. Also, preset "Spiral," "Square" and "C-turn" patterns are ideal for allowing you to fish a specific structure without having to touch the motor. More time to fish, and hopefully as a result, more fish in the boat!
Anchoring
Partnering with two companies in the fishing industry, once again MotorGuide trolling motors, and just recently JL Marine, the makers of the Power-Pole shallow-water anchor system, Lowrance also offers easy and problem free anchoring for your boat.
Using the same SmartSteer interface technology, along with GPS tracking, the Lowrance HDS Gen 3 units have an "anchor" button, which will automatically keep your trolling motor locked over a particular structure or on a particular waypoint. Once "anchored," the trolling motor will compensate for current and wind by automatically changing direction and speed to keep you in a given position.
While down in the Keys, we witnessed an ideal example of when conditions might call for this revolutionary advancement. We wanted to fish the down-current side of a bridge abutment. However, winds were side-sweeping us from the starboard side. As we motored the boat slowly into position, our guide locked the trolling motor into the "anchor" mode with the push of a button on the HDS Gen3 unit's screen. Our boat held in perfect location allowing us to fish the desired spot effectively and efficiently. Imagine, in contrast, having to monkey around lowering an anchor as someone else tries to motor the boat in position while keeping it still until the anchor grabs!
Once we fished for a while in our position, we were introduced to another terrific fishing feature while in the "anchor" mode position—the option of moving a few feet slightly left or right (once again with the touch of a button) to fish another bridge abutment. There was no lifting and lowering of an anchor just to move a few feet in either direction. What used to be a problem trying to keep a boat in position with a physical anchor was now handled effortlessly by GPS and the touch of a finger on a screen.
The new partnership between Lowrance and JL Marine, even takes anchoring one step further by enabling wireless compatibility with the complete line of C-Monster Power-Pole products. These efficient hydraulic anchors and all-electric Micro Anchor products quickly and quietly anchor fishing boats and kayaks in shallow-water situations. A simple touchscreen control on the Lowrance High Definition System (HDS) Gen3 display allows anglers to wirelessly engage the anchor—saving anglers additional steps and minutes, so they can focus on fishing.
Custom Wi-Fi mapping
Lastly, Lowrance has streamlined the process of building custom maps and upgrading map updates with new wireless technology. The new technology called GoFree, is a cloud-based technology that gives users the capability to receive automatic update notifications and be able to download and install these updates directly, guaranteeing the most up-to-date operating system and features.
With direct access to the GoFree Shop from the unit's home screen display, fishermen will have the ability to purchase, download and immediately use Insight maps, and other third-party maps from GoFree partners. No more do you have to connect to your main computer for downloads. Now you can do it from any wi-fi location.
The GoFree technology also provides fishermen access to the crowd-sourced Insight Genesis, which is an easy-to-use, cloud-based tool that allows boaters to open a free account, upload sonar logs, and download up-to-date personalized contour maps and contribute to a community-based Social Map. The more fishermen participate, the more personalized and detailed your maps can be.
New technology continues to help fishermen be more successful on the water. It is also very comforting to see Lowrance improving their units by offering easier to understand user interface and a modified menu system that is easier to operate. Of course, always be careful when boating and use caution when around other boats.
For more information…
Lowrance HDS Gen3: lowrance.com, GoFree technology: gofreemarine.com
You can be among the first to get the latest info on where to go, what to use and how to use it!
---

Larry Ladowski is a regular host on MidWest Outdoors TV and has been writing for MidWest Outdoors magazine for more than 25 years. Ladowski enjoys any time on the water and in the field, no matter where it happens to be and no matter what species he is fishing or hunting.
All author posts
---