Daiwa Launches Tatula MQ LT Spinning Reel
More power and torque, performance, and longer life characterize the new Tatula MQ LT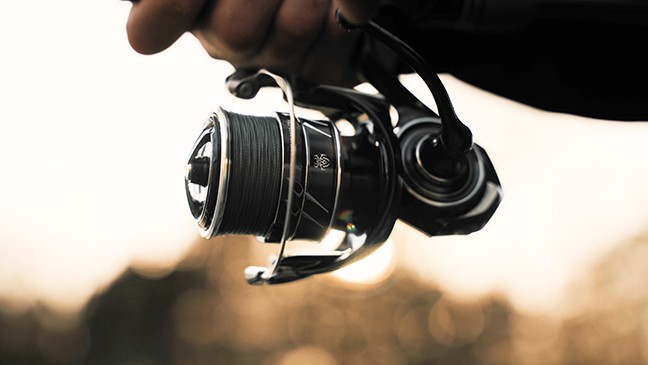 The new Tatula MQ LT embodies a rich features set, which starts with its one-piece Monocoque Zaion V body. This design framework yields more space for larger gears, thus promoting increased torque and power from the get-go… and at the same gear ratios (5.8:1 and 6.2:1) of competitive spinning reels.
"What makes this reel special is the new Tatula MQ LT family features a Monocoque frame and body. And there's been no price increase over the standard, ever-popular Daiwa Tatula LT. From the 1000 through 4000 sizes, the all new Tatula MQ LT has an MSRP of $199.99. There's simply no better spinning reel on the market at this price," says Daiwa Marketing Manager, Marc Mills.
"The Zaion V Monocoque body carbon fiber body and frame are lightweight and corrosion resistant, yet still very rigid. The technology has allowed us to put a much larger main gear and pinion gear in the reel and still create the same amount of gear ratio. You're still getting the usual gear ratio; but with more power, more torque, and better leverage—plus, it'll give you longer gear life," adds Mills.
In short, with Monocoque, Daiwa can increase interior space to facilitate larger gearing and reduce overall weight, simultaneously. Lighter and more corrosion resistant than aluminum, Zaion V is an exceptionally light but rigid material, which minimizes flex in the handle stem and gear box.
TATULA MQ LT Features:
• One-piece MONOCOQUE ZAION V body
• AIRDRIVE ROTOR
• SOLID AIRDRIVE BAIL
• TOUGH DIGIGEAR®
• Ball Bearing-Supported Advanced Tournament Drag (ATD™)
• Machined aluminum screw-in handle
• 8BB + 1
• Gear ratios between 5.8:1 and 6.2:1 for effectively playing fish
• Line-Per-Turn: 28.8-inches (1000 size) to 39.1-inches (4000 size)
For anglers seeking their next premium, precision spinning reel, look no further than the Tatula MQ LT, a reel engineered with advanced technology and constructed of the finest and most durable materials available and at a realistic, real-world price.
MSRP $199.99
You can be among the first to get the latest info on where to go, what to use and how to use it!
---
We believe being outdoors is good. With more than 1,000 articles each year, MidWest Outdoors magazine is all about sharing outdoor experiences with you—where to go, what to use and how to use it… whether you're close to home or on that trip of a lifetime.
All author posts
---