Woman River in Remote Ontario
Slow down, unplug, get back to nature
Canada represents more than just a quality fishing vacation. The Canadian wilderness is definitely the attraction. Don't get me wrong, the fishing is good, but it has become secondary to the outdoor adventure. If good fishing was the only goal, some good lakes throughout the Midwest are much closer. It's hard to find the remoteness of Canada, especially a beautiful place like Woman River, in the States. Even harder to get that  "getting back to nature" feel that Canada offers.
While I say that the fishing is secondary for me, take note that Canada has many outstanding fisheries that I've had the good fortune to fish. Among the many excellent places that I've fished are Ghost River and the Marchington Chain of Lakes. Walleyes are everywhere you stop. Terrific rock humps and other structure ideally suited for walleyes are throughout the chain. At the same time, it also has some of the best scenic waterfalls I've seen, along with the famous "tunnel," an old rock underpass that connects a couple more remote lakes on the Marchington Chain. Ghost River's Marchington Chain is an outstanding scenic waterway that allows you to fish and portage to 15 different lakes during your stay. You can actually fish a different lake every day of your trip. Now that's adventure!
Surreal landscapes, endless lakes
Another fun destination is the Pipestone/Clearwater Chain. This chain of lakes is an outstanding fishery encompassing 11 connecting lakes and 45 miles of waterway. It holds all the major freshwater species. You can fish for smallmouths, largemouths, walleyes, pike, muskies, perch, crappies and even lake trout. The variety means that at least one of the species always is hot at any point during the spring through fall vacation season. However, one of the things I can't get out of my mind on Clearwater is entering Jackfish Lake from a narrow rock opening on Footprint Lake. It's like walking through a narrow doorway and into Narnia, for those with kids who watch movies. This hidden passageway opens into what seems an endless number of more beautiful lakes to fish and explore.
The Pipestone/Clearwater chain has a cool setup with two mechanical portages. One is on the south end of Clearwater and one is on the north end. These transfer your boat, with gear, overland. The portages allow you to fish endless miles of secluded water. Pipestone is the deepest lake on the chain with hundreds of islands, plenty of mid-lake humps, rocky points and reefs, inlets and bays. It sits at the edge of the Boreal Forest. The many islands make it one of the most scenic lakes I have fished.
Lake of the Woods
Lake of the Woods is another outstanding place to go. Just north of the town of Nestor Falls, on a private, 5-acre island in a northwestern bay, is Young's Wilderness Camp. What could be more remote than a week on an island? Young's Wilderness Camp lies at the end of a long arm of Lake of the Woods called Stevens Bay. Most of the bay is pretty shallow, 8- to 25-feet-deep, and although fishing is good year 'round, prime time here is early spring and late fall. The shallowness of Stevens Bay lets it warm quickly in the spring and cool fast in the fall. According to camp owner Perry, you can catch fish anywhere and everywhere here.
Lake of the Woods is huge and offers fantastic fishing for walleyes, pike, muskies, bass, crappies and more. Boating into the remote parts of the lake allows you to experience and explore and possibly not see another boat all day. The lake also has hundreds of islands, gorgeous bays and inlets, rocky bluffs and reefs and scenery that, at every turn, gives your camera a workout. Fishing is fantastic and experiencing Canada here is even more incredible.
Trekking up to Woman River
In 2017, I went farther north in Ontario than ever before. Woman River Camp is a remote, drive-in housekeeping camp off the proverbial "beaten path." It's remote, yet easy to travel to. As a matter of fact, I was surprised that the last hour or so is spent driving down an expansive, easy traveling, logging road. I loved the adventure from the start.
Woman River has nine modern, light housekeeping cottages nestled among trees along the water's edge. Owners Paul and Debbie Mossip constantly upgrade and remodel—the newest cottage was built in 2016. It's amazing how places like Woman River can stay updated and looking nice this far into the wilderness. The logistics of getting things into camp must be difficult, but they do it all with their guests in mind.
Are you enjoying this post?
You can be among the first to get the latest info on where to go, what to use and how to use it!
The cottages are spacious and beautifully decorated in knotty pine. Each sleeps four to 10 guests. Kitchens come completely equipped with all the necessities for you to prepare, serve and enjoy your meals. Privacy is attained with bathrooms with flush toilets and hot showers. The lodge supplies all linens, towels, blankets, dish soap and more. One of the nicest touches are the cottages' wood-burning stoves that remove the chill during cooler nights and mornings. I really enjoy a good wood-burning stove on my fishing vacations!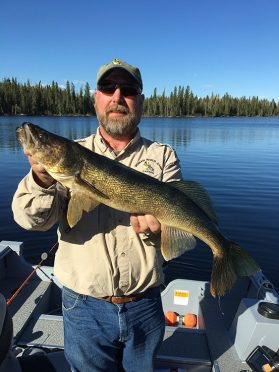 Woman River: fishing paradise
The Woman River Chain of 11 lakes has it all—weeds, humps, points, flats, saddles, current and drop-offs. It's a fisherman's paradise, offering multispecies fishing for walleyes, northern pike, smallmouths, perch, and lake trout. The waters are easy to navigate and sheltered for windy days. It produces outstanding numbers of eater fish, and the chance for a trophy as well.
Hooked on boating walleyes? So are we. 
For those looking for more adventure, Woman River also offers numerous incredible portage lakes and remote adventure trips. Portages vary from an easy five-minute walk to a 45-minute hike, and most lakes already have a boat and motor waiting for your daily adventure.
One day, we fished up the chain going from Little Bear Lake, through Loon Lake, up the Woman River, to Woman Lake, where we made a double portage. The portage led to a honey-hole for tremendous walleye fishing. The cool part was, we made our first portage (maybe 5 minutes) where we took a small boat across a narrow, shallow lake to another 5-minute portage. We came out onto a lake with a beautiful and very scenic waterfall. I sat for a while and looked at that awesome scene wondering how many people actually witness it each year. So, I later asked Paul how many people take that portage every year, and was very amazed to find that I was one of only a handful of people to see this terrific sight.
That is the uniqueness of a Canadian vacation. The special outdoor time spent with wind, water, air and trees. No cell towers, no buildings, no houses every 100 yards, only beaver dams, eagles' nests and waterfalls. And, in a close second, the outstanding fishing!
Ready to go?
Paul and Debbie offer a variety of packages ranging from the "Works," (which includes everything, even the boat rental) to fishermen packages and family and outpost packages. Check their website for specials. You can also choose items based on need, from boat rental, gear, guide rental to lures and confectionery items in their main office. They also offer excellent hunting and ice fishing packages.
You can be among the first to get the latest info on where to go, what to use and how to use it!
---

Larry Ladowski is a regular host on MidWest Outdoors TV and has been writing for MidWest Outdoors magazine for more than 25 years. Ladowski enjoys any time on the water and in the field, no matter where it happens to be and no matter what species he is fishing or hunting.
All author posts
---