USA Bassers Earn Silver at Black Bass World Championships
USA Bass team's dramatic 3rd day scores South African largemouths in springtime patterns
Fishing unfamiliar water is every bass angler's toughest challenge.
Successfully figuring out the bite, finding quality fish and making the right adjustments are the hallmarks of champion anglers. It separates them from the field. Now imagine fishing unfamiliar water, in a foreign land, in a different hemisphere during a different season. Add in an ecosystem that no American bass angler normally faces. Welcome to the Vaal River in South Africa and the home of the Black Bass World Championships.
The USA Bass team took on the challenge and clawed their way to the medal stand with a furious day-three run. All three USA Bass teams finished in the top ten (2nd, 5th and 9th places) with a 13.32 KG (29 lbs 6 oz) total. That was the best one-day team finish for the entire tournament.
After landing in 6th on day one, the team adjusted presentations as rain and cold fronts piled into the area. They moved into medal contention with a 4th place overall rank on day two. The incredible final-day run propelled the USA Bass team into the Silver medal position, finishing just ahead of Italy.
South Africa's home water advantage was just too much to overcome. Their anglers consistently finished in the top ten all three days to take the Team Gold medal. They finished with a 7 lb 9 oz lead in the standings over the United States over the three days of fishing.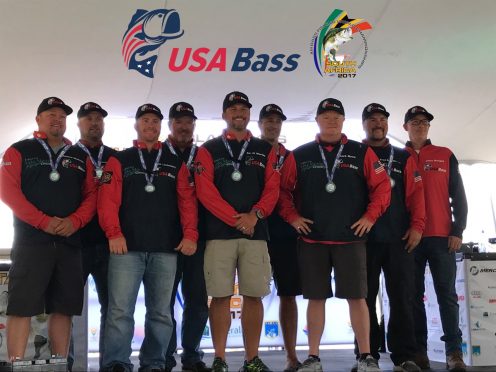 Opposite patterns
Since it was spring in the Southern hemisphere, the largemouth bass in the Vaal River were either readying to spawn, spawning or moving to current-related areas to feed after the spawn The most successful techniques focused on locating pre-spawn, bedding and post-spawn areas and figuring out what lures would get big bites.  The entire team commented on the number of bass they caught each day but also talked about the difficulty of getting big fish.
Are you enjoying this post?
You can be among the first to get the latest info on where to go, what to use and how to use it!
"We caught fish on jerkbaits and a ton of fish wacky rigging  5-inch Gary Yamamoto Senkos," USA Bass Team member James Watson said. "After Fred (Roubanis) and I caught a limit, we moved to flat areas looking for cover where a bigger bass might hide."
"James Watson saved the day with a huge bass just shy of 6 pounds," Fred Roumbanis said,  "He caught it out of a shallow water lay-down on a brown and orange jig late in the afternoon of the final day."
More to come
The Capital City/Lake Murray Country RTB USA Bass team now prepares to fish the 2018 Pan American Black Bass Championship on Lake Okeechobee in Clewiston, Florida, in February. Then they fish the 2018 Black Bass World Championship in Mexico later in the year.
"South Africa was a great first step for USA Bass.  It showed just how competitive the sport has become. USA Bass will continue to field teams representing the USA for years to come," U.S. Angling Vice President, Tony Forte said. "This path will lead to the United States hosting the Black Bass World Championship at Lake Murray in Columbia, South Carolina, and hopefully convince the International Olympic Committee that bass fishing belongs in the Olympics!"
Ultimately, the Silver medal win is a great start for this talented team. Congratulations to our Silver Medalists: Lionel Botha, Fred Roumbanis, David Dudley, Scott Martin (team captain), Scott Canterbury, Mark Rose, James Watson, and David Fritts.
You can be among the first to get the latest info on where to go, what to use and how to use it!
---
We believe being outdoors is good. With more than 1,000 articles each year, MidWest Outdoors magazine is all about sharing outdoor experiences with you—where to go, what to use and how to use it… whether you're close to home or on that trip of a lifetime.
All author posts
---