Fishing can be unpredictable, regardless of your skill level.
In fact, the saying "beginner's luck" may have been created by an angler.
But that's okay. That's what makes fishing so darn cool. You're not trying to hit a 95-mph fastball, shoot a basketball over a 7-footer, or run a football past 300-pound men.
You're simply trying to tempt a fish with the brain the size of a pea to bite your hook. You never know when or what might happen.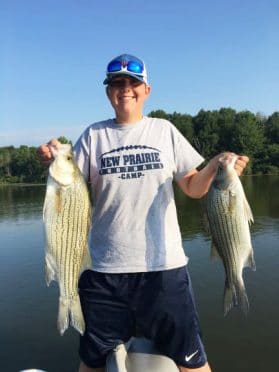 Big catches, small expenses
Some of the greatest catches I've heard about over the past 40 years have occurred when the person least expected it.
For example, the world-record crappie (5 pounds, 7.68 ounces) was caught from a one-acre pond in Tennessee a few weeks ago by an angler casting a small grub.
Closer to home, the angler who caught the Michigan state record smallmouth in 2016 was fishing the bank from the Indian River with a nightcrawler.
He wasn't in a $50,000 bass boat. He didn't have sophisticated electronics. He didn't have a $500 rod and reel.
In fact, he was planning on eating the fish until a neighbor suggested he get it weighed and compared to the state record.
In 1991, a Kentucky woman was fishing a private campground lake in southern Indiana when she hooked a 14-pound, 12-ounce largemouth bass that still stands as the Hoosier record.
Anything can happen
That's how these things happen. If you questioned every person who currently holds an Indiana or Michigan state record, only a small percentage were highly skilled anglers who were targeting the fish they caught.
The point is, you never know when a giant fish might strike.
Even here in Michiana.
Michiana monsters
Last summer, expert bass angler Phil Duracz of Chesterton was fishing for bass with a jig on Juno Lake and caught a monster 41-inch, 19-pound northern pike. It is arguably the biggest pike local experts recall ever being caught there.
In August, teenager Clayton Lagodney of South Bend was fishing Worster Lake at Potato Creek and caught two big hybrid striped bass while fishing for largemouth bass.
Now, Worster has an abundance of hybrids. They spend most of their lives offshore in deep water. Clayton caught his on buzzbaits – a shallow, topwater bait. You just don't hear of those hybrids attacking buzzbaits.
His father said it was the only two fish they caught that day and the first-ever hybrids they have ever caught from Worster Lake.
How about when Chuck White caught the same tagged fish from the St. Joseph River, last summer, that he landed and released from nearly the same spot and almost to the same day three years ago!
Once again, you never know what you might catch or where.
That's one of the great charms we have with fishing. You don't have to be an athlete, or an expert, or have expensive tackle.
You just have to go fishing.
You can be among the first to get the latest info on where to go, what to use and how to use it!
---

Louie Stout is a Hall of Fame journalist and longtime Bassmaster Senior Writer who has covered Indiana and Michigan outdoors for more than 40 years. He's co-authored three books with Kevin VanDam and is the outdoors columnist for the South Bend Tribune.
All author posts
---