Trout Fishing on the Dark Side
"Welcome to the dark side," said Captain Duane Doty to me and my friend Kenny Kieser as we stepped onto his boat. I smiled and immediately had visions of the classic Star Wars movies flash through my mind. Luckily, Duane did not look like Darth Vader!
Kenny and I had planned a nighttime trout fishing trip on Lake Taneycomo, and we met Duane at Lilly's Landing Resort & Marina in Branson, Missouri. Capt. Duane Doty owns Ozark Trout Runners guide service, and he is the premier trout fishing guide in Branson. He is not only one of the most successful fishing guides on Lake Taneycomo when it comes to catching rainbow trout; he also specializes in targeting trophy-sized brown trout after dark.
That's why he welcomed us to the "dark side." He calls his nighttime charters "Fishing the Dark Side," and that's the best time to hook into one of Taneycomo's huge brown trout. Brown trout are notoriously wary, especially when they reach trophy size. They lose some of their caution after dark, and we were hoping to capitalize on that!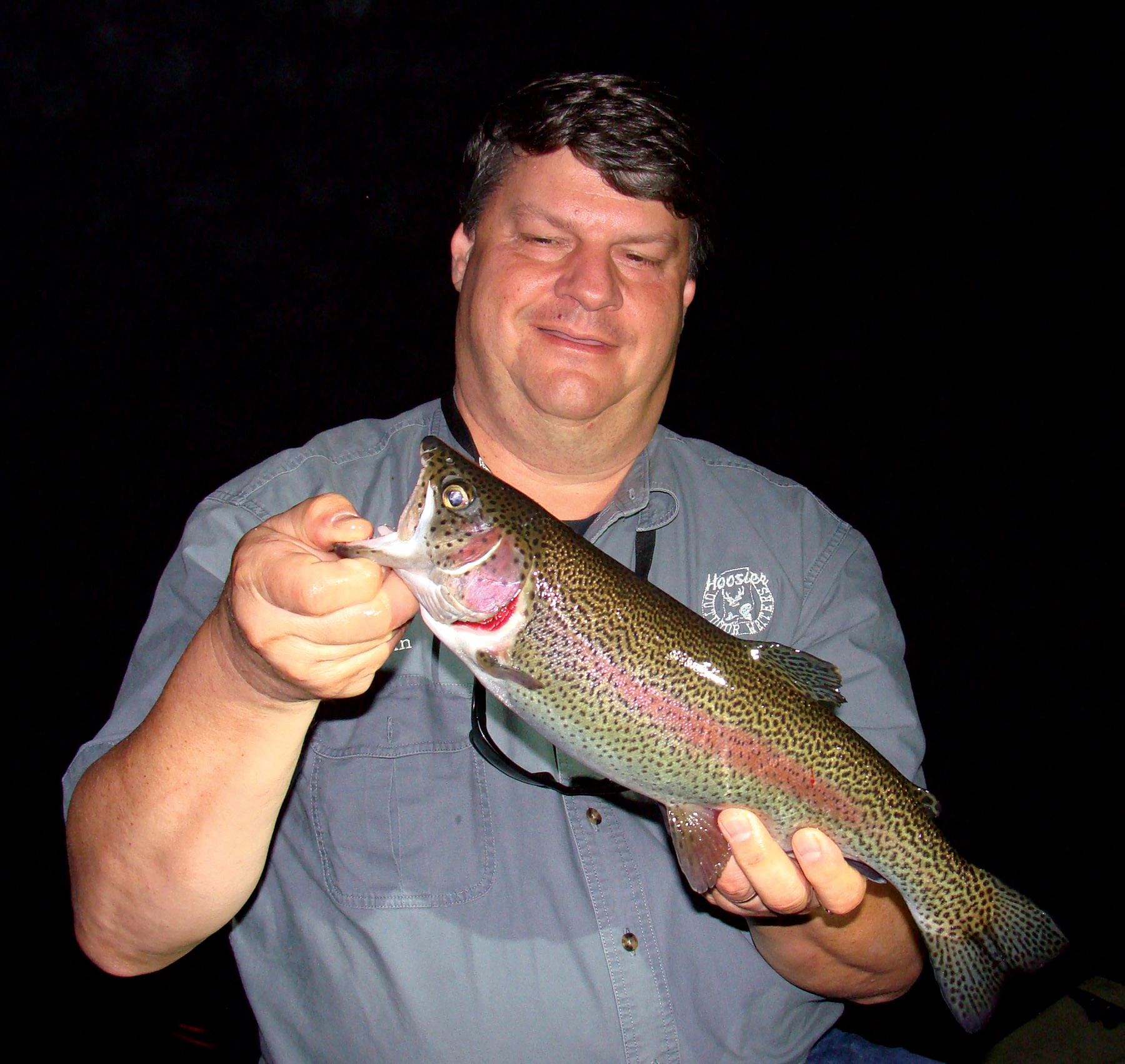 Our trip took place near the end of September, and Capt. Duane explained what we would be doing as he motored upstream towards the Table Rock Dam. The sun was beginning to set as we arrived below the dam, and we immediately began drifting downstream with the current. Capt. Duane positioned the boat within casting distance of the shoreline, and we got started.
"Cast towards shore and snap that jerkbait so that it darts forward and then pauses for a moment," explained Capt. Duane. "Big brown trout like to lay up near shore and pounce on small fish that swim by. Sometimes they will follow the bait all the way to the boat, so keep up the darting action for the entire retrieve."
Kenny and I each grabbed a spinning rod with one of Capt. Duane's custom-painted jerkbaits tied to the line. My lure was a light purple color, and it was named "Plum Stupid." Kenny's lure was a pearly-white color that was named "French Pearl." We both started casting and quickly mastered the proper jerkbait darting action. I got a solid hit before we had drifted very far, but that fish immediately threw the hook. I could just imagine a big brown trout laughing as it swam away.
The sun went down without any additional action, and we drifted onto a large gravel bar with slightly deeper runs on either side of it. As soon as it got dark, we switched tactics from the fast, darting action to a steady, slower retrieve. It didn't take long before Kenny hooked a good fish. "Fish on!" Kenny fought the fish up to the boat and Capt. Duane got the net ready. It was a nice-sized rainbow trout, probably 17 or 18 inches long. It was a great first fish, and after a photo or two he released it.
Are you enjoying this post?
You can be among the first to get the latest info on where to go, what to use and how to use it!
Before I could catch my first fish, Kenny hooked another one! It was another feisty rainbow, and another quick release. Then it was my turn. I made a long cast, and almost as soon as the Plum Stupid lure hit the water, a trout grabbed it. I set the hook, reeled it up to within netting distance and it was quickly hauled aboard. It looked like the twin brother of the first rainbow Kenny had caught.
We continued drifting downstream and the action slowly got better and better as the evening progressed. Kenny definitely had the hot lure (or the best technique), and he was catching at least two trout for each one that I caught. I was still catching plenty of fish, though. After a little while, however, I decided to try a different lure, and Capt. Duane handed me another one of his custom-painted lures. This one was black and red and was named "Darth Maul." What a cool name!

I tied it on, and within a few casts I hooked a slightly bigger fish. It put up a great fight and made a couple short runs before I got it reeled up to the boat. Duane netted it and I held it up for a photo. It was a very nice rainbow, probably 19 or 20 inches long. After the photo session, it was quickly released, just like all the other fish we had caught.
When the action slowed at this spot, we moved downstream to another area with good gravel on the bottom and lots of timber stacked up against the shoreline. We started catching fish there as soon as we stopped, and I caught almost as many as Kenny! But he was still out-fishing me. I switched back and forth between the Plum Stupid color and the Darth Maul, and I even tried the French Pearl. Every color caught fish, although the black and red Darth Maul seemed to work the best for me.
I'm not sure how many trout we caught, but it had to be more than two dozen. We only saw one or two other boats fishing after dark, so we had the place almost to ourselves, too. It was a great evening of fishing, and the trout were more than cooperative. At least the rainbows were cooperative. We didn't catch any brown trout on that outing, but that just means I will need to make a return trip to catch one of Taneycomo's trophy browns in the future.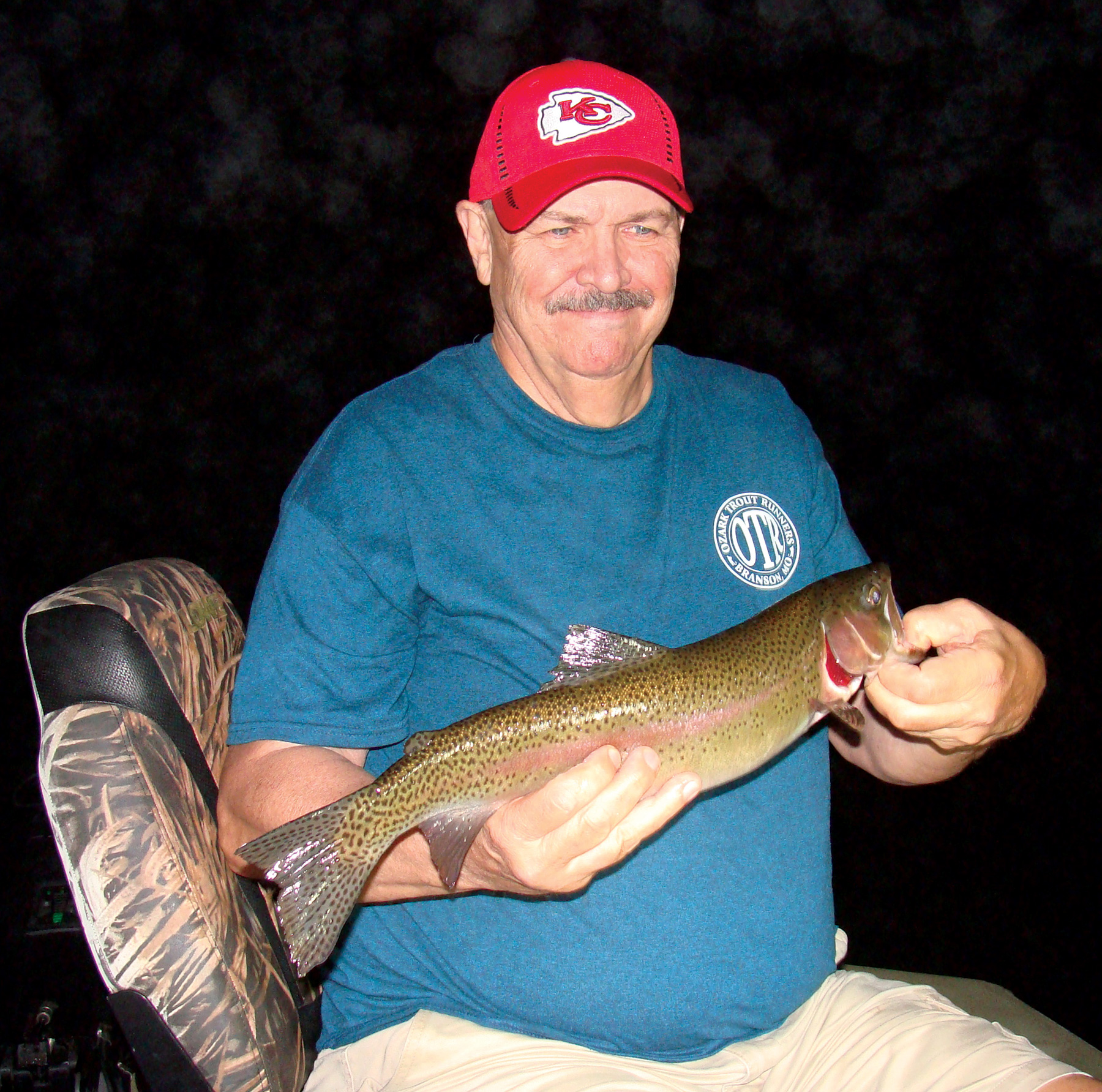 Capt. Duane Doty fishes Lake Taneycomo year-round, so even though our trip was in late-September, it's never too late to book your own trip. In fact, the trout fishing here is excellent all winter long. Just keep in mind that Capt. Duane only runs nighttime trout trips from late-June through early October. Winter trips are during the daytime. Give him a call (417-294-8672) or send him an email at ozarktroutrunners@yahoo.com. You can also find more information on his website at ozarktroutrunners.com.
While you are in the Branson area, check out some of the other great things to do, too (ExploreBranson.com). Besides fishing, Branson is world famous for its live music shows, restaurants, outdoor adventures and countless other attractions. We also visited the History of Fishing Museum right downtown, and it was fantastic. Plan a trip to Branson—you won't be disappointed.
You can be among the first to get the latest info on where to go, what to use and how to use it!
---

A lifelong outdoorsman and award-winning outdoor writer and nature photographer, Tom Berg has been the Executive Director/Treasurer of the Hoosier Outdoor Writers group for the past 14 years. When he is not writing, he would rather be outside fishing, hunting or trapping than doing just about anything else.
All author posts
---