This Fall Season Be Prepared for Big Fish
Be Prepared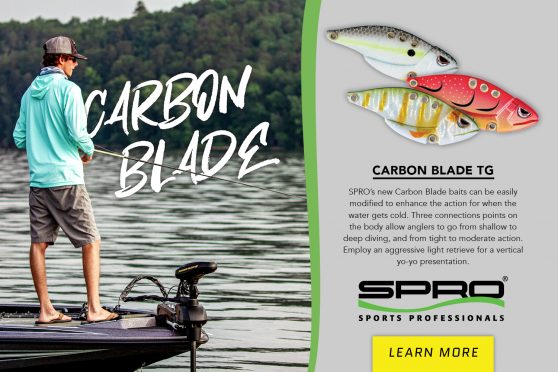 Big fish don't come by accident. Well, sometimes they do. I've hooked my fair share of trophies on gear used for smaller fish, and I'm sure you have, too. Every year you hear about monster muskies, catfish, walleyes and bass caught by some kid off a pier fishing for bluegills. My late father, Poppee, hooked and lost so many record fish that I would reach for the net in my sleep! That's because every fish that got away would have ultimately been the largest one of the day (in his mind), and I didn't want to be the one that lost it for him! This fall season be prepared for big fish!
All jokes aside, big fish don't come by accident. When you use the right tackle and gear, big fish come on purpose.
On purpose means heading to lakes and rivers that offer trophies on an annual basis instead of fishing the same old water that has high numbers of 1-pound largemouths or undersized walleyes. It means heading to the water at prime time in the spring and fall. It means using the right gear and tackle specifically for larger fish.
Facebook can make you sick if you have a lot of fishing friends. Post after post of trophies and personal bests all day long, to the point that you are numbed by it all. But if you use FB to your advantage, you can start to see where and when all these big fish are coming from. If you really want to be successful and start catching big fish on your own, you should find a guide in one of these hot big-fish areas and hire him to learn the hot pattern.
Net
One big thing that fishermen overlook is a net. I have four different Frabill nets that I use all the time. I've got a smaller panfish net with a long handle in case I hook a jumbo that's barely hooked. It folds up and stows out of the way when not in use. But when I'm fishing panfish, it's unfolded and ready to go. I've got an extended-handle shore fishing net that can handle carp, catfish, walleyes and bass. I have a long-handled walleye net and a heavy-duty muskie net. When I'm fishing, the right net is in the ready-to-grab position at all times…especially when I'm by myself. A good net will last a long time; I haven't bought one in 20 years.
Rods
Nobody needs as many rods as I have, but you need to have a real good one that can detect bites and handle the fish you are after. Every Midwest angler should have at least one good walleye, one good bass and one good muskie/pike rod, because that's what we fish for most of the time. I like St. Croix rods; they have very good rods in different price ranges for every angler's budget. The Eyecon 6'8" Snap Jig model is my favorite walleye rod because of its extra-fast, sensitive tip.
Look at it this way. Say that you have three rods rigged with different lures and ready to go for walleyes. The big fish you catch is inevitably going to come on the rod with the broken tip, old line or the reel with the bad drag system, so do yourself a favor and put the cheap stuff away when it's trophy time. It's better to use that one good rod all the time and retie, then to try to get by with an inferior rod.
Since I live in the Midwest, two of the most sought-after fish are walleyes and muskies. When I head to my favorite spots in the fall, I'm prepared to catch both. I could just go after one species or the other, but I'm the guy that likes to catch fish, and when the bite is on, I want to be fishing for what's biting. I can't tell you how many times that I've gone muskie fishing and watched someone catch a trophy walleye in the same area, while I kept fishing for muskies, driving myself crazy.
Are you enjoying this post?
You can be among the first to get the latest info on where to go, what to use and how to use it!
Baits
Fall is the time to up-size your baits. For walleyes, I'll use larger-than-normal-sized crankbaits when I'm trolling, and larger AuthentX plastic tails like the 4" Moxi and the 5" K-Grub. These are big, bulky noisy tails that will attract larger fish. We aren't talking about eating-sized fish here, folks- we're talking about 30-inchers.
The AuthentX 5" K-Grub is a little-known walleye secret in fall. It has more tail action and bulk than all other styles of AuthentX. The super-sized tail really moves a lot of water. I like to go with a Aheavier 3/8- to 5/8-ounce B Fish N H20 jig which has a 3/0 super sharp hook. This heavier weight gets the jig to fall quicker into the deeper water that large walleyes are in during fall. It also allows me to move this bait quicker for aggressive reaction strikes. Plus, while great for walleyes, smallmouths, pike and muskies will slam it, too.
For muskies, I like larger crankbaits like 9" to 14" Grandmas, Jakes, Swim Whizzes and Believers. These are very versatile and are great for trolling as well as casting. I'll start by trolling around high-percentage areas, and if that doesn't produce, start casting to cover shallower water. You can bounce these lures off rocks, stop them and let them float over trees and brush, and really work a spot over thoroughly.
Focus
One final point to consider when fishing for trophy-sized fish is to keep your head in the game and your rod at a proper hookset angle. When a strike finally comes…and you may only get one bite in a day…you have to be ready to set the hook. Don't even make a cast if you are going to daydream the lure back to the boat or stare at another angler catching a fish. Have your mind in the game and your rod in a position so that when you set the hook, you don't bang the side of the boat or the windshield!
Become a MidWest Outdoors Insider here!
You can be among the first to get the latest info on where to go, what to use and how to use it!
---

Walt Matan has been a writer and television host for MidWest Outdoors for 30 years. An avid ice and open-water fisherman, he currently lives in the Quad Cities on the shores of the Mississippi River. He is the product developer and brand manager for Custom Jigs & Spins, B-Fish-N Tackle, and Rippin Lips Catfish Tackle. For more information visit customjigs.com.
All author posts
---