Swollen Rivers Ripe for Steelhead Action
Mother Nature sure threw us a curveball again this winter. Not only did we enjoy record setting warm days, we also saw near record rainfall. Heavy rains replaced the fluffy white stuff and Santa needed a pickup truck to deliver his presents. The good news—not really for the ice fishermen—was all that rain swelled the Lake Michigan tributary rivers to near flood stage and the Steelhead responded by filing in one-by-one and filling the streams with hungry delicious table fare.
With rivers at almost unseen water levels for December and January, and the swamps that feed into them full, steelhead will have bends and holes to inhabit for the entire winter. Although winter will see a much shorter ice season, and with the Bay of Green Bay looking at limited ice travel, chasing some flags on the rivers for silver-streaking steelhead is just what the doctor ordered.
Deep-water pools on the tributary system provide for some muscle busting, drag-ripping, silver streaking steelhead.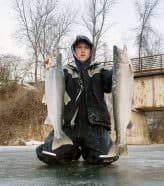 "When they smack the hand-tied spawn sacs and trip the Automatic Fisherman, the drag screams and you grab the rod and rear back," says Tyler Yunk, one of my go-to fishing specialists in the summer. "Hang on tight, because you are in for the fight of your life."
He and his partner Tim Maher are stream guide "extraordinaires," and own Habitual Guide Service, offering a total stream experience that teaches anglers the finer points of river fishing from the waist-deep perspective. Steelhead, brown trout, cohos and chinook salmon are their specialties.
"The rains this past fall swelled the rivers and filled them with steelhead and brown Trout," Yunk added. "This will be one of the best ice seasons (where frozen) we've had in a long time and the spring, well let's just say, hang on tight to your rods, it's going to be fun."
Ice fishing for steelhead is somewhat like pike fishing—setting up Automatic Fishermen ice rigs with poles in place of tip-ups. That's where things differ. Instead of running out 40 or 50 feet of line, steelhead will grab a spawn sac and use the current in the river to peel off 50 to 60 yards of line and battle even the most experienced angler, using their powerful tails and the current to rip off long runs to avoid the hole and eventual flop on the ice. Knowing the rivers, the bends and the deeper pools is the tricky part, not to mention the ice conditions, is key to having a safe and fun experience on the ice. This season will be especially difficult with higher water levels and late-forming ice; it will make for a much shorter ice fishing season.
"When it goes it goes fast, the real fun begins," Yunk says.
Are you enjoying this post?
You can be among the first to get the latest info on where to go, what to use and how to use it!
The real fun, as Yunk puts it, is the spring open-water fishing. Same fish, and many of the "same" or similar locations, but now these fish add the thrill of leaping out of the water and have much stronger currents to use to their advantage when making strong fast runs downstream.
These steelhead are finicky and Tyler spends countless hours seeking out fresh spawn and tightly tying and curing his own sacs. Having neat, consistent sacs and paying attention to the slightest detail including using colorful beads in his rigs, will make the difference between only a few bites or bringing several fish to net. Also, knowing the stream that you are fishing is imperative. My experience through the years taught me that certain bends, holes and gravel bars will consistently hold fish. Almost like fishing structure, these fish will spend time in certain locations and wait for the right time to advance upstream. Presenting your sac in just the right manor and bouncing it down the gravel or running it under the washed out bend can trigger violent strikes. Arm-straining battles of 15 minutes or longer are common and careful handling of the fish from capture to photographing and to successful release brings about a tremendous feeling of accomplishment.
Again—especially early—right after ice-out, knowing the stream conditions is paramount. A good guide will have scouted the rivers and knows which ones have the right conditions for fishing. Too fast, too high and too muddy might not only mean tough fishing, but possibly dangerous conditions. Check with local sport shops and local guides and read local reports to keep tabs on conditions. I know in my business how important conditions and safety can be, and when I am out of my element, I not only seek the advice of the local guides, but also many times choose to hire them to make my experience more fun. I learn something from the guides every time I go, building memories and friendships.
Capt. Lee Haasch is a charter captain out of Algoma, Wis. Capt. Lee has over 40 years of great lakes angling experience and has been instructing anglers for over 25 years with education seminars and timely freelance articles in outdoor publications.
Tip of the Month
Both stream ice fishing and spring open-water stream fishing are a very remote, travel-to-location (mostly by foot) type of fishing. Not only is good footwear including insulated waders a must, but I also like to pack a backpack with extra layers of clothing, warm socks, gloves, hand and foot warmers and plenty of high-energy snacks and drinks. Nothing ruins a fishing trip like being cold or wet. High-energy snacks and proper hydration will also make your day better. Your pack is also a convenient way to hold your extra bait and tackle. And, don't forget your camera.
For more information…
For current fishing reports or information on charter fishing check out Capt. Lee Haasch's report page at FishAlgoma.com or 888-966-3474.
You can be among the first to get the latest info on where to go, what to use and how to use it!
---

Capt. Lee Haasch is a charter captain out of Algoma, Wis., with more than 45 years of Great Lakes angling and guiding experience. Haasch has been instructing anglers for over 30 years with education seminars and timely freelance articles.
All author posts
---