Springtime is Trout Time!
As Trevor unhooked the last dock line and shoved the Grand Illusion 2 away from our dock, we headed east into the near darkness. A sliver of a moon and a thousand stars guided us to the entrance to the Algoma harbor and past the Algoma lighthouse. I slowly changed my angle north and powered up to head to out to our fishing destination. Trevor joined me on the bridge. "Everyone doing okay below?" I asked. "Coffee is poured, muffins are being eaten and they are cutting cards to see who goes first," he answered.
It was a brisk morning, but the cabin was toasty warm, and with very little wind it would be a beautiful day once the sun woke up. "We'll head up just past Utech's Bay, set in about 20 feet of water and troll up to Stoney Creek. There's been a fair amount of brown trout holding from Jerry's cottage to Stoney," I informed Trevor.
"Perfect, I have the 11 and 13 Clown floater Rapalas on my side and the Pink Tiger UV and Green Tiger UV Husky Jerks on your side, and I set up the Slide Divers with a jointed Purple Clown Rapala and Firetiger Rippin Rap on the other," Trevor fired back. I slowly eased the throttles back as we neared our target starting point.
Trevor already had his first line back about 100 feet and was setting his Yellow Bird and dropped it into the water as I grabbed my first pole and started letting line out. He started setting his second line and screamed, "Fish on! Who's up? He wacked that number 11 Clown Rapala on the outside Yellow Bird!" No sooner did our customer take that pole from Trevor and start reeling, and Trevor started hollering again, "FISH, FISH, Lee your outside bird!" Sure enough, that Green Tiger UV Husky Jerk was working on a brown trout of its own.
"Who's next?" I yelled.
May mornings often start like this, especially weekdays when there is little traffic in the shallow water. Fearing clear water, I chose to start just a little deeper and work the shelf area next to the drop-off, and it paid off. We managed to capture four nice chunky brown trout and battle two more before a "pre-net" release, in just a short three-mile troll. As the sun rose slightly higher, I slowly turned around a prepared for a return troll, this time slightly deeper to see if a few lake trout were feeding just off the shelf.
Trevor started changing a few of the inside rigs to Orange/gold Rapalas and once again, it didn't take long. "Fish, fish on, Firetiger Rippin Rap on your Slide Diver!" Trevor yelled. He had just let about 15 more feet of line out on that Slide Diver to get it a little deeper and that triggered the strike. Minutes later, he slid the net under a beautiful 15-pound lake trout. "They're here!" I exclaimed.
Are you enjoying this post?
You can be among the first to get the latest info on where to go, what to use and how to use it!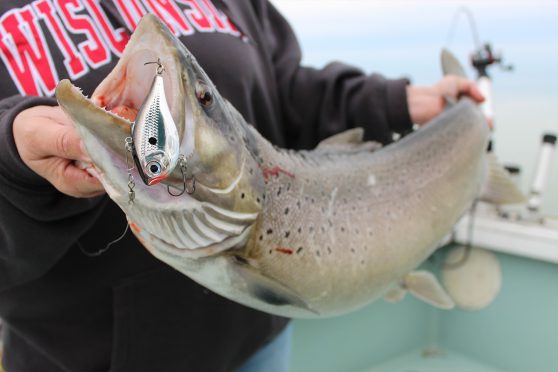 Early in the year, lake trout like to slide into the shallow water and feed on round gobies. Oftentimes as sun gets higher, they will be found just off the shelfs in a little deeper water and with cooler water temperatures in the spring they feed fairly aggressively. They will often be joined by the brown trout that will also be found a bit deeper during the mid-day hours. Running stick baits like the Floating Rapalas and Husky Jerks is a deadly combination for the suspended trout. I like to run lighter line in the spring and will use my walleye rods spooled with 40-pound Sufix 832 Braid, and finish with Sufix Fluorocarbon in the 12-pound range to give my stick baits maximum action.
Early morning and again at dusk, look for the trout to slide up shallower and aggressively feed on round gobies. These small fish will be found in areas that zebra mussels inhabit. They will dart in and out of clumps of mussels, feeding on leftover morsels. With gobies being a bit darker baitfish, keep that in mind when selecting lures. Some days the Black/gold and Orange/gold baits can be on fire! I also keep some spoons in my spring arsenal, and the Acme Cleo is a go-to bait. Colors like the Yellow w/orange dots and Watermelon can be straight up fish catchers. Look for most of your action in the shallow water to be on rigs run wide from the boat as the fish will swim wide to avoid the boat. Planer boards are deadly in these situations.
So when the water temps are hovering in the low 40s and the king salmon are still playing hide and seek in the deeper water, you will likely find me dragging a few Rapalas in the shallows and loading up on some delicious brown trout and lake trout. Remember to lighten up on the line, bust out the stick baits and hang on to the rods as those fish fight on light tackle in the shallow water!
For current fishing reports or information on charter fishing, check out my report page at FishAlgoma.com.
You can be among the first to get the latest info on where to go, what to use and how to use it!
---

Capt. Lee Haasch is a charter captain out of Algoma, Wis., with more than 45 years of Great Lakes angling and guiding experience. Haasch has been instructing anglers for over 30 years with education seminars and timely freelance articles.
All author posts
---