Go Flashy: Spinner Fishing for Crappies
Spring Spinner Fishing for Crappies
Fishermen are creatures of habit. Catching crappies for decades on a simple tube jig or minnows can lead a fisherman to get tunnel vision. It's the same with techniques. A fisherman perfects casting, slow trolling or some other method and it's not easy to get away from it.
However, flash can be a good thing in almost any technique and a good addition, when possible, to crappie lures. Adding flash isn't magic and it doesn't always work, but many times the crappies will eat it up.
Underbody spins
Versatility is an advantage whether it's playing baseball, at work or catching fish. The underbody spin, which we'll refer to as Road Runner since it is representative of this group, is a versatile bait that can turn a ho-hum day into a high-five experience. Here are five ways.
Casting. A Road Runner works great around riprap, docks and other open areas. It can be cast to the brush, but expect a lot hang-ups and lost baits.
Fast trolling. Also called long lining, trolling cmbines two or more poles to pull jigs behind the boat while controlling speed with a trolling motor. Experts say the addition of a spinner head leads to success.
Slow trolling. Success of this bait with slow trolling came with the addition of a gold willow leaf blade. Fish in the stained waters of the middle and southern states like the easier-to-see gold color and the mild flutter of the longer blade. A willow leaf Road Runner and orange-chartreuse body tipped with a medium minnow is a deadly combination in stained rivers and lakes.
Vertical jigging. Flash is something to try when fishing is tough. Use a light 1/32-ounce Road Runner for a slow fall.
Pitching/Flipping. When crappies are shallow, areas around docks, pads, wood and brush are good spots to pitch or flip a Road Runner.
A good all-around weight choice for crappies is the 1/16-ounce, but a 1/32 or 1/8 has a time and place, too. Choose as light of weight head as possible for the depth, current and wind. In general, a chrome blade is good for clearer water, bright days and shallow water. A gold or brass color is good for stained waters.
Safety pin spinners
Offset or safety pin style spinners are underutilized for crappie fishing. However, a safety pin style spinnerbait can be great in casting situations. You can cast it a long distance and retrieve it at a variety of speeds. Since it has some drag in the water, you can keep this type of spinnerbait shallow at a slow retrieve.
A prime time for these is during high water conditions that push crappies shallow. The safety pin style can be pulled through limbs and other covers with fewer hangups than most other crappie baits.
A large, shallow flat with stumps is another good spot to work an offset spinner. Staying just above or even bumping stumps allows a fisherman to put the bait into the strike zone and trigger crappies to bite.
In-line spinner
Are you enjoying this post?
You can be among the first to get the latest info on where to go, what to use and how to use it!
The least used spinner for crappie is the in-line. Crappies love wood and wood loves to eat hooks, so the small trebles of these baits are not ideal in most situations. However, when fish are in open water in-line spinners give the fish an entirely different look than what most other fishermen have shown the fish, so they can be a good choice.
The others
There are other spinners. A blade can hang from a hook, on top or have a prop in front of the head. There is no right or wrong, only different looks and actions.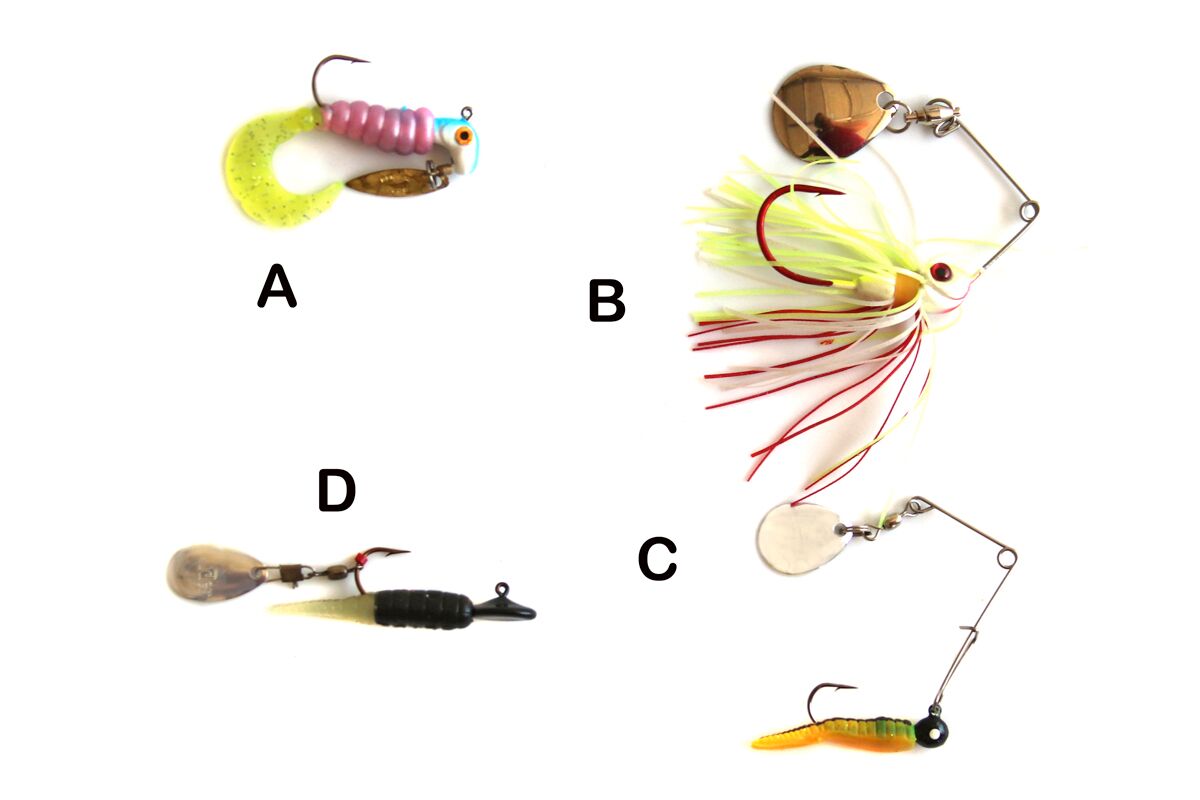 Tips
Three-time classic champ who just notched the 2017 American Crappie Trail Classic, Charles Bunting from Missouri, likes some flash. He offered some insights.
"In the summer, we'll go down in bait size," Bunting says. "We like a 1/32-ounce (underspin) with a copper, willow leaf blade. The spinner slows the fall so it drifts down slower. The fish are less active when it gets really hot so the slow fall with the flutter of the bait works for us.
"Unlike many other fishermen, we'll tie a Palomar knot then pull it as far back toward the hook point as possible," says Bunting. "When the bait is dropped straight down, it keeps the hook up high so the bait is being led by the spinner."
Another trick to give your flashy lure a different look is to use Magic Markers to color the blade. Maybe leave one side chrome or gold and the other marked yellow, red or black.
In clear water, stick with a chrome blade with a white-chartreuse body, or other bright color. In dark water, use an orange head with gold willow leaf blade and a black-orange or orange-chartreuse body.
Curly tail and boot tail jigs are great for vibration and visual attraction. However, when crappies are sluggish, a do-nothing grub body may be the best choice.
So even if you've dialed in your casting or trolling technique, try getting a little flashy this season. Crappies might tell you it was a good idea.     MWO
If you enjoyed this article and want to learn more crappie fishing information, check out Tim Huffman's article on spring crappie fishing.
You can be among the first to get the latest info on where to go, what to use and how to use it!
---

Tim Huffman specializes in crappie fishing, is editor for two crappie magazines, as well as writing for several others. In 2018, he published his sixth book, Limiting Out for Crappie, available at Amazon. His first article appeared in MidWest Outdoors in 1988.
All author posts
---