Slippery Winds Wilderness Resort: Six Lakes…Six Species!
One of the biggest attractions about a fishing destination always has been the possibility of catching multiple species any day on the water. While it's wonderful to spend the day on a walleye mecca catching dozens and dozens of this popular gamefish, or pick apart a bass fishery boating numbers of largemouths or smallmouths from dawn to dusk, the idea that at any given moment something new and different could be tugging on my line always intrigues me.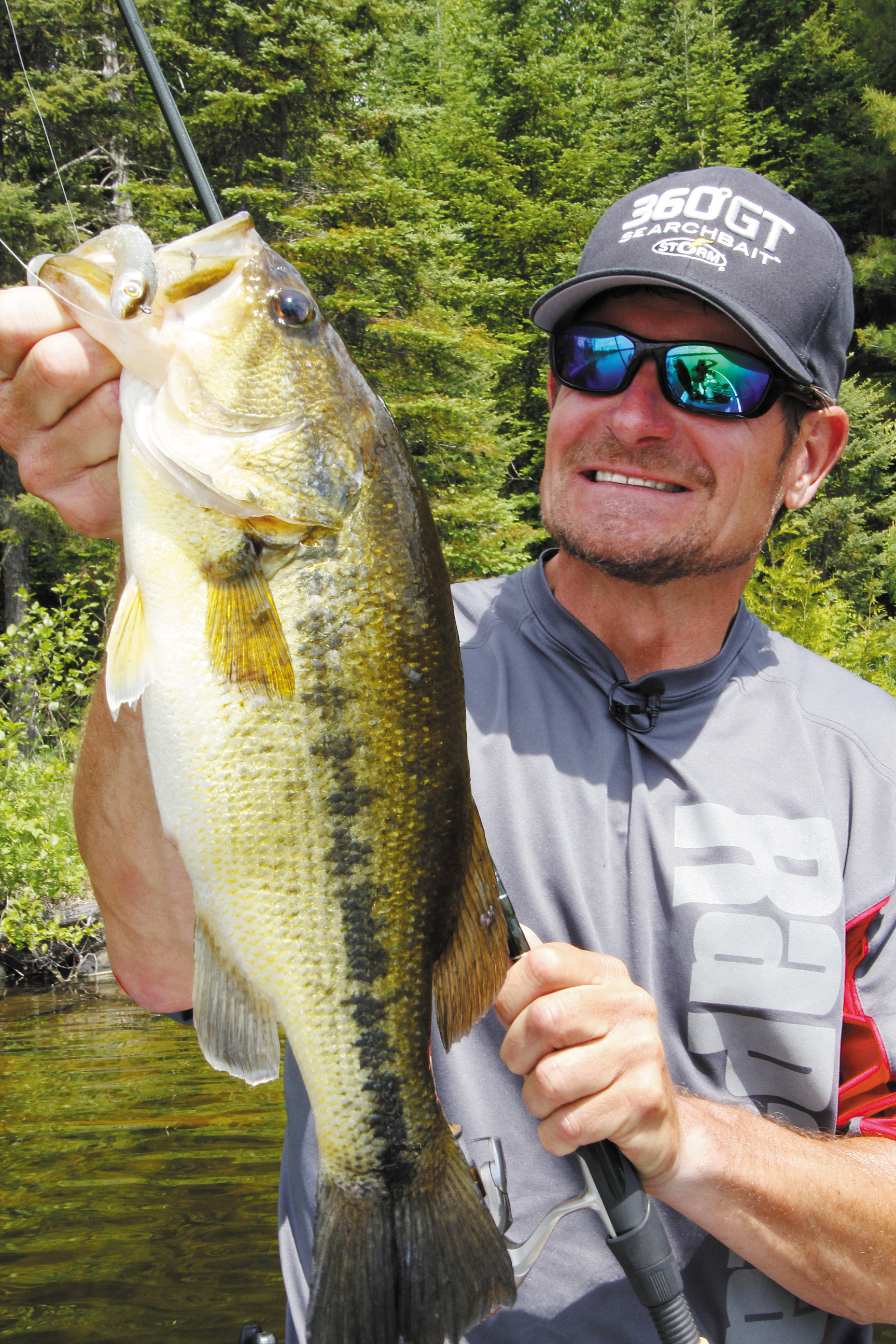 This past June, MidWest Outdoors Television ventured to northwest Ontario for a fly-in fishing adventure at Slippery Winds Wilderness Resort, a 25-minute floatplane flight north of Minnesota/Canada border towns International Falls and Fort Frances. After an ultra-comfortable flight in a Cessna Caravan with Rusty Myers Fly-in Service, the Slippery Winds staff greeted us and served up a quick breakfast in the lodge. We quickly assembled our fishing gear and ventured out on the main body of water—Yoke Lake—where Slippery Winds is based. A diverse and beautiful fishery, Yoke Lake is home to Ontario's "Big Six" gamefish species: walleyes, northern pike, largemouth bass, smallmouth bass, muskellunge, and lake trout.
In and of itself, Yoke Lake is a great fishery for all of these species, and hands-down one of the region's best medium-sized lakes for both muskies and walleyes. During our stay, most guests caught walleyes over 26 inches on Yoke while enjoying steady action overall for this favorite fish. A number of huge muskies were seen following lures, and even attacking hooked walleyes at boat side. Plus, several nice muskies were caught and released, although none were the mid-50-inch giants that Yoke Lake has a reputation for producing.
Heading into this TV production, I had hoped to catch all six species during our brief three-day trip, and earmarked muskies and lake trout as two of the more difficult options to check off the list. Of course, expectations are often wrong. Fewer than 10 casts after hooking my first walleye of the trip (a 24-inch beauty) from the edge of a cabbage bed, something bigger hit. A feisty 43-inch muskie snapped on the minnow-tipped orange ¼-oz. jig I was casting! Keeping the line tight and the drag on my Shimano Stradic semi-loose, the lean, post-spawn fish was landed for a quick photo and release. An awesome start to the fishing action at this Ontario fly-in camp!
The beauty of Slippery Winds Wilderness Lodge is the ability to tailor-make a Canadian fishing adventure to suit your personal needs. You can do this by portaging to adjoining lakes that offer amazing fishing for the various species. Each portage lake has a boat cache for guests to use, supplied with fuel, landing nets, swivel seats, and boat cushions. Choose to visit all the lakes during your stay (it's possible to fish two portage lakes in one day if you don't mind the exercise of two short hikes) or focus on Yoke Lake exclusively. Other guests are species-specific, choosing to target one or more of the six lakes with the best reputation for a particular fish. The five portage lakes are Bluffpoint, Crossroute, Sullivan (one of Ontario's better northern pike lakes), Straw, and Sucan.
One day we portaged over to Crossroute Lake, the best option for largemouth bass. A long, narrow lake with numerous shoreline cuts and bays as well as many small islands, Crossroute is both beautiful and fish-filled. Bonus: excellent water clarity allowed us to sight-fish bass roaming the sand and boulders. We also could see specimens that hovered around the downed timber dominating the shoreline. A 5-inch, green pumpkin worm pitched into the wood was the hot ticket, and a dainty No. 5 brown frog pattern Skitter Pop produced dozens of hard-fighting largies. In one back bay, a large birch tree lay over in ten feet of water, and swarming around the limbs swam at least 30 largemouths. Stay tuned for some amazing underwater footage on MidWest Outdoors Television! The average size of Crossroute Lake we caught was around 2 pounds and we boated at least 60 or more in just a few hours.
We enjoyed the best smallmouth bass fishing of the trip during a jaunt to the north end of Yoke Lake, about a 25-minute boat ride from the lodge. Smallies were crawling all over the shoreline shallows in various stages of spawning. Consistent success came on 4-inch and 5-inch orange stickworms., either rigged wacky-style or Texas-rigged with the hookpoint buried in the worm to avoid hanging on shoreline timber. The brown bass weren't picky. They smashed the soft plastics in earnest, and after a cloudy, drizzly mid-day gave way to sunny bluebird afternoon skies, the topwater frenzy kicked in. A gold #7 Rapala Skitter Pop hooked a dozen fish in the 18- to 19-inch class. Trophies!
Are you enjoying this post?
You can be among the first to get the latest info on where to go, what to use and how to use it!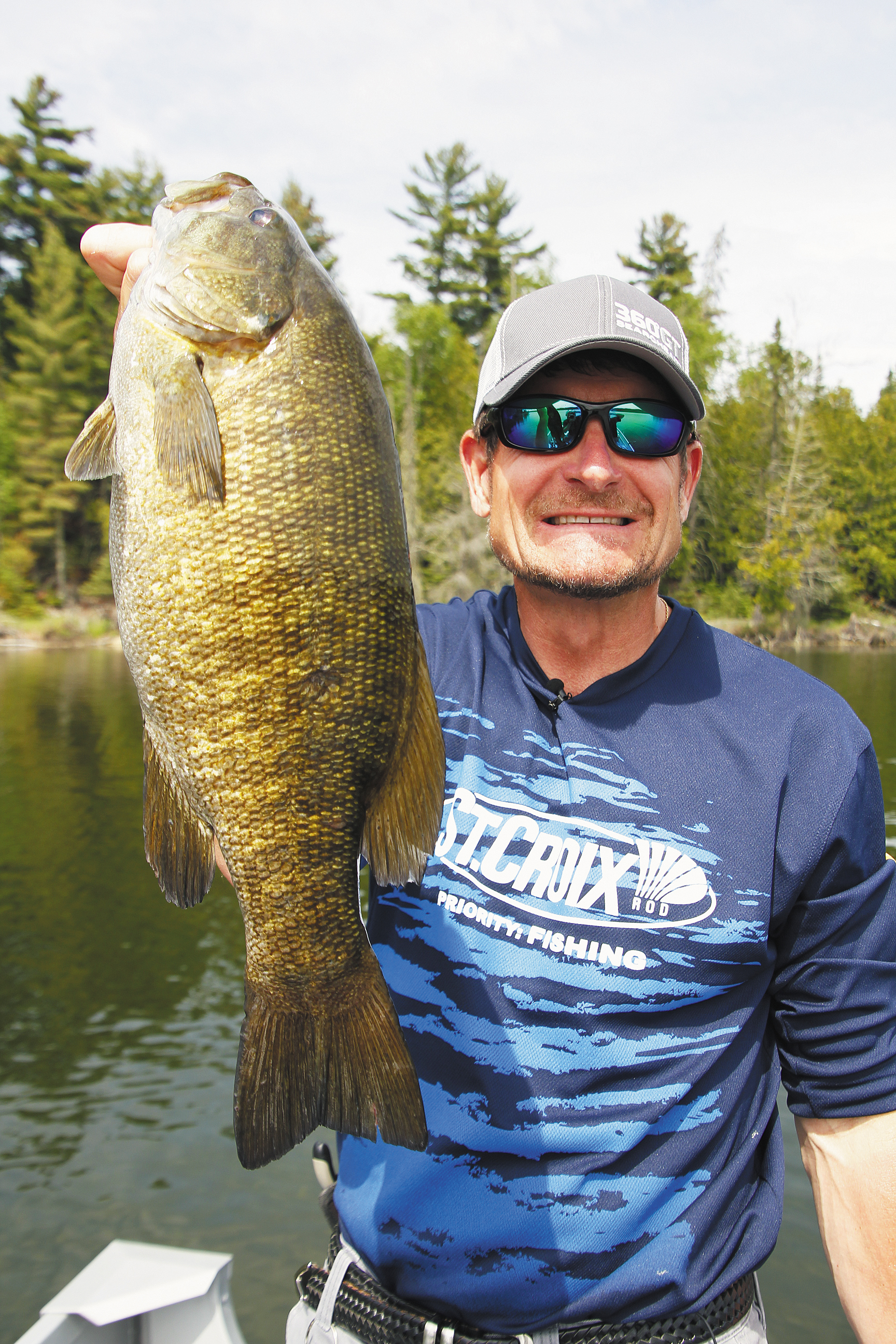 With walleyes such a big attraction for many Midwest anglers, it's important to note walleye fishing is pretty darn good at Slippery Winds Wilderness Lodge. We filmed two TV shows in three days during our stay, and both episodes conclude with trophy walleyes in the 8-pound class. On the afternoon of our second day, we focused our angling efforts on a football field-sized cabbage bed that yielded dozens of nice walleyes and northern pike. We sometimes could see the fish swimming below us in the clear water. Field-testing the new Storm 360 GT Searchbait produced bites, cast-after-cast. The unique paddletail softbait even out-produced a jig tipped with live minnow. I switched to a Rapala Super Shad Rap to try and trick some of the giant pike and muskies that lurked around the edges of the weedbed. Instead, I was rewarded with a trophy walleye that torpedoed the crankbait during a steady retrieve.
The deep main lake basin of Yoke Lake, a section of the lake 70 to 90 feet deep, harbors some of the region's biggest lake trout, but they're not easy to catch in te summer. While we did see fish on the portable Humminbird graph, time spent deep-jigging heavy spoons and lake trout jigs failed to produce. The early fall when fish move shallow to spawn is a much more productive time of year for lakers, pretty much across the province. With just a three-day trip to explore the variety of lakes and species diversity that Slippery Winds offers, I figured we'd fail to catch a trout.
But this rewarding destination was about to surprise me in a good way. On Bluffpoint Lake, I was furiously casting a No. 11 Storm Topwalker for big largemouth along a shallow shoreline when a giant explosion made it seem a 6-pound bass was on the end of the line. Surprisingly, it was a small laker (around 5 pounds) that apparently had lost its way. The edge of a warm, muddy, shallow bay is not a normal lake trout location! Nonetheless, the fish delivered the "six-for-six species" that made the fly-in trip to Slippery Winds a memorable one indeed!
If the idea of catching Ontario's Big Six intrigues you, check out Slippery Winds Wilderness Lodge. You'll find great service and accommodations, excellent multi-species angling and a variety of lakes to choose from, for a package price that's very affordable. Slippery Winds Lodge is a perfect spot for parents with young anglers as well.
For more information… greatwhitenorthlodges.com
You can be among the first to get the latest info on where to go, what to use and how to use it!
---
We believe being outdoors is good. With more than 1,000 articles each year, MidWest Outdoors magazine is all about sharing outdoor experiences with you—where to go, what to use and how to use it… whether you're close to home or on that trip of a lifetime.
All author posts
---