The "Bad Boys" thought it would be cool to have an invitational bass fishing tournament pitting 15 bass boat guys against 15 kayak anglers. It was on Pontiac Lake near Waterford, Mich. on April 15, dubbed "War on the Water." I was invited to be one of the 15 kayak anglers against 15 guys in bass boats.
After it was over, "Slaughter on the Water" was more accurate.
The Bad Boys Fishing organization operates online tournaments that have a Major League Fishing format. If you've seen that popular fishing show, you know bass pro bass anglers try to catch as many pounds of fish within a certain time period. For the Bad Boys' events, instead of pounds, you accumulate total inches. Catch a bass, put it on the official Hawg Trough ruler, and take its picture with your smartphone. Or you can let the fish go and send your picture along with the fish's length to the website iAngler.com.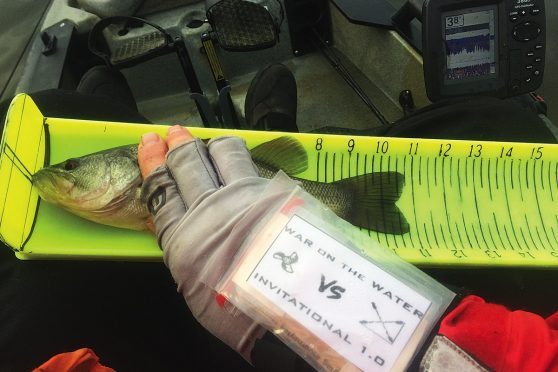 The website totals the lengths of each angler's fish, and anyone can see the real-time leaderboard online including all the anglers in the tournament. It's kind of fun to see how everyone else is doing and how you measure up by logging onto iAngler. But I usually resist the temptation. Accomplished tournament anglers have told me that you're not fishing against other anglers in tournaments; you fish against the fish. So I rarely check the leaderboard while on the water. You can't do anything about whatever you see anyway. If I see that I'm in first (this actually happened one), then I might stop enjoying fishing and get uptight and think more about the money I'm on the verge of losing. If I'm way behind, I also might get mad at my inability to perform and get discouraged. Fishing is supposed to be fun, right?
"The Slaughter" started at 7:30 a.m. with the day cool, cloudy and rainy. By noon, though, the sun was out and the water was fairly calm. I'd submitted six bass, starting with a 9 1/4-incher (the length limit for submissions was 8 inches), and added five more fish from 8 1/2 to 14 inches. The first fish was on a square-billed crankbait and the others were on the downsized soft plastic Ned Rig. I'd figured I had about 69 inches. Since I hadn't seen anybody else catch a single fish either in a bass boat or kayak I thought I might as well check the leaderboard. I felt I might be doing okay. As I was logging onto the iAngler site I promised myself that whatever I saw wouldn't affect my game plan or my enjoyment of the day. If by some miracle I was close to the top, I wouldn't think about the $1,000 first prize or get nervous; I'd just keep doing what I was doing and hope to catch some more fish. If I was pretty far behind—no biggie. It was truly a wonderful spring day and fishing was good. And, I'd caught a few northern pike.
The bright sun obscured the smartphone screen somewhat, but the first thing I saw on the leaderboard was a guy named Kyle Ratliff, who appeared to be leading with 69 inches.
Wow! I thought. I AM close to the lead! This is great! I might just win a thousand bucks!
So, I then scrolled down to see how close the lead I was. But as I scrolled it looked like third place belonged to someone who had 34 inches, which didn't make sense.
Then I saw the extra "0." Third place had 340 inches. The leader didn't have 69 inches; he had 690 inches. This was 10 times more than what I had. I was more than 600 inches behind.
Are you enjoying this post?
You can be among the first to get the latest info on where to go, what to use and how to use it!
From the water, I could see the launch ramp and my SUV and trailer, and I seriously thought for a moment about packing up and heading home.
But I didn't. Mother Nature punished that decision by whipping the light breeze into a white-cap-churning tempest that lasted the next few hours.
Yours truly stuck it out, hurling a Strike King KVD 1.5 Square-billed crankbait in the Bluegill pattern around a huge area with depths of 4 to 5 feet, scattered clumps of weeds, and apparently, ample fish. I added six more bass and at least that many pike. Although I finished about 650 inches behind Ratliff with his 50 fish totaling 790 1/2 inches, I really had a good time. The final tally showed the 15 boaters totaled 267 fish for 5,531 1/2 inches, while the kayakers caught 94 fish for 1,220 1/4 inches.
"We had a general feeling of confidence that we were going to pull it out," Ratliff said, telling me this as he chuckled.
A veteran of the lake, he fished a spot where fish stage in spring. He got there before his bass boat brothers and did not move more than 40 feet the whole day. All of his fish came on a Rat-L-Trap in their Ghost pattern or on a Missile 3/8-ounce jig.
The highest-finishing kayaker was Robert Taylor of Plainwell, Mich. with 13 fish for 176 3/4 inches. I finished 11th, with 12 fish for 143 1/2 inches.
At the post-tournament awards ceremony at The Bait Shop, the kayak guys munched their submarine sandwiches while licking their wounds. We had had a more difficult time with the wind, but our spirits were high. The bass boat guys didn't celebrate too loudly with their stomping of the kayaks, and had slaughtered us with dignity.
The next time the Bad Boys put together a bass boat-kayak contest they'll likely pair a kayaker with a bass boater and combine their scores.
That would be fun too.
You can be among the first to get the latest info on where to go, what to use and how to use it!
---

Mike Cyze has been called one of the most knowledgeable multispecies river anglers in the country. His ability to catch fish under the challenging conditions encountered in the river environment, combined with his overall fishing knowledge, has earned him recognition as a true Mississippi River Expert. Contact him at: lastcast13@yahoo.com.
All author posts
---