Search, Find, and Fish
An angler has to do three things to catch fish: search, find and fish. This is especially true for those who don't have much time or are on a new body of water. While it may sound like search and find are redundant, they actually are not. Searching is finding active fish in areas that may be holding numbers of fish, while finding is locating an area that has more than one fish after the initial search.
There are certain lures that are used for each part of the equation, but one lure can be used in different ways to cover all three parts.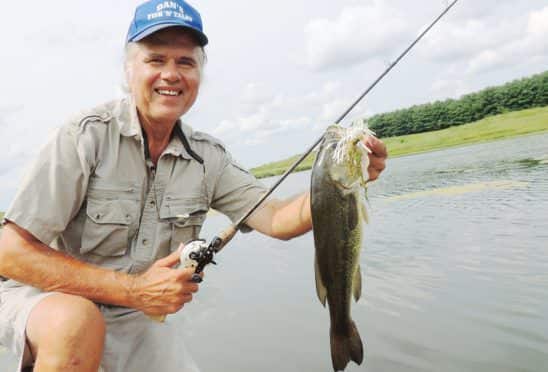 Search
Faster-moving lures are the main source of searching. Three main ones are a Blitz Blade, Rat-L-Trap and spinnerbait. These can be used at different depths and speeds, but not in every condition. Heavy weeds can be a problem for all three types, and heavy wood cover will cause problems with the Blade and Rat-L-Trap. In the problem areas I will swim a Blitz Finesse Jig so that the lighter-weighted lure can find its way easier through the weeds and bounce over any wood.
Another lure I use in a "swimming" fashion is a Power Jerk Shad rigged on a Daiichi Bleeding Bait Copperhead or Butt Dragger hook. This is pulled along in a constant speed, which makes the jerkbait sway slowly from side to side. This is a slower way of searching, but not as slow as using the jerkbait in its normal retrieve.
Find
When more than one fish is hooked, it's time to turn your attention to finding the fish, which is a bit slower. In fact, the carryover that the swimming Blitz Jig and Jerk Shad has is a big help. Also, this is where I like using a slow-rolled spinnerbait and TTI-Blakemore's Casey's Runner Head with a 3-inch Power Minnow. This minnow's size makes it possible to move the Casey's Runner along faster than with the recommended Fluke Jr., but still be fished on a slower presentation.
Once a few more fish are located, a pattern is formed to help locate fish in other parts of a body of water. For example, several fish caught along a riprap area will most likely carry over to other such spots, and in the same respect, heavy wood cover with or without current will be another pattern. It is also important to take a look at depth wind direction, current and temperature in these locations.
Are you enjoying this post?
You can be among the first to get the latest info on where to go, what to use and how to use it!
Fish
After the location is found it is time to turn your attention to serious fishing. This means continuing with what has caught the fish in the previous steps, but also going to slower lures and presentations.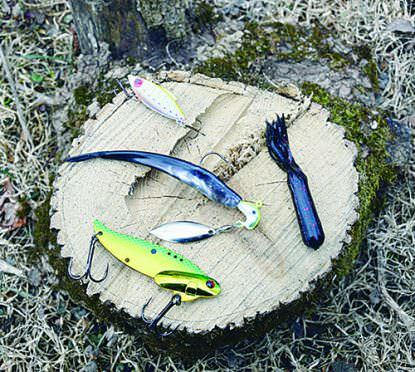 A good example is fishing fast around the outer edges of a brush pile and picking up active fish. Inactive fish are located deeper in the pile, which requires slower, weedless lures. For this, I will flip/pitch Texas-rigged worms and tubes, using XGap XPoint hooks and jigs with trailers. Normally, I'll use a Blitz Finesse with an Auger Frog or Pit Boss Jr. at first, and then up to a 3/8-ounce Spyder jig with Power Chigger Craw if fishing deeper in the cover.
These same follow-up lures will be cast along other areas such as rocks and weedlines—you are slowing down to concentrate and truly cover the fish in an area completely before moving on. Even if it slows down, you will also want to remember an area that has been very good and make a possible return pass later.
Whether you use the lures that I use or something similar that is your favorite, to cover the fast, medium or slow techniques, this system can provide simple success. While the informtion above was focused mainly on targeting bass, there is nothing major for learning to be successful catching most species if you remember the basic steps: search, find and fish.
   If you have any further questions about this or any other fishing subject, drop me a line through the Dan's Fish 'N' Tales® website at dansfishntales.com, or Facebook page at facebook.com/dansfishntales.
You can be among the first to get the latest info on where to go, what to use and how to use it!
---

Dan Galusha has fished all of his life, worked more than 45 years in the outdoor/media industry, and was inducted into the Fresh Water Fishing Hall of Fame as a Legendary Communicator.  Direct questions through dansfishntales.com, facebook.com/dansfishntales and facebook.com/shootnplink.
All author posts
---