A Real 'Killer' of a Bait
Sometime back a conversation took place with Natural Forage Baits in regard to finding a soft plastic that would work well for finger jigging that had to be flexible and have a tapering or thin tail. NFB said that they had something called the
"Lil Killer," which was a 4-inch minnow-type of bait.
While being a little different than the normally used Power Minnow, it did look like it had possibilities.
After receiving a package of the Lil Killer, which had Kick'n Bass Attractant cooked in, I started thinking that it could be used for more than just finger jigging. It did work great for that when I used it on a B-Fish-N Precision jig head and Blakemore Casey's Runner Head, but there was definitely something that showed it could do more, which proved to be correct.
In fact, I've even found three other uses.
One additional use, and my favorite, is as a jig trailer. The Silver Shad color works great with a Blitz White Finesse Jig for using it with a swimming retrieve. Swimming the combination along in the place of a spinnerbait and over cover is a great technique, plus it can be alternated with the finger-jigging method.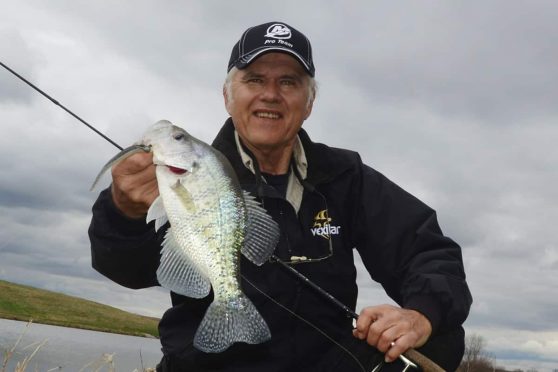 Still in the jig trailer area, people that used the old Uncle Josh Pork Eel will find that the Lil Killer is just as good, but without the mess. For this technique, you hop/bounce the jig along any sort of cover. Then, the tail will flip up and down just as you would with the Eel, but with a little less flexibility. This is great along weed edges and over all sorts of cover and rocky bottoms. You might want to ask about a black or brown color so that it's closer to the leeches that it's trying to imitate.
The second additional use falls in line with the jig: a spinnerbait trailer. A few years ago, the Mann's Classic Spinnerbait was very popular with the straight twin-tail trailer. The Lil Killer does a similar job, but adds a little more profile and a different swim. It also works well for a pump retrieve, which I've found to be productive when fishing point areas and the fish want the bait to fall off the side. With this, the spinnerbait is allowed to fall so that the blades turn, making it better for willow-leaf spinnerbaits like the Stanley models. I particularly like the Baby Wedge and smaller-weighted Vibra Shaft models. Since I normally use the Chartreuse/White-skirted Stanley spinnerbaits, my first choice for color is the same as before, their Silver Shad. The Brown/Purple/Green Killer is also good to team with any of the bluegill-type skirt colors.
Last—and a bit different—is using your Lil Killer rigged on a smaller 2/0 Daiichi Bleeding Bait Copperhead or a Butt Dragger hook. With the unweighted Copperhead, it makes a small, soft plastic jerkbait. Using the weighted Butt Dragger, it then turns into a straight "slider" and/or finger-jigging lure. Again, my favorite color is their Silver Shad.
These are just a few ideas for this bait, but I'm sure many of you can come up with more. So, if you're looking for an extremely simple-looking "killer of a bait" for multi-species waters, take a look at NFB's Lil Killer.
You can be among the first to get the latest info on where to go, what to use and how to use it!
---

Dan Galusha has fished all of his life, worked more than 45 years in the outdoor/media industry, and was inducted into the Fresh Water Fishing Hall of Fame as a Legendary Communicator.  Direct questions through dansfishntales.com, facebook.com/dansfishntales and facebook.com/shootnplink.
All author posts
---