Rainy Lake Trip Report: Summer 2022
    MidWest Outdoors TV cameras were on location at Rainy Lake last year for a quick stop in early June (for a day), three days in August, plus one day in October to film a grouse hunt. It is such a blessing to partner with the community to promote one of my absolutely favorite places, and the fishing can be incredible if conditions line up. Here's a report about our experiences, many of which you can see on MWO TV segments starting to air now on stations throughout the upper Midwest (and nationally on The Pursuit Channel).
Lake levels were historically high when, with a one-day opening in the travel schedule, we detoured to International Falls early one morning and launched my Skeeter by 9:30 a.m. Son Nicholas and his school buddy James soon hooked a double—twin 19-inch smallmouth bass—filmed by MWO TV Producer Seth Meyer. The weather forecast was the main reason I said to the guys, "We have to go to Rainy for a day": powder blue, sunny skies with light winds—the perfect conditions for mid-June bass and walleye fishing in the North Country. It was setting up to be an awesome fishing day!
From May through early July on a prolific fishery such as Rainy Lake, a smorgasbord of lures will produce numbers of both smallmouths and walleyes, with a few bonus northern pike mixed in. One angler should always have a jerkbait in hand, because erratic retrieves in cold water stimulate aggression in gamefish. #10 X-Raps, #10 or #12 Husky Jerks, and Shadow Rap Deeps in a variety of colors are productive choices.
For most of our fishing morning, the boys kept pace with each other, Nicholas fishing a jerkbait and James a 3-inch Storm Largo Shad—a stout, boot-tail swimbait rigged on a VMC Hybrid Swimbait Jig. This combo is one of my favorites on lakes throughout the upper Midwest and Ontario. It was hard for me not to fish side-by-side with James, who was catching so many fish that he didn't want to cast anything else but the Largo. But I let the two 17-year-olds enjoy the awesome fishing, and I pitched in from time to time with a #6 or #10 Rapala DT crankbait or the occasional topwater popper. Our day wrapped up by 3 p.m. despite a hot bite (and it was very hard to cut the day short!), having boated over 50 good quality bass and walleyes, exploring from spot-to-spot and enjoying the spectacular backdrop of Voyageur's National Park.
It was early August before my schedule opened up enough to make a return trip, this time joined by Producer Graham Zima and one of my close friends Scott Walsh, an occasional fishing companion going back many years. We actually met on Rainy Lake back in the bass tournament days, and Scott loves North Country fishing so much he moved to Ely, Minnesota decades ago, leaving the hubbub of Chicago far behind. Scott and I have embraced the wonder of Rainy Lake together many times over the years, and we were both pretty jacked for the trip—three filming days.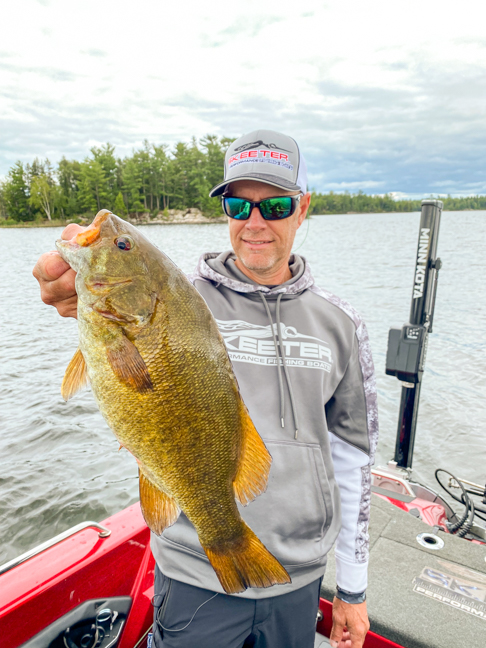 Warm, morning sunshine greeted us in the hotel parking lot as we uncovered our boats,and transferred Scott's fishing gear to my boat for the first filming day. There are several good public accesses with concrete ramps to choose from, and boat launching is available at some resorts as well. Excitedly, we roared up the lake, deciding on the fly which of our dozens of favorite fishing spots to explore first.
Rainy Lake is a vast fishery on the Minnesota/Ontario border—over 200,000 acres with about 70 percent of the lake in Canada. Anglers can fish both sides of the lake, abiding by Canadian as well as U.S. boating and fishing regulations, and in possession of fishing licenses for both sides. Provided boaters do not touch shore in Canada (or anchor in Canadian waters), it's not required to check in with Customs & Immigration. With GPS mapping chips, navigation throughout the thousands of islands is easy, plus there are plenty of main navigation routes marked with buoys on both sides of the lake.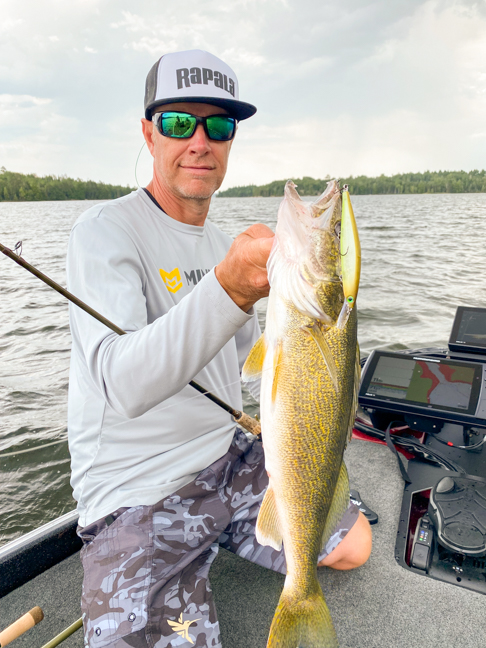 A wealth of fishing knowledge about a given body of water is an obvious advantage. I've fished Rainy since the mid-1990s, but the introduction of Humminbird's Mega 360 Imaging has opened up a whole new world for so many anglers. Our first fishing spot—an extensive rock and gravel shoreline plus a small island of boulders along the edge of the deep main basin—essentially acts as a "stop sign" to bass, because they don't spend much time deeper that 25 feet during the summer months. We've fished this spot for years (a typical day of bass and walleye fishing on Rainy involves hopping from spot to spot, catching fish most everywhere you go); it's even been in play on some past tournament days. But we never knew all the great structure we were missing until we could see the incredible detail of strewn boulders and gravel covering perhaps 2 to 3 acres of bottom across a giant offshore flat that's 9 to 15 feet deep. We caught a number of hefty bass on jerkbaits, Storm Searchbaits and hair jigs, casting in all directions at patches of rock we spotted on Mega 360.
Our first day unfolded like many on Rainy Lake, with lots of fish and lots of laughter. We fished a mix of new spots and some old favorites, catching walleyes, bass and pike wherever we ventured. At one location—a small island adjacent to deep water on one side with a wide, 11-foot-deep saddle on the other side connecting to a larger island and some weedy backwaters—Scott caught a dozen walleyes on perhaps 20 casts with a jerkbait. Neither of us could recall ever catching walleyes there over the years—but it was loaded with a school of chunky fish. We're always learning something new!
Are you enjoying this post?
You can be among the first to get the latest info on where to go, what to use and how to use it!
In the pre-dawn light of our second filming day, we could see the trees swaying a bit—a foreboding start to a day the forecasters pegged as "partly cloudy." After transferring my fishing gear to Scott's Skeeter FXR21 bass boat and grabbing a quick breakfast at the hotel, we launched the boat and headed out on the lake. By that time, it was starting to get gloomy from the west, with a good chop building on the water. Rainy Lake is a huge body of water, and on windy days, some of the larger bays endure building swells, but with hundreds of islands and channels to tuck behind, navigation is easy. We don't mind fishing in wind, and often the best fishing is on windward shorelines, but as the wind and clouds continued to build, we instead chose protected spots.
We started with a double hookup, followed by a stout 4 1/2-pound smallie, and really never slowed down. We filmed a great episode with numbers of beautiful 2- to 5-pound walleyes, and lots of (mostly big) smallmouths. The weather forecasters missed their targets, however, with heavy cloud cover and rain squalls moving in as the day progressed, and even some thunder and lightning in the distance. While the storm front triggered the big bites for us all day, we cut it short due to electricity in the air.
The final day we were back in my Skeeter WX2200, heading up the lake against stiff waves and wind, eager for more excellent fishing. Enroute to shallow shorelines that had been producing a multitude of bass and walleyes on jerkbaits, crankbaits, swimbaits, topwaters and hair jigs, we detoured to the lake basin and the many deep walleye reefs that Rainy Lake is so famous for.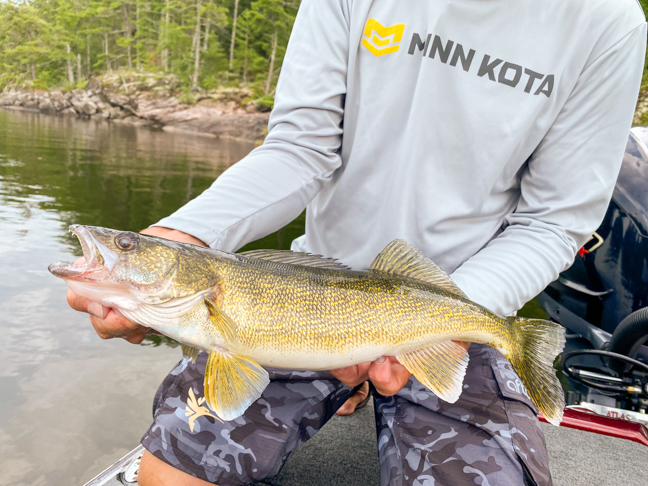 These rock humps, topping out anywhere from between 20 to 40 feet and surrounded by much deeper water, are absolute fish magnets during the summer months for walleyes and pike. Live bait anglers using jigs and minnows; live bait rigs with leeches, 'crawlers or minnows; and slip bobbers catch walleyes all season long. Occasionally, 20-pound pike attack hooked walleyes as you're reeling them in, adding to a day of fishing thrills!
Scott and I enjoy casting so much, we don't often hover on these reefs, and we didn't even buy any live bait for the week. Plus, throughout the open-water season, you'll catch plenty of walleyes while fishing in the shallows for bass. Idling in the basin with the LakeMaster chip pinpointing structure, we soon found a hump loaded with fish. We deployed #7 Jigging Raps and tagged several giant walleyes, including a couple in the 8- to 9-pound range! Ah, the splendor of Rainy Lake!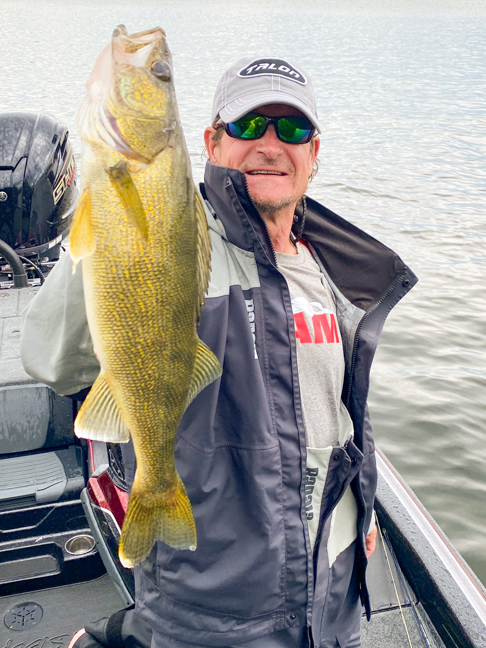 With the windy forecast, our mission was to film a segment about how to fish windy shorelines and points, play the current from the wind, and catch fish primarily on 1/2-ounce white spinnerbaits and 4.5-inch Storm Searchbaits. The thrill of big bass and walleyes crushing these lures is hard to beat, and we enjoyed a raucous day of firm hooksets and flipping fish into the boat on heavy line. What a way to end the trip!
Rainy Lake is truly a vacation paradise and a wonderful destination for families and fishermen. We hope to see you on the water this summer, because I can promise, we'll be there to film more great fishing!
You can be among the first to get the latest info on where to go, what to use and how to use it!