Pullin' Crankbaits for Hot Summer Action
It's hot. Air and water temperatures are oppressive. Sticking a bait in front of a crappie's nose often gets no response. However, when fish are reluctant to hit a slow presentation, they'll often react to a fast-moving crankbait.
The basics
Trolling is a good technique for targeting open-water crappies. A speed of 2 miles per hour allows you to cover a lot of water. The right speed, depth and area will lead to good results.
Setup is important. Pulling can be done straight back or with planer boards. Inexperienced fishermen should start with one or two poles out each side of the boat. Experienced fishermen often use three or four poles on each side since more baits lead to more fish.
A six-pole system can include a 16-, 12- and 8-foot pole out each side when pulling straight behind the boat. More distance between the pole tips means fewer tangles. Planer board poles can be shorter and of equal length. Line choice is often 10-pound-test monofilament for trolling because it stretches to absorb a sudden pull and is small enough in diameter for baits to run deep.
Good rod holders play a key role. Strong pressure is applied to equipment when a bait hangs up or when a big catfish hits a bait. A top pick is Driftmaster, a holder originally made for catfishermen chasing big cats, so holders have strength and reliability.
Line counter reels are not required. However, keeping baits in the strike zone is important, so returning baits to a specific line length is critical. Mark your line, count pulls or use line counter reels.
A variety of crankbaits work to catch crappies. Guide and media guru, Brad Wiegmann, says, "I use Pico INT because they come out of the box tracking straight and true. You don't have to tune them and they run at all speeds. Precision Trolling has an app for getting baits to a specific depth based upon line size, length and bait. Pico is on their app.
"I use planer boards because crappies can be spooky. I often use four because six can get busy when the fish are biting. A crappie gets hooked and it comes to the top of the water and skis across the top. Boards will show a bite by bobbing down in front but a big fish will pull it back. It's not uncommon to catch some big catfish or other species."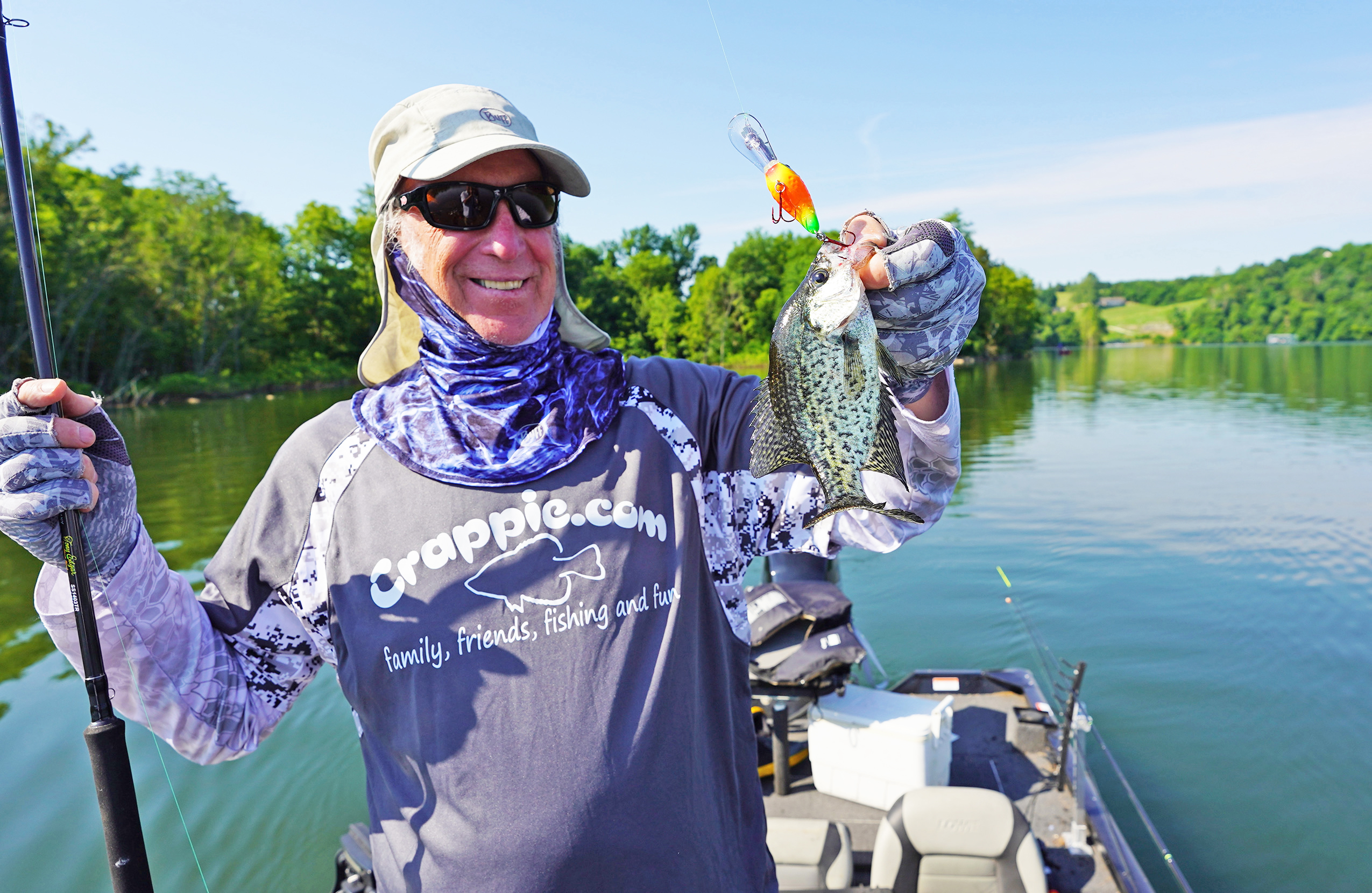 Trolling and catching
A final piece of equipment that's critical for trolling is a GPS-controlled trolling motor. It can be set to a path and does the work to keep the boat on that path, at a desired direction and at the right speed. Shift your attention to poles instead of the trolling motor.
Russ Bailey, host of Brushpile Fishing, says, "A lot of things are amazing about pulling crankbaits. One, the hotter it gets, the better the fishing. Two, it's a fast-moving technique to cover a lot of water in a short amount of time. Three, it's strictly a reaction bite instead of a hunger bite.
Are you enjoying this post?
You can be among the first to get the latest info on where to go, what to use and how to use it!
"Areas that produce include points, old road beds, flats and channels," says Bailey. "The fish will suspend up in the water column and nail a crankbait when it comes to them. They hear it coming, see it and instinct often causes them to attack."
Bailey seldom uses planer boards. He uses line counter reels and says a very general rule-of-thumb is to divide the line distance by 10, then add one, and you have the depth of the bait.
"I like 1.5 to 2.1 miles per hour. Turns cause a change in speed of the baits sometimes triggering bites, giving the fisherman an indication that pull speed should be increased or decreased.
"My best trip was one morning at Grenada in the hot summer when we had our limit within a couple of hours. It was great. I love the mood of the technique and still have trouble believing how productive it is."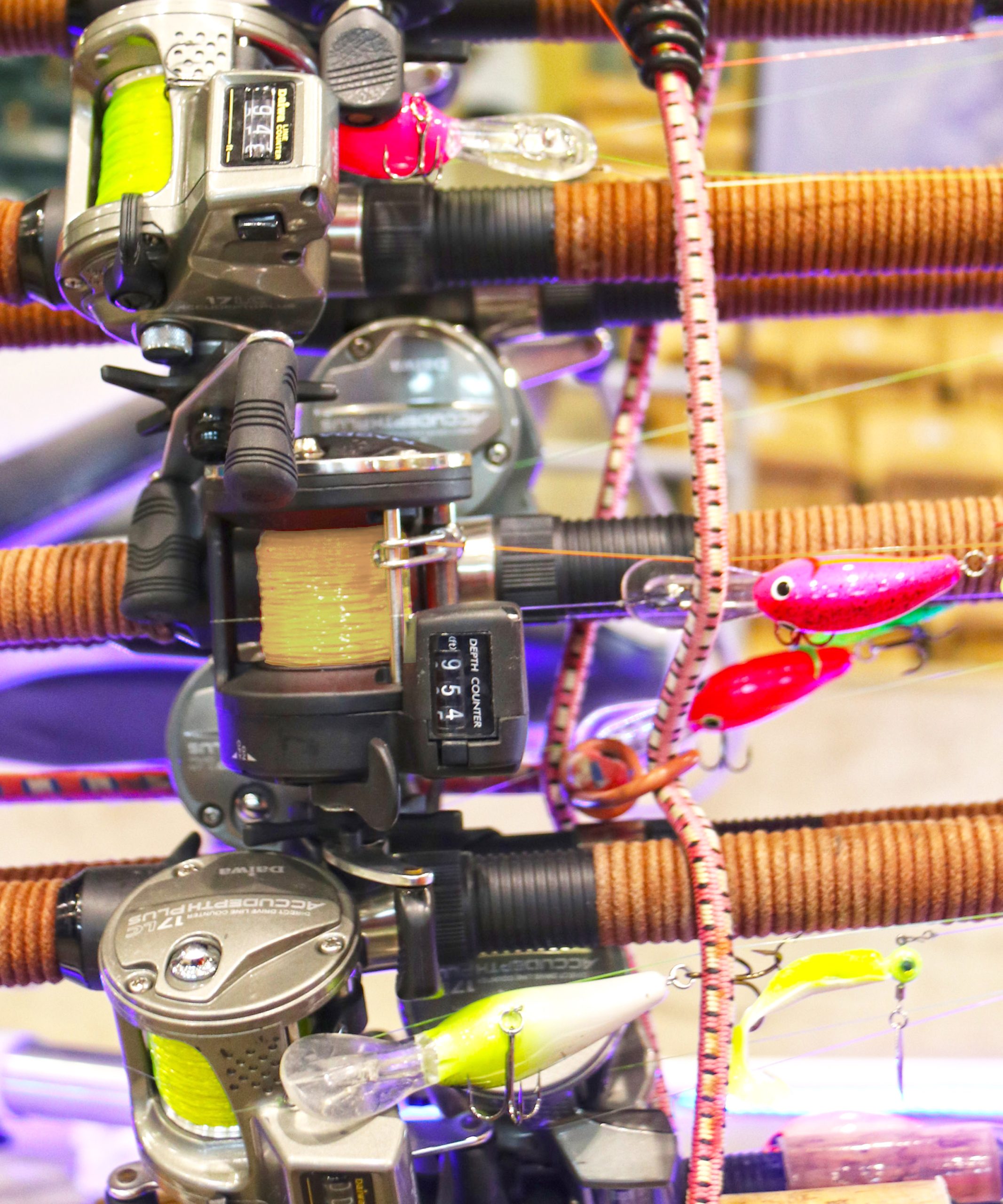 Final notes and tips
Colors vary from lake to lake. Some favorites include white/shad, pink, firetiger (black and green) and chrome. Bailey says he changes colors often because crappies are very color-sensitive to the baits. Wiegmann says the pink splatter back is very popular and he has good luck on Pico's Geezer Clown, a wild, striped, multi-colored bait.
Almost any boat can be rigged to pull crankbaits: pontoons, jonboats and everything in between. Strong poles holders and a GPS-controlled trolling motor are key tools.
Two elements for success are line length and boat speed. Line length determines bait depth. Speed is determined by the fish mood with 1.4 to 1.8 miles per hour being good in cooler water while 1.7 to 2.3 is good when the water is hot. Vary speed until the right one is found.
Trolling crankbaits can be fun and relaxing. It's easy to scout a lake bottom because a lot of water is covered. For example, pulling a 1.8 miles per hour for five hours equates to nine miles of fishing.
Crappie fishermen may not enjoy other species, but most fishermen enjoy the tug of a bass, walleye or catfish. Many other species will hit crankbaits, so expect a heavy tug and good fight. Be sure to have a landing net ready.
A word of caution: Treble hooks and a flopping fish means trouble. White bass are the worse, but any fish can make a quick, unexpected flop and bury hooks into hands, arms, legs and whatever else is near. Always handle hooked fish with caution and use good, long pliers to grab the treble hook shank that is in the fish. A good shake of the pliers, using the fish's weight against the hook, will usually free the fish and allow you to control of the hooks and bait with your pliers.
Summer fishing requires protection from sun and heat. Hydrate, wear sunscreen and cover exposed skin. A good practice is to be on the water at daybreak and get off early to avoid heat and recreational boat traffic.
You can be among the first to get the latest info on where to go, what to use and how to use it!
---

Tim Huffman specializes in crappie fishing, is editor for two crappie magazines, as well as writing for several others. In 2018, he published his sixth book, Limiting Out for Crappie, available at Amazon. His first article appeared in MidWest Outdoors in 1988.
All author posts
---