Old Fishing Tackle Advertisements
One of the best places to learn about fishing tackle is by searching advertisements in old outdoors sports publications, company catalogs or handbill fliers. My good friend Dick Streater was an early lure collector who recognized the need to pull the information from these resources. He collected all of these papers he could find, and requested that friends send him what they had. By 1968, he had quite a collection of originals and copies.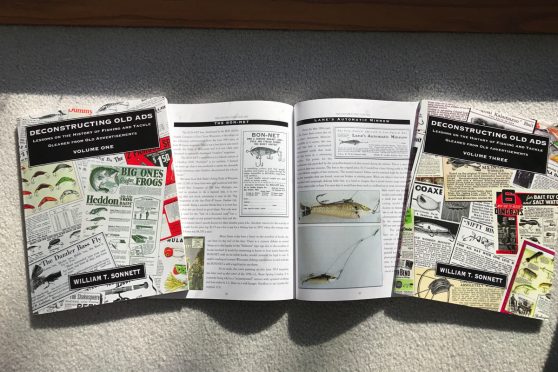 In 1976, the National Fishing Lure Collectors Club was formed. Now, Dick's network of people who shared this passion multiplied exponentially. He then obtained the use of a copier and produced a loose-leaf collection of material called, "Streater's Reference Catalog of Old Fishing Lures." In 1978, the 233-page reference for serious collectors was published. The writing helped collectors, and many responded enthusiastically sending in information they had found that wasn't included in his work.
One special contributor was Trig Lund, the former president of Heddon, who was also associated with Shakespeare and Pflueger.
One day he stopped by his old workplace in Akron at the Pflueger factory. As he walked in, the receptionist was crying and employees were very sad. The company was closing and the business was about to be acquired.
"No one cares," exclaimed the workers. "They're throwing it all in the trash."
Trig discovered that lures from other makers that had been collected over the decades and put in their "Sample Room" were now being dismantled and thrown in disposal bins.
"I'll rescue it," said Trig, the fast-thinking entrepreneur.
Lund rented a large truck and loaded the precious lures inside, just hours from being lost forever. Employees were happy to help him in his efforts and were relieved that these historic pieces were being rescued.
He then took them home and called friends, including Dick Streater, to help sort through his find and see the acquisition. Streater then got a copier and built up content for an addition to what others started calling "the lure-collector's bible."
We all owe Dick Streater a "Thank You" for this great work that subsequently evolved into the book, The Fishing Lure Collector's Bible. This work has spawned many other books and volumes on numerous makers and all aspects of fishing tackle and collecting.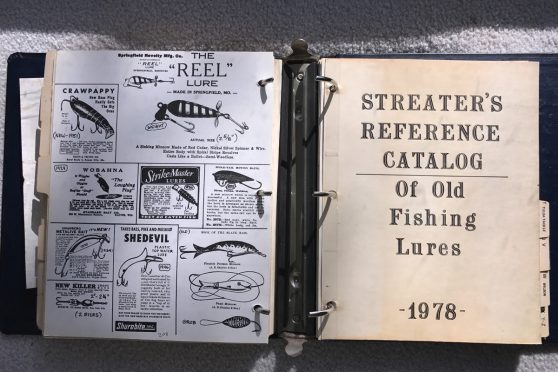 Another tackle-collecting friend was Bill Sonnett. He started when he was a boy, and has always had an insatiable appetite for fishing. This interest has stayed with him all of his life and grew into a desire to study the history of fishing tackle and bass fishing.
Bill and many of his friends collected and shared ads from many older publications to help with his "Deconstructing Old Ads" column for the Fishing for History blog, for the book Deconstructing Old Ads: Lessons on the History of Fishing Tackle Gleaned From Vintage Advertisements and with contributions for the book Fishing for History: The Best of Dr. Todd's History of Fishing and Fishing Tackle Blog, 2007-2008 produced by Todd Larson of Whitefish Press.
The works are now part of a three-volume set. In the first volume, Deconstructing Old Ads: Lessons on the History of Fishing Tackle Gleaned From Vintage Advertisements, Sonnett not only shares his expertise, but also the rest of the story from having gathered the history of lures, their makers and their evolution, how they were fished, etc.
The stories from these books and the blog are interesting and make for a great read. The pieces inside these volumes are not too long either, so if you're limited in time or on a quick break, it's a real mini-vacation. But be careful—you might just end up spending the whole day reading these or staying on a break longer than you think.
You can be among the first to get the latest info on where to go, what to use and how to use it!
---
Dan Basore is a fishing historian and steward of the history of the sport. In his efforts to preserve fishing history, he is always on the lookout for information about early lure makers, old lures, pre-level wind reels, manufacturer catalogs, tournament casting items and the like. If you possess information or materials of this kind, please contact him at 630-393-3474 or by email at [email protected]
All author posts
---