Narrowing Down Bass Bait Choices
One of the more daunting tasks of every bass angler is to efficiently narrow down his choice of lures when formulating a game plan for a specific situation. This is the next step after narrowing down your options for the particular body of water itself.
Just a cursory glance at the walls of even a medium-sized tackle store will intimidate and overwhelm even the best of anglers with the staggering amount of bait options in front of them.
Fact is, even for those of us that fancy ourselves as experienced "anglers," lure choice can be a befuddling and time-consuming preoccupation that can cost us a productive day on the water with alarming regularity. What I'd like to do here is to help enable anglers of varying skill levels to quickly narrow down their lure options. I've picked out a number of common scenarios and situations all fishermen face and suggested some tips that otherwise might involve decades of trial, error and frustration. These pointers do not even broach the variables of depth, color and size. It's up to you to do the residual fine-tuning.
First, let's get to eliminating less-productive techniques when confronted with the following situations:
Open-water structural changes (saddles, road beds, rock piles, etc.)
Generally, we're talking deeper water on a given fishery than much of that around it, with very little weed growth or other cover more often associated with shallower water to be a major consideration. Soft plastics in general fish too slow to be a fundamental help in covering both the bottom and the rest of the water column in these situations. If deemed necessary, however, your soft plastic presentation in such a situation might be either a swimbait or a Carolina rig.
A tube is handy for jigging a rock pile or sunken island, but your percentage move is to head toward a deeper-diving crankbait or a blade bait, like a Vib-E.
Rivers/creeks/streams
Most of such moving waters are likely to be shallower than stagnant lakes and ponds, and more likely to possess smallies rather than largemouths. The horizontal presentations should include crankbaits and spinnerbaits, even possibly in-lines like Panther Martins and Roostertails. Areas of backwater and eddies can be efficiently plumbed with tube baits.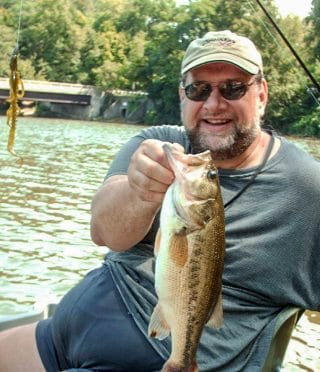 Shoreline cover
Since this is where most bass anglers spend the majority of their time, much of this will be familiar to you. These areas may not always be assumed to be in relatively shallow water, but that is usually the case. The predominant source of cover will be fallen trees and stumps. During the day, spinnerbaits and/or crankbaits are peerless in covering water in such situations. For a more thorough presentation, it's hard to beat your favorite Texas-rigged soft plastic. At night, a buzzbait is invaluable for both sheer coverage, and inducing bigger, more aggressive fish.
Weedlines
Whereas a snag-resistant offering is essential, I like to otherwise run a Rat-L-Trap just above the tops of the foliage as my initial cast, as it has paid off in the past. Normally, a deeper-running swimbait is a nice choice. Another favorite is slowly "yo-yoing " a soft stickbait, like a Senko.
Points
Longish points extending well out into a body of water are a personal favorite, particularly in the fall. This is when vertically jigged bladebaits are at their very best. Use your electronics to see just how far out the point actually extends, and then cross cast it back to shore. Swimbaits worked the same way can also produce.
Docks
Accurate casting is understandably a key here. Some lures work better in such tight quarters. Tubes and chatterbaits are two favorites around docks. If you come upon a dock that abuts a dropoff, quietly jig a spoon like a Hopkins Smoothie up and down the water column.
Bridges
Foundations dug out around bridges always offer deeper water than many anglers suspect. Shoreline riprap is an excellent place to run crankbaits lengthwise along it. Don't just hang around shorelines, as many fish will be out adjacent to support columns picking off fish running the narrows. Chrome lipless crankbaits fished at varying depths can really produce in the shade under such a structure.
You can be among the first to get the latest info on where to go, what to use and how to use it!
---
Jack Kiser is the host of "Buckeye Angler" and longtime Outdoors Columnist for the Kent/Ravenna Record-Courier and MidWest Outdoors and Ohio Valley Outdoors magazines. You may reach him at his Buckeye Angler Facebook site.
All author posts
---