My Favorite River
I'd like to utilize this opportunity to talk once more about my favorite place on earth to visit. Hopefully, border crossings will remain open this coming summer to allow us the chance to go north.
Were you to ask me about my favorite place on earth, the answer would be a prompt, "Harrogate Lake on the Ogoki River in northern Ontario." I write about it quite often. The Ogoki is about 250 miles long, beginning at lakes west of Lake Nipigon near the town of Armstrong. It increases in size as it gathers up waters, heads east and later takes on the character I love so much. Tamarack-stained water races across beds of black granite rock, and a lack of human touch and true wilderness become her finest features.
For about 40 years, I've flown in with Leuenberger's Air Service in Nakina. They are the best outfitters I know of.
When you get dropped off and the float plane leaves, you gain a feeling of aloneness and simplicity, leaving behind the world of modern man to return to your primitive roots. A word of caution: If you aren't very woodsy and a somewhat good boater, or mind complete silence except for nature's sounds, this may not be the place for you. On the other hand, you have the chance to see moose maybe wolves, hear loon calls and witness erupting waterfowl. There are sturgeon, northern pike, black-backed walleyes and brookies. Anglers can easily catch and release 100 walleyes in a day.
When the water is low, there are tricky rocks to watch for. If it's high, you'll be able to go a bit downstream and chase some pike. The good walleye location is below a shallow, short rapids and is only 1/4 mile upstream from camp.
Two years ago, at the age of 87, I traveled back to my treasure. "Bobber" Anne and I went to Harrogate Lake to hunt the Ogoki black ducks and test its fishing. Nothing had changed! Age saw to it that I'd no longer be able to run any rapids, but the Harrogate pack of wolves was still there. Several nights, they serenaded us as they pestered the local moose population. The ducks were there, and the walleye fought over the chance to strike our lures. The air was oh-so-fresh and just being there without the modern world renewed my spirit.
My youngest daughter Sandra went with us. She would be the one who will one day put my ashes here with Thumper, my dear old yellow lab.
Let me go back to the beginning of my introduction to this paradise.
Are you enjoying this post?
You can be among the first to get the latest info on where to go, what to use and how to use it!
Access to Harrogate can only be obtained by float plane. My first introduction into this wilderness camp was when a friend and I were flown in by Ernie Leuenberger, Sr. in a De Havilland Beaver float plane. With us, we carried a 14-foot V-bottom boat strapped to the plane's struts. Ernie had told me Harrogate and its river system wasn't that good as a tourist destination, but it carried loads of Eastern black ducks and some Canada honkers, especially during the month of September. I was committed to do a 7-day trip.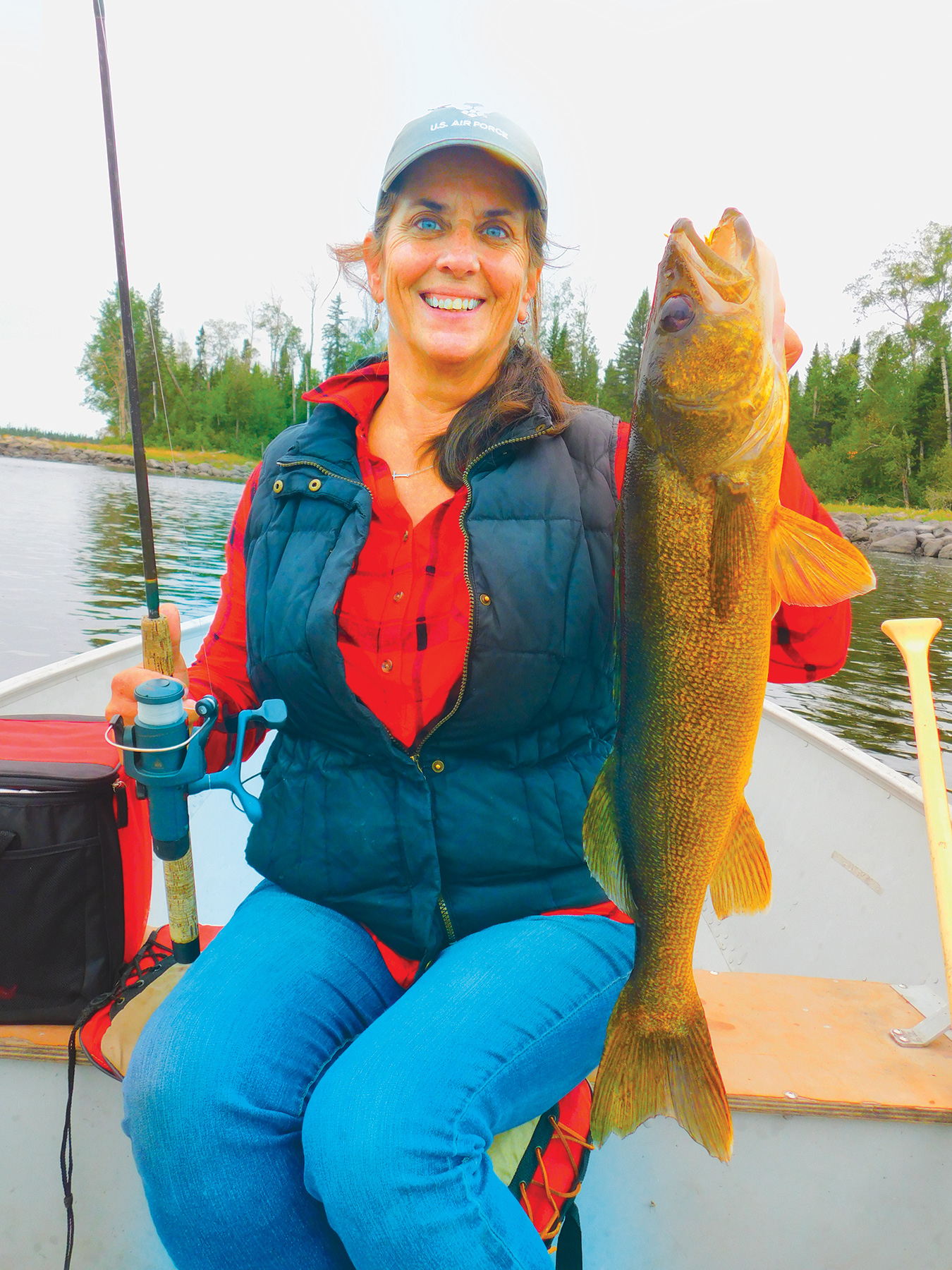 On the way in, Ernie warned us that the previous party he'd flown in told him they barely caught enough fish to feed themselves. He also informed me that Lloyd Yappit, a native who had commercially worked Harrogate for sturgeon, had always done well. I wanted to find out for myself!
It turned out that Lloyd was indeed at the camp when I got there. This was great—we could share information. He coached me on where he had luck with walleyes while he carried about his sturgeon fishing. Armed with my trusty Ugly Bugs and some nightcrawlers, I set out to figure this out. I was surprised at the number of walleyes upstream a bit of where the river entered. My partner and I just caught and released to our hearts' content, then went back to report to old Lloyd.
"You discovered the secret!" he told me back at camp. "Those walleyes are always in there thick in the fall."
It didn't take much for me to fall in love with this camp. (We also did have plenty to eat, with the fish, ducks, and geese!)
With the fishing, the duck and goose hunting, the wildlife and the peacefulness and solitude of it all, this place is special in my heart. Maybe someday you will have the chance to visit it, too.
You can be among the first to get the latest info on where to go, what to use and how to use it!
---

Considered one of the world's leading river anglers, Dan Gapen, Sr. has shared his knowledge with MidWest Outdoors readers and viewers for more than 40 years. He is a member of all three Fishing Halls of Fame—International, National Freshwater, and Minnesota. He has an immense grasp of the world's fisheries. He may be contacted at 877-623-2099.
@TheGapenCompany.
All author posts
---