Must-Have Ice Baits for 2018
Coralville, IA – Iowa's Custom Jigs & Spins has released its 2018 catalog featuring many brand-new lure designs and added colors for popular lures such as the Chekai Tungsten Ice Jig.
The company hopes the new baits will catch on with anglers across the Ice Belt and beyond. 
"We spend a lot of time listening to customers, dealers, guides, and pros to design products that will help anglers catch more fish on the ice and open water," says Custom Jigs & Spins owner and operator, Bob Gillispie. "It's not about trends or flavors of the month, it's about giving anglers what they want, which are problem-solution baits," 
"Our customers are very passionate about our baits," says Walt Matan, Marketing Director, Custom Jigs & Spins and frequent MWO contributor.
"It's funny, everybody has their favorite baits, but everybody's also looking for a specific color or small tweaks here and there," Matan continues. "Lots of 'Could you do this?' Or, 'I fish in this kind of situation, wish I had something that could punch through weeds better or a bait that's more visible or calls in fish.'  And that's what we try to do.
"Bob and I feel very confident that anglers and dealers will be pleased with the additions to our line for this season," Mattans says. "We spent a lot of time testing these new baits last winter and the results were really good."
MEET THE RRPM
One bait that's creating a lot commotion (literally) is the new the Rattlin' Rotating Power Minnow (RRPM). This minnow-profile balance jig has added sonic abilities.
Are you enjoying this post?
You can be among the first to get the latest info on where to go, what to use and how to use it!
"To our knowledge, this bait is the first of its kind, with a rattle actually built into the tail," says Matan. "It really ups success in stained waters, over expansive flats where fish have to find the bait… or any situation where you need to call in fish. Catches walleyes, big panfish, bass, you-name-it, on ice and open-water. It's going to be a killer walleye and slab crappie bait this fall, too."
MORE NEW ICE LURES
Furthermore, he says they've also expanded the Chekai Tungsten Ice Jig family with 10 new colors in all sizes; now offer a plus-sized tungsten jig for walleyes, jumbo perch, and predators called the Chekai Magnum; a tungsten ice fly jig called JaJe (pron. yah-yee) for punching weeds and panfish in all depths ; and a new diamond-shaped tungsten with jeweled nose called Glazba.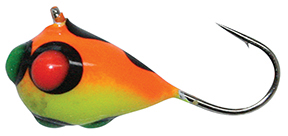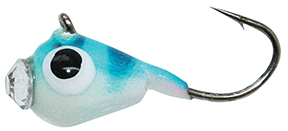 To learn more about new 2018 Custom Jigs & Spins baits, visit www.customjigs.com or download the new 2018 catalog here.
You can be among the first to get the latest info on where to go, what to use and how to use it!
---

Dave Mull of Paw Paw, Mich. has spent his career communicating the outdoors experience and runs Inner Viking Media. He enjoys kayak fishing for anything that swims in the lakes and rivers of the Midwest and beyond, and even uses his MirroCraft, from time to time. Available for seminars.
All author posts
---