MDC offers winter trout fishing
Missouri Department of Conservation (MDC) Fisheries staff has recently stocked more than 70,000 rainbow trout in 30-plus urban-area lakes around the state for winter trout fishing. Many of these areas allow anglers to harvest trout as soon as they are stocked, while others are catch-and-release until February 1. Limits and tackle restrictions vary by lake and season. Check for area regulations before fishing.
Trout are not native to Missouri, but they were introduced to the spring-fed streams of southern Missouri. In winter, when the water is cold enough and holds sufficient oxygen to support trout, the Missouri Department of Conservation (MDC) stocks selected lakes and ponds throughout the state with rainbow trout.
St. Joseph lakes where trout were stocked this winter are Krug Park Lagoon (1,200 plus 11 lunkers) and Everyday Pond (800 plus 10 lunkers). Anglers with a valid Missouri fishing permit can fish for the trout at both sites on a catch-and-release basis until February 1. After, February 1, anglers with valid fishing permits and a trout permit may keep up to four trout daily. From November 1 through January 31, only artificial lures may be used, live or scented baits are not allowed. Missouri residents over age 15 and under 65 must have a valid fishing permit, and all non-residents over age 15 must have a fishing permit.
Trout stocked in Kansas City area lakes include Coot and Plover lakes, Honker Pond, James A. Reed Memorial Wildlife Area at Lee's Summit, Chaumiere Lake, Fountain Bluff Sports Complex, Liberty, Johnston Lake, Raymore and Jesse James Park Lake, Kearney.
Trout for kids
Trout stocked at Honker Pond at the James A. Reed Memorial Wildlife Area are for fishing by youths only. They must be 15 or under to fish at Honker Pond. Youths may keep trout up to a limit of four if they have a Missouri trout permit.
In Sedalia, the MDC stocked 1,300 trout in Liberty Park Pond that were raised at the Bennett Spring Fish Hatchery plus a few lunkers from expendable brood stock. Information about fishing at Liberty Park Pond is available by calling MDC's Sedalia Office, 660-530-5500.
The winter trout program offers MDC a chance to partner with cities and counties to offer anglers close-to-home fishing opportunities.
Several other city, county and MDC lakes offer winter trout fishing through the MDC's winter stocking program.
Still time for Eagle Days
From December through February each year, Missouri's winter eagle watching is spectacular. Discover nature with the MDC through Eagle Days events around the state, or enjoy eagle viewing on your own.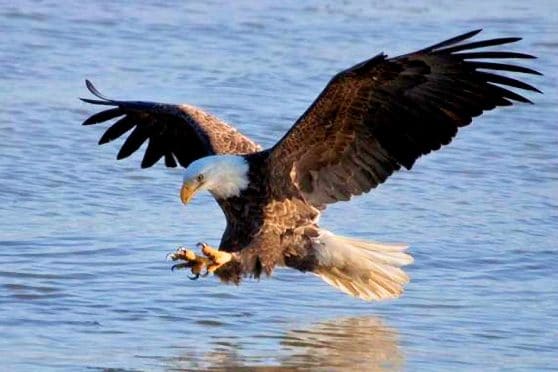 Because of the state's big rivers, many lakes and abundant wetlands, Missouri is one of the leading lower 48 states for bald eagle viewing. Each fall, thousands of these great birds migrate south from their nesting range in Canada and the Great Lakes states to hunt in the Show-Me State. Eagles take up residence wherever they find open water and plentiful food. More than 2,000 bald eagles typically winter in Missouri.
Are you enjoying this post?
You can be among the first to get the latest info on where to go, what to use and how to use it!
MDC Eagle Days events are listed below. They include live captive-eagle programs, exhibits, activities, videos and guides with spotting scopes. Be sure to dress for winter weather and do not forget cameras and binoculars.
Remaining Eagle Days are:
KANSAS CITY: January 6 from 9 a.m. to 3:30 p.m. and January 7 from 10:30 a.m. to 3:30 p.m. at Smithville Lake Paradise Pointe Golf Course Clubhouse north of Kansas City. Call 816-532-0174.
ST. LOUIS: January 13 and 14 from 9 a.m. to 3 p.m. at the Old Chain of Rocks Bridge south of I-270 off Riverview Drive in St. Louis. 314-301-1500.
SPRINGFIELD: January 20 from 9 a.m. to 4 p.m. and January 21 from 12:30 to 4:30 p.m. at the MDC Springfield Conservation Nature Center. 417-888-4237.
JEFFERSON CITY: January 27 from 10 a.m. to 3 p.m. at the MDC Runge Conservation Nature Center. 573-526-5544.
CLARKSVILLE: January 27 from 9 a.m. to 4 p.m. and January 28 from 10 a.m. to 3 p.m. at Lock and Dam 24 and Apple Shed Theater in Clarksville. 660-785-2424.
SCHELL CITY: February 3 from 9 a.m. to 3 p.m. at Schell City Community Center and Schell Osage Conservation Area. 417-876-5226.
If you cannot make a scheduled event, try going on your own to Lake of the Ozarks at Bagnell Dam Access, Eagle Bluffs Conservation Area on Route K, Lock & Dam 20 at Canton, Lock & Dam 24 at Clarksville, Lock & Dam 25 east of Winfield, Mingo National Wildlife Refuge, Old Chain of Rocks Bridge south of I-270, St. Louis, Riverlands Environmental Demonstration Area, Schell-Osage Conservation Area, Smithville Lake, Loess Bluffs National Wildlife Refuge, Stella at Moses Eagle Park, Swan Lake National Wildlife Refuge, Table Rock Lake and Shepherd of the Hills Fish Hatchery or Truman Reservoir.
You can be among the first to get the latest info on where to go, what to use and how to use it!
---
Darrell Taylor has fished for more than 65 years. During the past 25 years, Taylor has generated more than 2,000 published articles, columns and fishing reports. His writings received 14 peer-level awards from outdoor writer organizations, including the Association of Great Lakes Outdoor Writers "Excellence in Craft" Golden Glow Award, their highest recognition.
All author posts
---