Midwest Finesse Fishing: Then and Now
A conversation between 'Nedmasters' Ned Kehde and Drew Reese
Before and after local fishing forays, circa the 1960s, a cadre of exceptional Midwestern anglers gathered to shoot the breeze down at Ray Fincke's old Kansas City tackle shop. Fincke's, like other family-owned bait shops of the time, packed truckloads of lures, rods, live bait and other angling essentials into every available nook and cranny. Imagine the good-natured razzing, the exchange of breakthrough angling ideas that must have passed, as Ned Kehde, Chuck Woods, Guido Hibdon, Drew Reese and other architects of Midwest finesse (aka Ned rig fishing) sipped coffee and spent their dollars on the latest and greatest tackle.
A generation later, the legendary Kehde and Reese have been joined by thousands of their closest friends—successful Ned rig fans from all over the planet. To this day, they continue innovating fish-catching products (Reese was co-creator of Z-Man's celebrated Finesse TRD, TRD TicklerZ and Finesse ShroomZ). And now, in concert with Z-Man, Reese has perfected Drew's Ultimate Ned Rig Rods—the first true-to-technique tools built with the highest-grade blanks, components and rod-building wizardry available.
In celebration of their longtime friendship with two angling visionaries—Z-Man has merged the past and future of Ned rigging into a singular series of light-line, finesse bait spinning rods. Designed by Reese himself, Drew's Ultimate Ned Rig Rods merge the art of Midwest finesse with rare rod-building precision and just a whisper of retro elegance.
When Kehde introduced his friend Drew Reese to the durability, lifelike buoyancy and fish-catching prowess of Z-Man ElaZtech baits, Reese—a talented tournament angler and lure designer—instantly recognized their prodigious potential for finesse applications. Impassioned pleas by Reese to convince Z-Man of these previously unattainable qualities eventually resulted in several now-classic finesse baits—all naturally buoyant, super soft and impossibly durable. While Kehde helped change the fortunes of weekend warriors and tournament anglers via mainstream angling media, Reese was quietly working behind the scenes to help produce the baits that would soon attain worldwide acclaim.
The final, critical element in the finesse equation, Reese recently perfected Drew's Ultimate Ned Rig Rods—an immaculate, light-line, finesse rod series that gives anglers the definitive Ned rig experience. If the trend in fishing rods has forever focused on extreme lengths and excessive accoutrements hanging on blanks, Drew's Rods embrace a minimalist style—in 5'4" and 5'10" lengths—that conveys incomparable bite-detection.
What follows is a recent conversation between two angling legends as they reflect on the history and rewards of light line, finesse baits and Z-Man's transformative new fishing rods.
NED: Well, my friend, you've been there from the humble beginnings of the method we call Midwest Finesse. It's been and continues to be a fun, fascinating ride.
DREW: No doubt, I have been blessed to receive tutoring from many great anglers.
It started at the age of 13, working for Ray Fincke at Fincke's Kansas City tackle shop. Here, I met and soon began fishing with the legendary Chuck Woods, inventor of the Beetle and Beetle Spin.
My work at Fincke's also led to an introduction to Virgil Ward, who according to a recent article in Bassmaster magazine, twice defeated the acclaimed "best tournament fisherman" at the 1962 World Series of Sport Fishing and the 1964 National Championship of Fresh Water Fishing.
I fished with Virgil several times and worked for three years at Bass Buster Lure Company for Virgil's son Bill Ward, who qualified for seven Bassmaster Classics. I was encouraged by Bill to fish the Bassmaster tournaments and qualified for the first ever Bassmaster Classic in 1971.
At my first tournament, I spent a couple of hours in Bill Dance's cabin, who tutored me on maps and structure fishing. I became friends with and fished with Roland Martin, Tom Mann, Bobby Murray and many other angling luminaries. All these anglers willingly shared information and thoughts on fishing. I fished my last tournament at Kissimmee, Florida, and took seventh place.
NED: Why did you stop fishing tournaments?
DREW: I love to fish but found I really didn't enjoy the public part of tournament fishing. I would rather catch 50 to 100 bass per day than five big ones. I feel the majority of anglers would prefer to catch a lot of fish rather than fish a tournament. That is why I originally approached Z-Man with ideas on a new series of versatile finesse baits.
Are you enjoying this post?
You can be among the first to get the latest info on where to go, what to use and how to use it!
NED: I wonder if most folks realize you designed the first true finesse baits made of ElaZtech?
DREW: I have kept daily fishing logs for 25 years, and my catch rate has almost tripled by using the lures I designed for Z-Man. These are the Finesse TRD, Hula StickZ, TRD TicklerZ and the Finesse ShroomZ heads. I had to repeatedly beg Z-Man to manufacture them because I wanted to fish with them personally. Please understand, I do not work for Z-Man, nor have I received any money from Z-Man.
NED: You've faced some real challenges the past few years.
DREW: I am a recent cancer survivor, and according to medical professionals, I came within 12 to 36 hours of dying. I have fished with light line for 63 years, and I fought to survive this cancer ordeal in order to pass the things I learned on to anyone who wants to catch a lot of fish. I feel this allows me to pay it forward for all the others that went out of their way to help me!
Beyond the finesse baits, jigs and light line, these two rods are the final items that make fishing fun for experts and novices alike!
NED: Please explain to folks how and why the new Drew's Ultimate Finesse Rods came into being.
DREW: Well, it probably all started about two and half years ago. I had just broken one of my two favorite rods. I found a used one on eBay, and it sold for over $300. Two more have been sold for over $200 apiece.
That started my on a quest to develop a blank to replace it. But there was not a bass rod I could find under six feet in length. Most were between 6 1/2 and 7 1/2 feet long. As Bill Ward of Warsaw, Missouri, recently told me: "Fishing with those long rods after fishing with a Z-Man Drew's Rod is like fishing with a 2×4!"
It is important to note that the 5'4" Drew's Rod weighs 1.75 ounces, and the 5'10" one weighs 2.2 ounces—two of the lightest rods in existence.
NED: What have been some of your early impressions of these rods and their benefits?
DREW: You, Bill Ward and I have been fishing light spinning equipment for a total of about 200 years, and we all prefer the many advantages of shorter rods. The three of us have been using the prototypes of Z-Man's Drew's Rod for about two years, and they have become the favorites for all three of us. The 5'4" version has become our favorite one of the two!
My first observation is that these rods are not a niche item. If an angler spends a little time and effort with these rods, they will find them to drastically increase the number of fish they catch per hour, and many of them will be large fish. Between the three of us, we have landed several 5-pound smallmouth bass, a 7-pound largemouth, numerous large drum that weighed up to 16 pounds, an 8-pound walleye, a 13-pound northern pike, a 23-pound lake trout and a 25-pound flathead catfish. And even as I have been dealing with severe health issues, I have been able to catch an average of 8-plus fish an hour.
These rods are part of a Ned rig system that enhances the fishing experience. In short, these rods are not toys.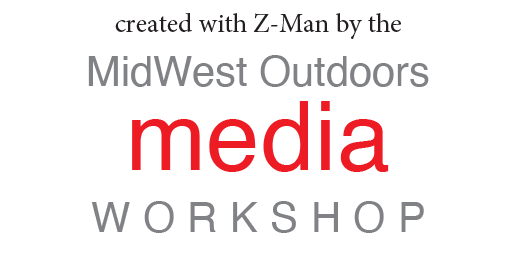 You can be among the first to get the latest info on where to go, what to use and how to use it!
---
We believe being outdoors is good. With more than 1,000 articles each year, MidWest Outdoors magazine is all about sharing outdoor experiences with you—where to go, what to use and how to use it… whether you're close to home or on that trip of a lifetime.
All author posts
---