Memories of a Great Canadian Fishing Trip
As I watch yet another winter storm make a mess outside the office window, my mind drifts back to a late-summer fishing trip to Ontario last year that delivered awesome fishing along with great company and spectacular weather. MidWest Outdoors TV Producer Graham Zima and I were invited to Showalter's Fly-in Outposts, just north of Ear Falls, to film yet another fly-in fishing adventure. On this trip, we were joined by Michael Showalter for three days at Carroll Lak—one of numerous remote lakes to choose from that offer guests excellent fishing for walleyes and northern pike. After an overnight hotel stay in town after the drive up, anticipation was high the next day when our float plane lifted off from glass-calm water at Showalter's base and headed north.
For me, there's probably as much excitement in "the process" of going on these adventures as there is in the actual fishing. In the weeks leading up to the trip, tackle trays are sorted and re-sorted as I tinker with the latest lures and colors to pack. As with every fishing trip, reels are respooled with fresh Sufix line; fluorocarbon leaders are tied and retied. The final assortment of St. Croix's slide into the travel rod tube. The grocery and beverage list is compiled, adjusted, and supplies are stocked. Finally, we are off and driving north, Producer Graham riding shotgun, and we chatter nonstop about filming ideas; and, as always, how to balance changing conditions and curveballs that create the inevitable adjustments on the fly during TV production trips.
After unloading the float plane at the outpost and carrying food and gear to the lakeside cabin, then hurriedly assembling fishing gear and TV equipment (much of it on the dock right next to the boats), we were out on the water for our first half-day of fishing! Brilliant mid-day sunshine and calm conditions made for a spectacular weather day, with temps in the high 60s. Within a few minutes' boat ride, we were positioned at "The Narrows" just around the corner from the outpost camp.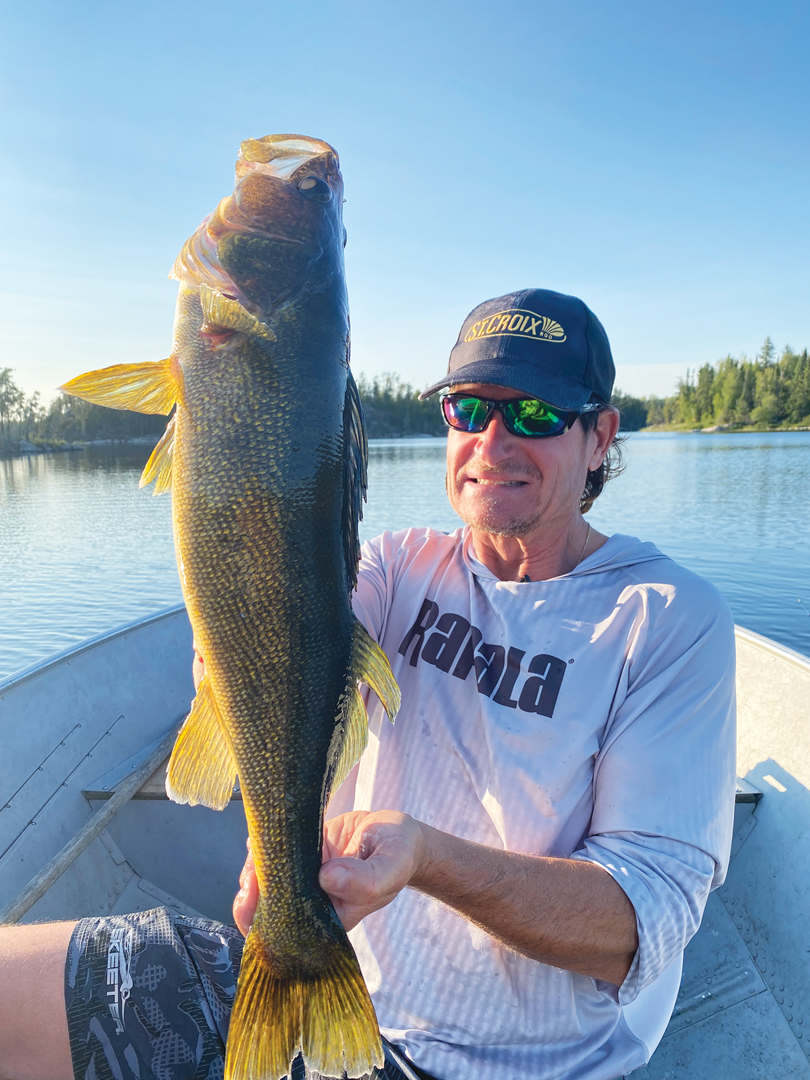 Lake and river systems throughout Canada typically feature constantly moving water. In Ontario, fishing areas with current flow is particularly productive. Remember this when you travel to the North Country. Try spots just below waterfalls or rapids, key on the wind-blown sides of shorelines, and focus on pinch points and neck-down areas where a lake is squeezed between two wide basins. In our case, "The Narrows" is exactly this latter type of spot. Within the matter of a minute or two, Michael was hooked up on the trip's first walleye—a gorgeous specimen around 25 inches—and before he could even tucker the fish out, I was hooked up on a nice eater as well.
This spot produced nonstop action for us for several hours as we slid back and forth along the depth contours and current seams. I'd brought along my Humminbird Helix 7 portable for a graph, with a LakeMaster "Zero Lines SD card" inserted. This cool accessory provides a blank SD card with all the land and water masses outlined, and with the simple push of a button, the Helix will begin recording a color contour map of the lake you are fishing. There is no better system for accurately mapping a lake that has no available contour map—wherever you may be fishing. And if you're returning to the same large bodies of water again and again, you can add to your map each time you go.
This is the perfect feature for mapping remote Canadian lakes! And although most fly-in operators provide basic paper maps of their lakes for guests, there's no substitute for building your own perfectly accurate map using the LakeMaster SD card that you can reference live, in the boat, while navigating the lake or fishing a particular depth contour.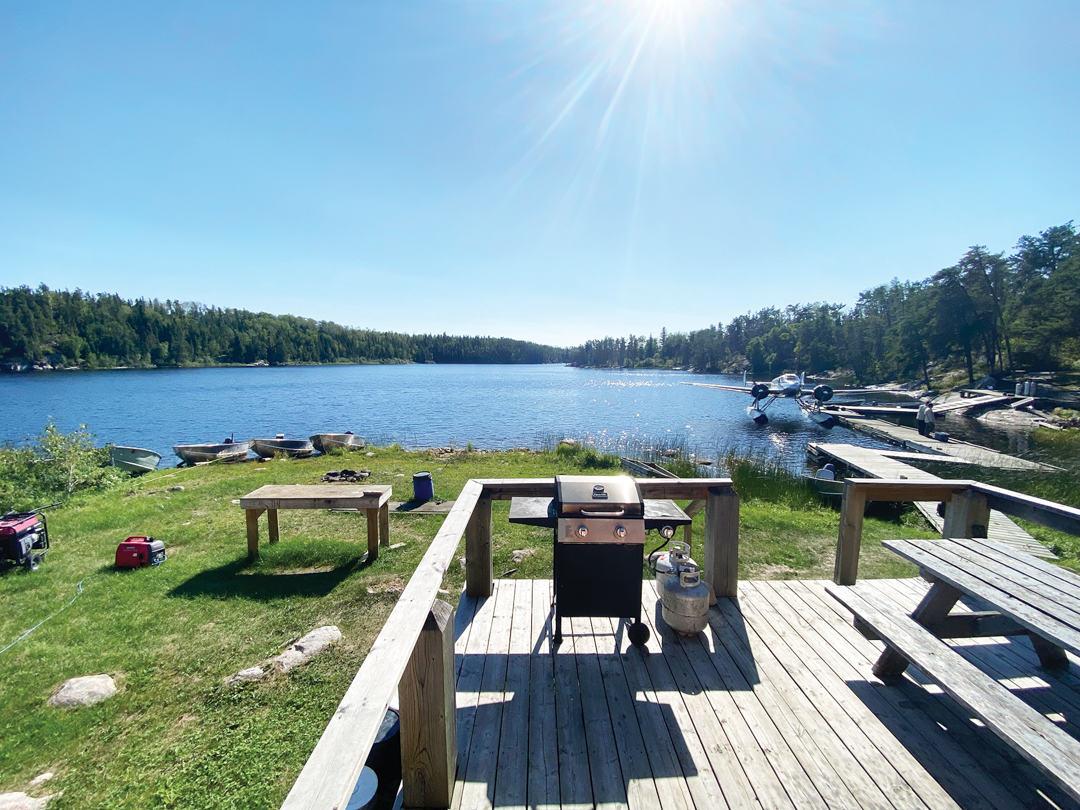 Simply because we felt it necessary to "fish other water," we left the first hotspot and bounced around to a few other reefs and some different narrows areas. As is typical on these Canadian lakes, most spots offer just a few fish, while others are totally loaded where you can literally catch them one after another.
Despite bringing all manner of lures and tackle options, for walleye fishing it was clear we wouldn't need to tie on anything but Jigging Raps (and Jigging Shadow Raps) as well as Moontail jigs, which are large-profile VMC hair jigs that we tipped with a frozen shiner.
Are you enjoying this post?
You can be among the first to get the latest info on where to go, what to use and how to use it!
Honestly, the Jigging Raps out-fished live bait most of the time. If you're not familiar with snap-jigging this particular ice fishing lure, you owe it to yourself to pick up some #7 and #9 sizes in a variety of colors and fish them vertically over walleye hotspots in open water. It's important to use a rod with an extra-fast-action tip, as well as to spool up with either monofilament or fluorocarbon line rather than braid, because you need some line stretch paired with that extra-fast rod action to avoid pulling the hooks from the fish during the fight. St. Croix recently did a wholesale redesign of their popular EyeCon walleye series, including a technique-specific "snap jigging" rod (model EYS68MXF) that is ideal for this fishing application.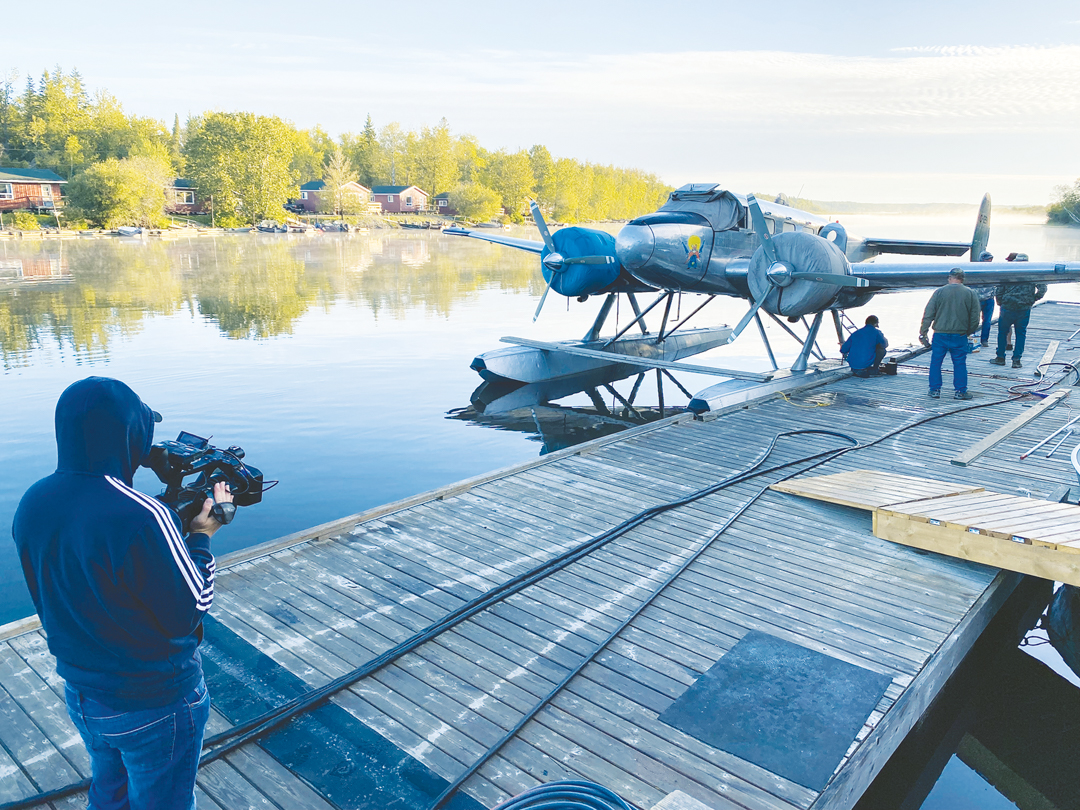 The second day of the trip started before sunrise with plenty of coffee, and after hearty bacon and eggs, it was time to bundle up and head down to the dock. Mother Nature greeted us with a cold front that was not in the forecast, with wind and overcast skies. When conditions suddenly changed, a good fishing strategy is to return to exactly the same water as a previous productive day, so despite filming an awesome complete episode the first afternoon while basically fishing in one spot, we motored over to recheck "The Narrows." On this day, a spot that gave us multiple big fish in yesterday's warm afternoon sunshine delivered only small walleyes during these sudden frontal conditions, so we began exploring new spots.
Some produced a handful of fish, some were barren, and we eventually settled into another honey hole, this one dominated by current coming downstream from a lazy rapids. Here, casting and "quartering" a 3/8-ounce VMC Hybrid Swimbait jighead tipped with 3- and 3.5-inch Storm Largo Shads proved to be a deadly tactic, along with a simple jig-n-minnow combo. We also employed the Jigging Raps over a wide, deep flat a bit further downstream from the active current.
A steady wind blew, hampering our ability to effectively control a 16-foot boat with a 15 hp Yamaha on some spots. However, the beauty of so many Canadian lakes is how easy you can find spots to tuck out of the wind and still catch fish. Bays and islands provide all kinds of wind protection, and most lakes are so chock full of fish that you can always find some cooperative biters. After spending our day exploring and experimenting with a variety of tactics, we took the last fifteen minutes (just like last night) to quickly catch our shore dinner fish…after a full day releasing dozens and dozens of luckier walleyes!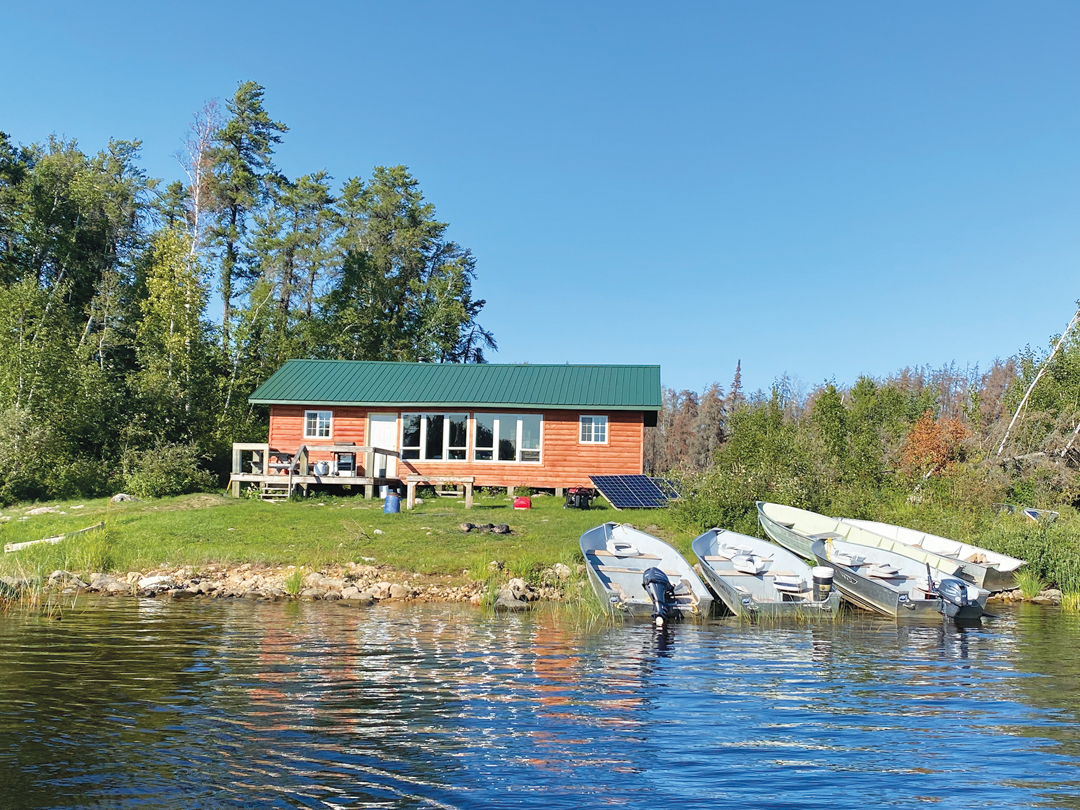 Our third and final day blessed us with a brilliant sunrise and mirror-calm conditions. Since this was the outbound travel day (We take shorter fishing trips during TV productions instead of weeklong "guest" vacations.), we headed out for another spectacular half-day of fishing to complete one more TV segment.
By late lunch hour, the Showalter's project completed, it was time to disassemble gear in preparation for the float plane ride home. After a hearty goodbye to a very busy Eddie Showalter back at base, Graham and I were rolling south back to the Minnesota/Ontario border.
What a wonderful trip to reminisce and write about with a heavy snowfall coming down outside the window! Doesn't it just make you itch to start planning your Canadian adventures for this coming summer? If you're like me, you're already getting excited about this year's fishing adventures. We'll see you north of the border!
You can be among the first to get the latest info on where to go, what to use and how to use it!