May is for White Bass, Fishery Regulations, and More
Mother's Day weekend has always been considered the number one time for white bass on the Wolf River. Vacancies are rare and the parking lots at the boat ramps are full. The mid-May date is usually associated with the peak bite as fish go to spawn and are caught in big numbers, often with great ease.
Casting spinners, small lures and spoons is a popular when the fishing is hot. Catching a white bass on consecutive casts that number in the dozens is not unheard of. Once again, putting the fish on ice immediately will help preserve the wonderful flavor. If they are left to die in a mesh bag or livewell that can warm quickly this month, there will be negative affects on your fillets.
Anglers do well pitching jigs or Wolf River rigs with a small streamer fly on a snell knot and casting toward the shore and hopping the presentation back to the boat. The hop-hop-hop, then pause rhythm seems to get them going at times when other presentations just don't seem to work. Tipping the presentation with a minnow is often unnecessary.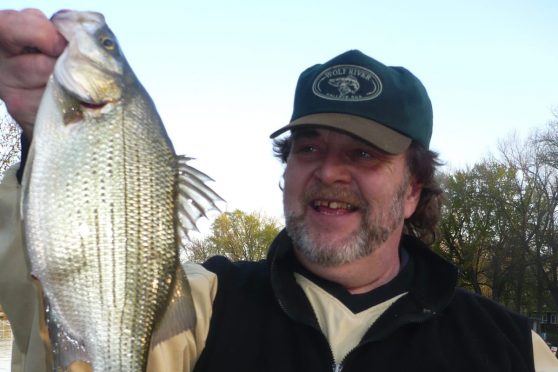 May is also a great multi-species month, as crappies, pike, catfish, smallmouths and largemouths are all active. Add a post-spawn walleye bite that exists in the river and on the lower lakes of the system and you have some real opportunities. The Wolf River is blessed with numerous backwaters, spring beds and tributaries that provide a great environment, and the ever-flowing current from the north makes this the viable fishery it is. Bluegills will start to bite later in the month with an occasional muskie in the Lower Wolf River. Trophy-class fish over 53 inches have been taken and numerous fish in that size range have been caught and released. The catfish bite has also been very good, with both channels and flatheads available. Check your regulations for size and bag limits. Make note that there is a one-fish limit on flatheads, and fish between 36 and 42 inches cannot be possessed.
Wisconsin DNR regulations
In a recent conversation with my longtime friend and former system biologist for the Winnebago system, I was able to squelch some rumors and false information: There is no immediate change to our rules of a three-fish bag limit for the Winnebago system. Over the next three years, the DNR will be working hard to gauge the health of the walleye population and future potential rules to protect the fishery. Recent studies have shown a near non-existence of the 2008 year-class of walleyes. This is due in part to a sudden crash in the minnow population coinciding with a large biomass of fish in the "keeper" range, making them easy targets for the high-tech, GPS-based fishing machines of the day. Add tag returns well below what they had estimated (an argument I've had with them for 15 years) and all of a sudden a year-class of fish pretty much disappeared compared to other such year classes. They are now encouraging anglers to turn in their tags and violators. Those not returning tags and those who are double-bagging or keeping more than their two-day bag limit are in combination having an affect on the system and the ability with which to monitor it. For instance, if you have 10 walleyes in your freezer and you go fishing today and keep some, you are in violation. You don't get to keep 20 or 50 now because of your work and won't be able to "fish all spring" or use the "didn't-keep-any-last-year" excuse.
It's going to take research and cooperation from the fishing clubs and tournaments to even get any suggestions as to rule changes on the docket for the 2019 Spring Hearings held statewide, and until the next year, to create any rule change. That means what could be a fragile fishery needs our thoughts, care and consideration as anglers and current rules wouldn't apply until 2020 or 2021. The science is there to support the findings, and as of 2017 there seems to be a strong forage base, so there is no panic. I'm looking forward to the "State of the Lake" presentation that looks at the numbers and makeup of fish tagged in the spring, the summer shoreline surveys and fall trawling results, which includes numbers on young-of-the-year fish and minnow population. A strong spawning year-class in 2017 would be very good too.
Another suggestion may be to once again close spring fishing—not a popular idea in places like Winneconne, Fremont, New London, Shiocton and beyond. A slot limit may be proposed, which is not really fit to our type of walleye fishery up here. Also, a return to a size limit is on the table too.
The doors are wide open for input and right now our precious walleye fishery is in the crosshairs. Let's hope we see people playing by the rules more.
You can be among the first to get the latest info on where to go, what to use and how to use it!
---
MidWest Outdoors works with more than 200 outdoor experts each year, who contribute articles based on their areas of expertise. MidWest Outdoors magazine offers more fishing and hunting articles than any other publication!
All author posts
---