The Last 50 Years
No one can state with certainty who started collecting old fishing tackle, and when. Museums and fairs—including Chicago's World's Columbian Exposition in 1893—have had collections of old tackle on display. My Grandfather died at age 55 when I was 15. He never fished, but he had a tackle box full of lures that were new and still in their boxes. He had planned to fish with them after retiring. Since no one else in the family fished, I got the lures and was hooked.
None of us knew then what was truly rare or common. In the 1960s it was common to be able to buy a tackle box full for $10 to $25 dollars.
Ray Scott called 49 years ago, just as he was forming Bass Anglers Sportsman Society. He was requesting $10 dollars for the annual dues. I asked how much it was for a Lifetime membership, and Ray said $100. I then became a Charter Lifetime member.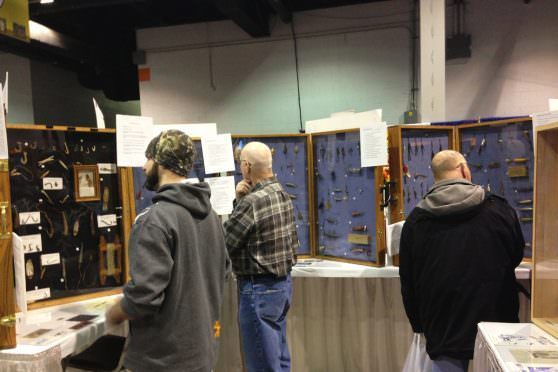 The first issue of their magazine for members had the use of the Texas Rig for plastic worms. Slip sinkers weren't available in the Midwest yet, so we cut the copper line tie from bell sinkers, ordered English Steel hooks from Herters, and immediately caught a ton of bass from strip pits and lakes.
We helped form the Indianapolis Bassmasters, which had club tournaments and challenged other clubs throughout the Midwest. With a love of lures, I always had a good assortment of the latest items and would look through others' tackle boxes trading new for old. Garage and estate sales, exhibits at sport shows and speaking to groups increased our collection.
Evolving from a car-top aluminum to an Ouchita stick-steered bass boat with a 33-hp Evinrude, most asked us why such a large motor was needed on a fishing boat. Well, in one of the first B.A.S.S. tournaments on Alabama's Lake Eufala, Scott fired a shotgun to begin the takeoff and my craft was swamped as the big southern bass boats took off. Still, a top-ten finish earned a free entry into the next contest on Texas Sam Rayburn.
Arriving with a new Ranger boat with a big Chrysler engine, and finding one of the best honey holes ever in practice, the star anglers at the pre-tournament drawing seemed to hypnotize. Requesting to be a non-boater, thinking the drawing would put me with the likes of Bill Dance, Roland Martin or heroes, I was paired with a beginner in a little boat who couldn't navigate the bigger waters where my spot was. However, the next day I got one of the state's top anglers.
It was hard to tell him that this Yankee had found the mother lode of bass, but eventually, he went there. We took big bass on almost every cast and had to tie our stringers to a boat paddle to carry them to the scales.
Weather took us off the spot the next day, as the waves almost swamped us. Even winner Roland Martin told others for years how I'd found a bonanza, but had blown it. He had seen the bad weather coming and bought several bilge pumps with 12-volt batteries and a seatbelt to enable him to fish effectively while riding the big waves.
Back then, we believed the lakes were full of fish, and were all hung on boards of nails for photos. Alarmed, I began to speak to fishery management groups, fishing clubs and civic groups, teaching modern angling while urging better management with smaller limits and to practice catch, photograph and release. This also provided the opportunity to share exhibits of and acquire old tackle.
In 1976, the National Fishing Lure Collectors Club (NFLCC) was formed. At first, there was an informal rule to trade tackle: buying and selling was discouraged. Often one would ask for a "kicker" back and forth until each had a pile that got swapped. Later, we found that money was developed as the commonality of wants and needs were rare.
Are you enjoying this post?
You can be among the first to get the latest info on where to go, what to use and how to use it!
The first professional auction of old tackle took place in Ft. Wayne, Ind. more than 30 years ago. In an auction preview, I saw a neat Heddon in mint condition with its original papers in the original box—I was prepared to go all the way, up to $25 for it. When bidding zoomed past my limit all the way to $35 dollars I was devastated and thought I could no longer afford my wonderful hobby. Driving home defeated and thinking of the loss, suddenly, from the depths of despair and anger, came a resolve to go "big" instead of quitting.
I then went out and met many collectors at the auction. Some even had business cards. My marketing mind raced with ideas for a card and brochure. And later when vanity plates became popular, we got lures.
My friend Dick Streeter copied catalogs from many lure companies and put these in a three-ring binder and named it "The Lure Collector's Bible." He also sent out the first lure auction catalog to buyers of his book in September 1979. Winning bids from 29 buyers included Heddon's Red Casting Plug with decal for $15, 300, a Musky Surfasser for $55, a Walton Feathertail at $36 and an Artistic Minnow with Buoy for $87.
I moved to Chicago in 1982 from Indianapolis, a town where I had established many friendships. There was now a fear of being a small fish in a big lake. My preconceived notion was that this was a great place to work, but no good for a bass man, lure and tackle collector.
Then a longtime friend who worked on conservation programs with me, Tony Portincaso, drove us around looking at areas to live. He introduced me to his friends, including Bill Cullerton, who had us on his WGN Great Outdoors radio show. Tony's wife Sandy then invited my own Historical Fishing Display into the Rosemont Sport Show she managed.
I was visiting Gene Laulunen to explore advertising opportunities, and he asked me to begin a column called "Fishing History" in MidWest Outdoors. He also requested a feature for collecting old lures for Fishing Facts.
I then met Anita Gold, who wrote the "Antiques and Collectables" column for the Chicago Tribune and many other papers nationwide. This resulted in her referring many readers to go and contact me. Many questions were answered and tackle boxes acquired. A large collection was then begun and was purchased along with four file cabinets of tackle catalogs, patents, notes and reference material for future articles and exhibits.
To my surprise, I've found this area of the country to be the best in the world for collecting old fishing tackle. The World's Fair in Chicago in 1893 held Casting Contests and the Fish and Fishing Building in the custom-made lagoon. With so many great exhibits presented, this area was established as the center of fishing, with major manufacturers using trains and trucks bringing in tackle to our area. Also in the "City that Works," many didn't have the time to fish as often so many old lures still are resting in Illinois and surrounding states just waiting to be found before they are tossed in the trash.
Grandma Miller taught me, "The more you share the more you receive."
Wow, was she ever right.
You can be among the first to get the latest info on where to go, what to use and how to use it!
---
Dan Basore is a fishing historian and steward of the history of the sport. In his efforts to preserve fishing history, he is always on the lookout for information about early lure makers, old lures, pre-level wind reels, manufacturer catalogs, tournament casting items and the like. If you possess information or materials of this kind, please contact him at 630-393-3474 or by email at ollures@aol.com.
All author posts
---