Lake Michigan Corner
Wild weather and fluctuations in temperatures can happen in May, but the fishing here has answered with some great action for all species from southern Wisconsin and east to southern Michigan. A very mild winter can be good and bad. With the mild winter, the lake's water temperatures remained warm and any ice cover was minimal.
In Wisconsin, the spring fishing has been pretty good. Shore fishing off Milwaukee has been good for brown trout and steelhead on live bait and artificials. Good catches of browns and a few steelhead have been taken on the harbor side of the Summerfest grounds on spawn sacs and 4- to 6-inch Berkley Gulp Minnows.
Some big browns have been taken, up to 28 pounds, in McKinley Marina on Gulp (White) fished on the bottom.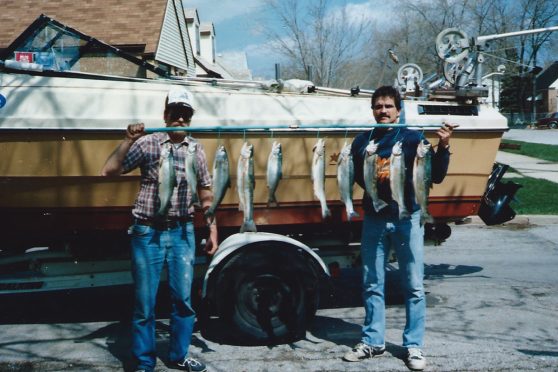 The Hoan Bridge has been good for steelhead and brown trout on spawn sacs, shiners and fathead minnows fished on the bottom. A few early cohos have also begun to show up and have been hitting white tube jigs tipped with waxworms and the new Williams Ridge/Back spoons (Gold, Orange/Gold Back). The Oak Creek power plant has also been giving up some nice browns.
Trollers who have been getting out more have been doing well inside the breakwall on brown trout and steelhead on crankbaits and spoons like the Moonshine and Michigan Stinger.
Off Racine, the shore fishing has also been good for brown trout and steelhead. The brown action has been in the harbor on tube jigs tipped with pieces of shrimp. The steelhead have been best downstream of the Steelhead Facility on tube jigs (pink/white), (black/chartreuse) and (chartreuse/white) tipped with waxworms and spawn sacs.
Kenosha has been on the slow side, but there have been a few browns caught off the pier on spawn and in the harbor casting Williams Ridge/Backs (Blue Zone/Silver Back).
In Illinois, Waukegan is just starting to heat up for shore fishermen off the Government Pier. Powerlines have been best for brown trout and cohos, with live or frozen roaches doing the trick. Spoons have also doing well for the casters.
Chicago has also been red-hot for powerliners fishing for spring cohos and a few brown trout. The best spots have been off Montrose and Belmont harbors with large minnows, nightcrawlers and shrimp. Trolling has also been good for cohos and browns. The best bite has been on 00 dodgers (Fluorescent Red) and assorted colors of Eddie Fly P-Nut Flies. Brad's rattlin' ThinFish in a Fluorescent Red/Black color have also been producing.
Perch fishing was still going strong with good catches off Navy Pier and in the slips and the Calumet River on the far southeast side. Once the call goes out, the perch leave pretty much overnight and head out to their spawning areas on the clay flats on this lake. If you hit it right you can experience the finest perch action for jumbos you will ever see.
With the arrival of whitefish in Illinois, state records have been toppled like straw houses. As reported earlier, Christian Howe's 4.45-pound whitefish was certified as a new Illinois state record. The fish was caught at 95th Street on the Calumet River on February 17.
But with the ink barely dry on Howe's state-record certificate, Vincent Chan of Chicago landed a 6.55-pound whitefish behind McCormick Place. The fish measured 27 1/2 inches in length with a girth of 13 1/4 inches. Congratulations, and a tip of the MidWest Outdoors cap to Howe for his whitefish and to Vincent on his fine catch and a new state record.
The Lake Michigan fishing in Indiana has been on fire lately with the cohos being the "star of the show." Boaters trolling in 20 to 40 feet of water have been taking limits of these great-eating silver salmon. The action has been red-hot all the way from Illinois to the Indiana/Michigan state line.
With the fish concentrated for the most part in the top 10 feet of water, flat-lining crankbaits like the Brad's ThinFish (Fluorescent Red) have been working, but Eddie Flies in various colors have been doing the best behind 00 dodgers with keel weights or bead-chain weights behind Yellow Birds or other side planer boards. There have also been a few brown trout mixed in to keep things interesting.
Anglers anchoring up near the Port of Indiana have been having luck on lake trout fishing jigging spoons and keeping them moving near the bottom. This fishing, however, will be nearing an end as the water warms and fish begin moving out to their haunts in deeper water.
Shore fishermen have also been doing very good on cohos and a few browns off the Portage Lakefront Park in the public fishing area inside the Port of Indiana and the Michigan City pier on squid and spawn.
The creeks have good numbers of steelhead hitting on spawn sacs and fluorescent-colored spinners.
On the Michigan side, the coho action has been hot out of St. Joseph in the warmer waters at the Cook Power Plant. There's been good steelheading in the St. Joseph River at Berrien Springs.
As we get into late May, look for some of our fish to begin to move out a bit as water temperatures continue to warm. Of course, as we know it all depends on the prevailing winds on this lake. And remember, May is still providing action for shore anglers.
You can be among the first to get the latest info on where to go, what to use and how to use it!
---

With his "Lake Michigan Corner" and various other articles in MidWest Outdoors, Mike Ratter has been writing for MWO for nearly 35 years. His writing has also been published in various other publications throughout the Midwest. He is a consultant and field tester for various manufacturers, seminar speaker and current (and long-time) member of OWAA and AGLOW.
All author posts
---