Indiana Hunter: One Arrow, Two Deer!
When he's not tending to his congregation at the United Pentecostal Church in Bourbon, Ind., Pastor Mark Cottrill is deer hunting.
He's shot his share of deer during the 30-plus years he's been hunting Indiana, but his experience Oct. 27 was one that few hunters can claim.
He wandered into the woods late afternoon that day and propped his bucket next to a tree. Unlike some hunters who prefer hunting from a tree stand, Cottrill likes sitting on the ground.
"I've always done that," he said. "I'm completely camouflaged. I don't like getting up in trees. I like hunting at ground level. I feel it's more of a challenge."
On the trail of the meat
Cottrill is not a trophy hunter. His family loves venison and he'll take two or three deer a year.
"Of course, if a big trophy comes in on me, I'll definitely take it," he added.
That afternoon, it was a pair of does that sauntered into his area. He watched them intently and decided he would take the bigger of the two if the opportunity presented itself.
"They were looking right at me. I didn't move until they lowered their heads," he said. "I raised my crossbow into position and waited until they got closer."
Remarkably, the deer got within 20 yards and moved parallel, providing the perfect shot. One was looking away and the bigger doe that was closest to him looked down.
He aimed at the lungs and let the arrow fly. When it hit, both deer twirled and one hit the ground. Cottrill readied another arrow and waited.
Something didn't appear right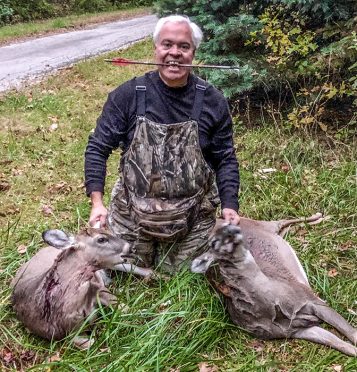 As he looked at the dead deer from where he was sitting, he noticed his arrow protruded from the deer's neck. He was certain he aimed for the lungs, and that was where the arrow hit.
"I thought there was possibility of me getting two deer with one shot, but kinda dismissed it," he said.
But, when he approached the dead deer, he found the arrow stuck in the neck of the smaller of the two and that the entire arrow was bloodied.
"I knew, then, my arrow must have passed through the bigger deer and hit the smaller one," he said.
Cottrill picked up the blood trail and found the other doe about 70 yards away.
One shot, two deer
And yes, it's legal, because he had a license that permitted him to shoot one buck and two does.
"I've been told it happens more often with gun hunters, but it's rare for an arrow shot," said Cottrill. "It was God's favor for me to get those two deer."
He hunts all of the seasons, but the archery season is his favorite.
"It's so beautiful in the woods during bow season and peaceful," he says. "Even if I don't see a deer, it's a wonderful way to get away from it all and enjoy nature."
Even so, he's not done hunting and planned to be in the woods for this weekend's gun season opener.
"My family, including my sons and grandsons, eat a lot of deer," he explained. "I get it made into sausage and snack sticks. It's good for you."
Part of the fun in deer hunting, he added, is that you never know what you're going to see or do.
Including getting two deer with one shot.
You can be among the first to get the latest info on where to go, what to use and how to use it!
---

Louie Stout is a Hall of Fame journalist and longtime Bassmaster Senior Writer who has covered Indiana and Michigan outdoors for more than 40 years. He's co-authored three books with Kevin VanDam and is the outdoors columnist for the South Bend Tribune.
All author posts
---