Ice Pro's Techniques for More Fish Through the Ice
What if you absolutely had to catch your limit of fish every time you hit the ice? What jig would you use? What techniques would you apply? Well, here are three pros employing their favorite techniques to catch more fish!
Kevin Fassbind is one of the top anglers on the NAIFC tournament trail. Along with his partner, Nick Smyers, they have won or placed in the top five in just about every event they have entered in the past dozen years. They recently took third at the 2018 NAIFC championship.
Kevin's approach is simple and straightforward when he is after bluegills. He studies a map, drills some holes in a likely area and then the work starts. He'll spend hours upon hours watching the Aqua-Vu camera and how the fish relate to it in the underwater world before he begins fishing. Once he figures where the fish are working, he raises or lowers the camera to fish level. This is a critical step. He then walks the camera back out of the hole and lays it on the ice. He sets his fishing line to the exact length of the camera cable by stretching it out next to the cable.
This may seem like a silly approach, but you see, most of the time Kevin doesn't use a locator. A locator just slows you down as does sitting on a bucket. If you are trying outfish everyone around you, depth and speed to get to that depth are paramount.
He employs two rods that are identical. They are four feet long fly-rod blanks with a ball point pen spring bobber. The line from his fly reel goes through a hole in the side and out blanks tip. With this magic wand, he can make his jig dance and entice. No locator to slow him down or mess up his cadence. He'll fish a hole for five minutes before moving on.
A preference for purple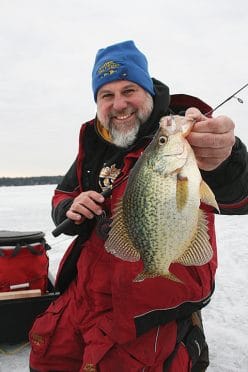 He favors tungsten jigs. The Custom Jigs & Spins Majmun and Chekai are his favorites. His confidence color is purple. The Majmun comes in a solid purple, but the Chekai doesn't so he applies purple nail polish over a gold one to get just the right shade he wants. Bait is just one double-hooked red spike! Speed and tungsten go hand in hand. Tungsten gets you into the fish zone quickly!
Are you enjoying this post?
You can be among the first to get the latest info on where to go, what to use and how to use it!
On a recent trip to the Madison Chain, I watched Kevin in action. He drilled his holes, looked though the camera for fish and was on the move. Meanwhile, I got set up, put in my flasher, sat on my bucket and got a 10 fish lead out of the same hole. Once he began to fish, he quickly caught up, easily surpassing me by at least 50 fish by the end of four hours. I caught fish and had fun, but he really, really caught some fish!
Jesse Quale runs Green Water Walleye guide service out of the Petenwell and Castle Rock Flowages. These are huge bodies of water with great populations of walleyes, crappies and white bass. He'll guide groups from two anglers to a few dozen and he always gets fish. Jesse focuses on river channels and flats near the channels that have wood. These areas hold fish all winter.
Tip-downs
While he supplies anglers with all the tackle they need, including graphite rods and locators, some guys just don't have the knack to jig them up. Since each angler is allowed three lines, out come the tip-downs. Tip-downs are a quick and easy way to present a live minnow to a light-biting fish! A tip-down consists of a stand that holds a light pole mounted on a pivot. When a fish grabs the minnow, the rod tip drops down and the fish runs with the bait. The angler grabs the pole, sets the hook and the battle is on.
I've been on the ice where he has guided a dozen anglers with 36 tip-downs set! Let me tell you that, when the fish move in, the tip-downs drop quickly and guys are running all over the place snatching up the fish! Everyone goes home happy.
When I'm on a crappie bite and looking for enough for the family fish fry, I like to use deadsticks to up my ante. Whether I'm in Iowa, Illinois or Wisconsin, I can use three rods so I'll jig with one rod and employ two deadsticks. I'll jig with an attractor spoon like the Custom Jigs & Spins Slender Spoon or the Demon Jigging Spoon. Top colors are any pattern that glows. I'll use the spoon bare, with a few spikes or a minnow head. I'll use aggressive jigging motions to attract the fish to my area.
If they don't attack my spoon, they may snatch a minnow on the deadstick. My deadstick rods are fiberglass noodles. They are set in rod holders attached to buckets close by where I am fishing, where I can see them at all times. I'll put size 6 Demon jigs in glow finishes on deadsticks, charge them with a flash, and fin-hook a minnow. It's like a binky to a baby!
You can be among the first to get the latest info on where to go, what to use and how to use it!
---

Walt Matan has been a writer and television host for MidWest Outdoors for 30 years. An avid ice and open-water fisherman, he currently lives in the Quad Cities on the shores of the Mississippi River. He is the product developer and brand manager for Custom Jigs & Spins, B-Fish-N Tackle, and Rippin Lips Catfish Tackle. For more information visit customjigs.com.
All author posts
---