Ice-Fishing: Three Rules for Engagement
I have been "icing" for over four decades on local and Upper Peninsula waters. With the many hours spent on hardwater comes a lengthy list of items learned from either listening, watching or experiencing the pitfalls and highlights which result from the sport of ice-fishing.
A few weeks ago, a friend of mine remarked, "There's little more which can be written about ice-fishing. In fact, there's only so much that ice anglers need to know before leaving shore. You need an auger, shelter, bait, rods and a heater. Then, let 'er rip!" To an extent, I would agree. Indeed, the same verbiage is often expounded on, year after year, as ice season commences. Yet, as with any sport, there are always areas which can be retaught, and/or practiced to encourage better performance, increase catches and, most importantly, feel satisfied.
Three adages need to be revisited every year, in one format or another, when reading about ice-fishing. First ice – Get to shallow lake waters early. Midwinter – Get to lakes where recent reports are positive over a few days span. Last ice – Get back to lakes because this is truly the best season, since the lethargy over the past couple of months gives way to more aggressive fish.
First ice
Walleye and panfish will tend to congregate in shallow areas where weeds are still somewhat alive. The foliage itself has grown over the warm summer months and now offers not only nutrients but keen hiding grounds against bigger predatory fish. Get there early and life on the ice is grand. Do not, however, venture out on these smaller lakes near river mouths and springs. If there is wariness about ice thickness, don't go. Often, these smaller lakes start to harden up in late November through the holidays.
Midwinter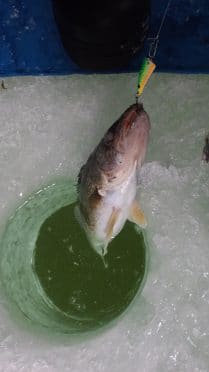 After a month or two of hardening, a lake begins to receive ample amounts of snow cover. The ice can now be 6 to 15 inches thick and, depending on the winds, have two to three feet of snow, which makes the trek out very laborious. Add to this the lack of sunlight able to penetrate the water, and you have the makings for a fish migration to where deeper, less-congested waters exist. Even with that, the lethargy which is inevitable during January through early March takes root.
This is the time to seek out other sources. There are many internet sites where chatter reverberates about the current hot lake. However, to me, the best sources are bait shops and party stores whose lifeblood, during the winter, has some infusion from ice anglers. They will be more than willing to offer up-to-date information on lakes in their vicinity. Case in point: last February. When shallow Crooked Lake in NW Michigan was seeing very little action, a quick call to a party store near Burt Lake (a few miles from Crooked) revealed that the deeper waters of Burt were producing limits of walleye.
It pays to do some homework. The assignment is to keep abreast of your favorite lakes and read any updates as to quality of ice and quantity of fish being iced. Again, locals are the best bet. Yep, icers need to be very transient during the Midwinter session. In fact, ice trolling can be very effective.
Last ice
Daylight is now gradually increasing, and the snow pack starts to diminish. As the lakes begin to liven up, so do the fish. Aggression seems to increase as the inner timetable of spring evolves. Schools of fish begin to move toward the bays and rocky outcroppings as the pre-spawn senses are triggered.
Shaky ice could be an issue. Common sense always needs to win out over ego. Yet, there is no doubt, some of the best ice-fishing can occur during mid-to-late March. Northerns, walleyes and perch all seem to realize that it is time to get moving because the meals are a coming. These few, precious weeks should induce the ice angler to be aggressive, also. For instance, smaller jigs used during midseason can be replaced with larger ones.
Often, tipping the jighead with a plastic trailer will entice these "feeling spring" fish to attack. A perch rig, can be lowered, now, in hopes that the water is holding jumbos. And hopes they'll be attached when reeled up! On the other hand, the opportunity for wide-ranging moves is significantly lessened, too, since last ice is often precarious. Good ice remains closer to shore, and the fish will be moving in also. Thus, where there is still good ice, good fishing can be expected.
The influx of new products and new "how to catch 'em" epiphanies will remain a constant. Yet, to this active icer, these three adages remain my hard-water bible.
You can be among the first to get the latest info on where to go, what to use and how to use it!
---

Rick Fowler has had his articles published in MidWest Outdoors for the past 26 years. Growing up in Northern Michigan whetted his appetite for fishing and hunting. It was further fueled by his grandfathers' experiences, both avid outdoorsmen. Fowler writes about bird hunting and angling adventures in the Upper and Northern Lower Peninsulas of Michigan.
All author posts
---