Hooked on Fishing: A Trip Down Memory Lane
Hooked on fishing
Once upon a time, some 60 years ago, my brain was hijacked. It seemed innocent in retrospect, but one little hook, one tiny fish and one more sunset on the lake caused fish-slime on the brain, and it has never been the same. I was hooked on fishing.
When winter turned to planting season, my dad cultivated and planted the garden. Mom did the rest with the help of us kids. To get the juiciest, reddest, ripest tomatoes and tastiest sweet corn, Dad used fish as fertilizer. He galvanized the neighbor kids to get him large quantities by organizing a fishing tournament. These 7-, 8- and 9-year-olds would do anything to win a quarter or a dime. All we had to do was have the most suckers, shiners and chubs in the bucket at the end of the contest. When my buddy Denny scored 25 cents for 26 fish, the dime to me for 22 didn't seem that exciting. But, there would be another day.
A good way to grow
Dad paid all of the kids at least a nickel. This ongoing event gained more momentum each season. We graduated from cane poles and corks to spin-cast rods and reels. We thought we were smarter than the fish, because our counts increased. Looking back, this competition, and a few other experiences, tilted us towards becoming hooked on fishing. Forever "fish-heads."
Living in a small northern Wisconsin town with a river flowing through it was a bonus. A dam backed up the water into our own private playground. We spent most every summer day somewhere on, in or around the pond. It stretched about two miles, and every shoreline homeowner knew us, brought us cookies and lemonade, watched us fish and welcomed us on their property. As I think back, they did this for a reason: This is exactly how youngsters should enjoy summer days. And, we did.
We gradually explored further and further from town, moving upstream by biking along country roads to the next bridge and the next. We would park bikes (we never thought they might be taken) and spend hours in the water: tennis shoes, Levis and a t-shirt. Always at ready were a pocket knife, stringer or creel, can of worms, fishing rod, hooks. We also had Mepps spinners—this was hometown for Sheldons', Inc., maker of Mepps. The farther we ventured upstream, the colder the water and the more brook trout flashed after our nightcrawlers and spinners and thumped in our creels.
A sense of community
After harassing all the bluegills, crappies, bass and pike in the pond, we accepted every chance to hit area lakes with uncles and neighbors. Dad had an Old Town cedar-strip canoe that became a dear friend. Dad fished with us on weekends. During the week, he dropped my brother and me off on rivers, lakes and ponds. We were aged 9 to 15, and allowing kids to be on their own for 8 to 10 hours was normal—especially for those of us developing fish-brain syndrome.
At age 16, there was no water within a tank of gas that was safe. We drove to lakes from Antigo north to Eagle River and Minocqua. We fished Lake Michigan, the UP and the rivers flowing into Green Bay. Most of the time, we were figuring out how to catch new species in new places.
The Wisconsin River obstacles were even greater, with more water and faster current. Below the many dams, we learned to read water, fish jigs, find the best backwater bays, drift eddies and slip current breaks. We did this the old-fashioned way: by doing it, and by making mistakes. Mostly, we asked everybody we saw on rivers. We read Fishing Facts magazine and books by the experts such as Bill Binkelman and Buck Perry. Thoroughly hooked on fishing, we made every excuse possible to visit sport shows and attend seminars. We cornered the experts. At that young age, if we thought we needed something, we tried to convince Dad he needed it. When he brought home the perfect lure or gadget, we promptly "borrowed" it.
Thanks, dad
One day, dad showed up with a green box. It was an early Lowrance fish finder. This sonar unit showed us why some spots were good. We looked where we caught fish and noticed the differences (soft to hard bottom, rocks, a drop of a few feet or weeds, for example). We looked for other spots with those characteristics. Years later, this was the rage with tournament anglers—find a good area with fish, then find it elsewhere.
Many days, Dad dropped us off at a bridge after showing us on a map where the river came out into a lake. He would meet us downstream at day's end. We would shove off with lots of tackle and lunch and start exploring. I think there was some Tom Sawyer or maybe Lewis and Clark in us. We found interesting stuff and fish along the way. One day, my brother got the worst backlash ever on his casting reel. His sinking lure fell to the bottom. Paddling to the shoreline, I waited for him to untie the snarl. When he finally did, he twitched the lure and a big northern pike grabbed hold. It must have been watching that lure for 10 minutes. I was so mad at how Tom hooked the fish, I refused to net it.
By the time we floated another couple miles, I got over it… sort of. We both loaded our stringers. When Dad blasted the car horn from the public launch three times, we knew it was time to head across the lake. We were good canoeists, but, this evening, the stringer of fish caused the canoe to zig-zag as we stroked towards the ramp. Dad watched us quizzically. When we made it to shore, he asked us if we forgot how to paddle a canoe in a straight line. Then he asked, "Well did you kids catch anything, because the people here on shore haven't seen a fish in weeks?" We each held up limits of pike and bass and the locals came running.
Are you enjoying this post?
You can be among the first to get the latest info on where to go, what to use and how to use it!
Consider the humble canoe for an alternative to that big bass boat. Get some canoeing tips to get you going.
Helping hands and learning experiences
In the 1950s, we fished for fun, to explore, and to eat fish. Learning how and why continuously coupled with what and where, even though we didn't think of it that way. We were just hooked on fishing. We gave fresh filets to aunts, uncles, grandparents and neighbors who were a bit needy (neighbors helped each other back then). While doing this, we soaked up lots of fishy lessons by discovering what to do when heavy rains drenched the area. We adjusted to catch fish in the dog-days of August. We learned what to use in the lily pads and on the weed edges. How to fish in weeds, and the moods of lakes, rivers, flowages and ponds.
We also learned the importance of good tackle and fishing line. The same brands from back then are on my reels today—Stren and Trilene—along with a few other good choices. Of course, when the super lines like FireLine were introduced, they became another "must have." Electronics evolved from flashers to the magic sonar, global mapping and GPS of today. But, without the experience of reading, trusting and knowing the early units, we wouldn't be so adept with them today. Best advice ever from Dad: "Always buy the best tackle you can afford."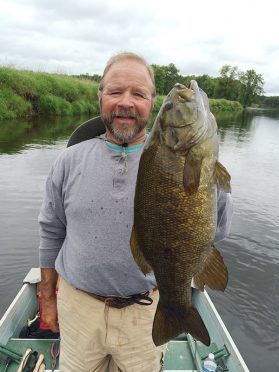 Paying for the hobby
Dad implied that working for the cash necessary to support my habit would be a good idea. I had many jobs from age 8 through high school. Some were brief, others long-term. Picking beans and potatoes by hand (paid by the bag), inoculating mink kits, shoveling snow, cutting grass, picking apples then helping seniors turn them into applesauce, selling products door-to-door including Cloverine Suave (won my first BB gun), selling Milwaukee Journal subscriptions (won a trip to the Seattle World's Fair) and guiding a few people out of my dad's 14-foot boat. I worked at the Texaco station, pumped gas, checked fan belts and oil levels, and washed windows. My hours were Friday 9 p.m. to 6 a.m., then I went fishing. I slept for a few hours Saturday afternoon and did the evening shift again. I was the used-car detailer at an auto dealership for $1 an hour.
There were other jobs, but, remember, I had to fit fishing into this mix. Plus, somewhere there was school. With an eventual scholarship at UW-Madison, somehow, I compartmentalized all these incidental jobs, chores, school, band, debate and still created time for fishing.
The real world
Upon graduation, I immediately stepped into the real world of Vietnam with a couple tours in the hottest place I've ever been. After Vietnam, suddenly, with a wife and a baby, I needed to find a job. I landed in central Wisconsin at a newspaper. Can you believe it was in the county where the most trout streams originated? It also had great panfish and bass lakes.
After a few years, my fish-brain began thinking. I accepted a post as the director of marketing and public relations at Mepps. That brought my journey full circle. Finally, I was hooked on fishing and had sufficient funding. The next stop was in Fond du Lac at Mercury Marine for 10 years of fishing fun and learning. When Al Lindner asked me to manage the Professional Walleye Trail for In-Fisherman, fishing became my life. My passion, from all those early years and time on the water as a youngster, followed by a career that swept me from one fishing hotspot to another, was complete.
Jim likes to fish for Walleyes (and all other fish). Check out our tips for nailing walleyes at night.
What if?
We have a tendency to look back and wonder, "What if…" What if I would have remained in news? Or, accepted a job on a ship carrying oil to the Far East? That was my first job offer while still in the Navy. And at a salary that seemed incredible for a 24-year-old. I passed. After being at sea for most of two-plus years, I knew that family was more important.
I know that fishing several times every week is a part of my life. I'm permanently hooked on fishing. Sure, I ask my wife if I can go now, something that did not always happen decades earlier. Evenings, mornings, and all-day trips are mixed together chasing walleyes, crappies, perch, smallies, largemouths, pike, salmon and trout. As long as the species I'm after cooperates, I'm happy. Occasionally, a slight adjustment to other species saves the day.
Pouring all the learning, lessons and the time on the water into one big mixing bowl resulted in my favorite way to fish. I love to explore new waters. I have as much fun unraveling the secrets from maps, locals, fisheries biologists and other research as I do hitting the water. When I turn on my electronics and begin my search on a new lake or new stretch of river, it's amazing how often my guess of where to go is right on the mark.
You can be among the first to get the latest info on where to go, what to use and how to use it!
---

Jim Kalkofen grew up with a fishing rod in his hands. After years in the PR game for Mercury and Mepps, he directed the Professional Walleye Trail. He and partners Al and Ron Lindner now provide weekly walleye and ice-fishing education and entertainment in Target Walleye/Ice, a free subscription email (targetwalleye.com). For more info: jim@targetwalleye.com or 651-356-5676.
All author posts
---