Do-it Herring Head Gets a Big Brother: Underspins for big gamefish
Underspins have been around a long time, and crappie fishermen have relied on marabou-tailed, chenille-bodied versions for over 50 years. Bass anglers have secretly carried them in their "panic box" for those days when nothing else will work. And even stream trout anglers have been known to drop them in undercut banks to pull out trophy browns and brookies.
Most of these older applications were the tried and true horse head-shaped bodies. Even in the 2014 Bass Master Classic, Randy Howell took home the trophy by fishing a simple horse head underspin tipped with a simple fluke-tail plastic. That Classic was the coming out party for the underspin, as anglers who thought of it as a bygone-era crappie bait sat up and took notice.
Do-it Molds listened to the anglers around the country who wanted a new high-tech version of the underspin, and the Herring Head was created. This wasn't your grandpa's old-school crappie bait. The Do-it Herring Head features a highly realistic minnow or herring-shaped jig head with molded gills, mouth, and eye socket. All around the country in various waters this bait was a huge success. I even admit that I carried a few horse head spin jigs in my panic box, but the new Herring Head got me to use it as a go-to bait for many situations.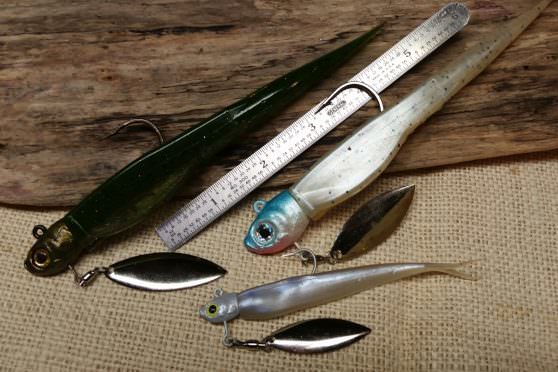 So, with a winner like this in your line up, what do you do next?
Do-it has decided to kick the bait up a notch and show it to bigger fish and deeper depths that an underspin never goes to. And this year, the Do-it Herring Head now has a big brother with their brand new HHU-4-LA Herring Head Underspin mold. In sizes of 3/4, 1, 1 1/4 and 1 1/2 ounces, they all feature the same realistic fish head details of the formed mouth, gills and eye sockets found on the smaller model. The eye sockets accept 9/32 of an inch or a size 5 flat or molded eye.
This big boy is made for big fish. And all four sizes are designed to take the heavy-duty Mustad 32786 (or VMC 7161) 60-degree, wide-bend jig hook in sizes from 5/0 in the 3/4 and 1 ounce to a 6/0 and 7/0 in the heaver heads. Both of these hooks are proven, as I have cast them into Musky swimbait heads. These hooks are extra strong and sticky-sharp and will hold up and bite the biggest gamefish. These hooks are also wide-gapped so they still have good exposure when matched up with larger plastics.
Do-it offers Underspin Wire Forms that are cast into the heads and give you a connection point for the spinner blade. They also have an open eye that makes it easier to attach a swivel. Simply put the eye of the swivel in their Wire Form and carefully squeeze it shut with pliers.
As I would recommend with any underspin, I'd use nothing short of a ball-bearing swivel. The basis of the underspin system is that the blade spins with the slightest movement, so don't cut it cheap with the swivel. They don't need to be the best on the market, but need to be a free-spinning ball-bearing model. Spinnerbait-quality swivels are perfect. For this size bait you can use the standard number 2 that I use for my smaller Herring Heads, or bump up to a number 3.
Because all of their Underspin blades spin close to the belly of the bait, a blade with a tight spin is necessary. Willows are the key to achieving this subtle flash, and tight-spin pattern. For my smaller Underspins, a 3 or 3 1/2 willow is perfect. For the new larger-sized Herring Heads, bump up to a 4, 4 1/2 or a number 5 willow blade.
Are you enjoying this post?
You can be among the first to get the latest info on where to go, what to use and how to use it!
Blade colors are fun to experiment with. For maximum flash, smooth or hammered nickel are the best choices for colors. For a more subtle flash, I like polished brass or copper. There are times when you want little or no flash, and you just want movement and vibration, so black or colored blades will work well. An example would be for a perch-colored lure and you may just want to take a brass blade and paint it with watermelon-colored powder paint. You achieve the movement and the vibration, but the blade matches the plastic bodies rather than throws off flash. If you fish in clear water, there are times when too much flash is not good.
So, now you have cast a perfect big-game underspin, have painted it a great baitfish color and have fitted it with a realistic eye. It's time to add a body. Their Underspin baits are usually dressed with a simple, no-nonsense straight-tailed fluke body. That's also true with a larger model. Plastics in 6 to 7 inches are perfect for their bigger Underspins. I have been using the 7-inch Do-it Wutz-It bodies that I pour myself, but the commercially made Zoom Magnum Super Fluke or the Lunker City 7-inch Fin-S-Fish are also good.
Swimbaits are also very good on the big Herring Head. Slim bodies are better than deep-bellied shads, as they do interfere with the blade. There are so many good swimbaits out on the market that it would be hard to start the list. The 6- and 7-inch Lunker City Shaker would be a good example of a slim-bodied swimbait that would work well on the Herring
Head Underspin. And don't forget a big twister tail like a Kailins Magambo. Just make sure that the tail does not affect the spin of the blade.
So what will you target with a bait this size?
The first thing that comes to mind is that a Midwestern or Canadian muskie has never seen a bait like this before. This is a new trail being cut into the muskie world, and this lure will get to deep rock bars, deep weed edges and deep breaklines where suspended fish are and stay deeper than most crankbaits. Large pike, walleyes and largemouth bass will be tempted too.
There are also two more angler groups that will discover the effectiveness of a bigger underspin: those who chase big stripers in both freshwater and saltwater bodies and the group that targets big lake trout both in the Great Lakes or in Canada. This bait has "big striper" and "giant laker" written all over it.
I don't want to ignore those crappie guys who put the underspin on the map 50 years ago. Do-it has also made something for you. A baby brother to the original Herring Head that makes 1/16- to 1/4-ounce heads with all the details of the bigger models is the new HHU-6-SA mold.
The new large Herring Head is going to take the use of the underspin jig to new levels. This is a legitimate large- gamefish bait that you can make yourself and show it to fish that have never seen a bait like this before. Plus, as always, it's always so much fun to catch a fish on a lure you made yourself.
You can be among the first to get the latest info on where to go, what to use and how to use it!
---

Marc Wisniewski is an avid Wisconsin angler specializing in Lake Michigan shore and inshore fishing. He also chases bass, pike, and muskies anywhere he can. He has built custom rods for 35 years and makes lures from wood, lead and soft plastics. Wisniewski has been writing fishing articles for more than 30 years.
All author posts
---