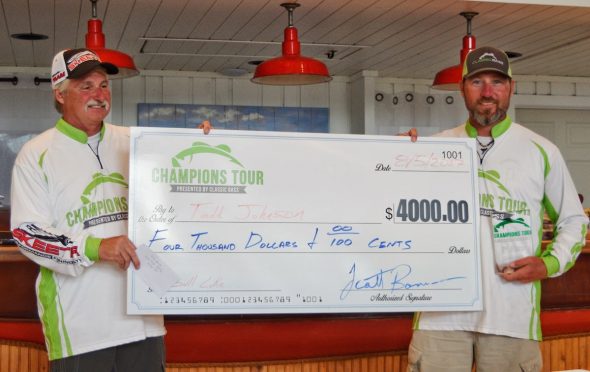 Tadd Johnson Hangs on to
Champions Tour Win on Gull Lake
Johnson's Massive First Half Weight Enough to Fend off Consistent Pappa
Zimmerman, MN – Classic Bass (ClassicBass.com), a leader in providing bass tournament angler's informative, current, information and presenter of the Champions Tour presented by Skeeter Boats and Yamaha Outboards wrapped up its third event of the 2017 season on Saturday, August 5th, on Gull Lake in Brainerd.  Champions Tour Angler Tadd Johnson bested the twenty four other Champions Tour anglers on by recording 52 scorable bass, weighing a total of 87 lb 3 oz.
Quarterdeck Resort on Gull Lake welcomed the Champions Tour with open arms and provided the anglers with a top notch experience, that they gladly repaid by providing some exciting, real time fish catching action!  All twenty four of the Champions Tour anglers recorded fish catches and a total of 885 pounds of bass were caught and immediately released back in to Gull Lake.
Tadd Johnson fished the first Champions Tour event of this season on Mille Lacs, so his strategy going into this event was crafted with his experience from that event.  Johnson had an incredible first half of fishing where he caught 63 lb 9 oz of bass and had over a 26 pound lead on second place angler Will Pappa.  Tadd fended off Pappa who caught nearly identical 37 pounds in each half of fishing and closed the gap to just under 13 pounds!
For his win Tadd walked away with the first place prize of $4,000 and a berth into the Champions Tour Championship where the winner will walk away with a brand new Skeeter Boat, trailer and Yamaha Outboard package.
Johnson's game plan involved some risk, as he made a long run in the morning, where he had to spend a significant amount of time idling through slow no wake zones.  "I had to go where my biggest schools were, as catching bass consistently is key in the Champions Tour," said Tadd.  "If you go idle and aren't catching them, the sticks behind you are and you can quickly slide down that leaderboard."
The Classic Bass Champions Tour provides live results and techniques to Classic Bass users.  Each angler is paired with a boat official who tracks and records every legal fish, along with enforcing the Champions Tour regulations. Each smallmouth or largemouth bass that is caught, which meets the 12-inch minimum length requirement counts towards the anglers overall weight/score. Upon measuring, weighing, and recording, the fish is immediately returned to the water.  At no time is any fish placed in the boat's livewell or brought to a weigh-in.
"We couldn't be more pleased with the progress the Champions Tour is making during its first season, the anglers are working hard to catch bass, while still opening up and sharing valuable information for the fishing world to enjoy," commented Scott Bonnema, Owner of Classic Bass.  "Our host sponsor, Quarterdeck Resort, opened up their doors and rolled out the red carpet for us.  The Friday night meeting at Quarterdeck's Boathouse Event Center and on-the-water facilities is top notch.  We couldn't be more thankful for their partnership!"
At each of the Champions Tour events, the top six finishers qualify for the Championship which will be held on September 1st, on Lake Pokegama in Grand Rapids, where a brand new Skeeter boat equipped with a Yamaha Outboard will be given away.  The top six anglers from the Gull Lake event were:
1st:  Tadd Johnson, 87 lb 3 oz (52 bass)
2nd:  Will Pappa, 74 lb 13 oz (50 bass)
3rd:  Shane Raveling, 51 lb 8 oz (25 bass)
4th:  Andy Walls, 49 lb 6 oz (28 bass)
5th:  Brad Leifermann, 44 lb 3 oz (23 bass)
6th:  Dave Skallet, 43 lb 11 oz (25 bass)
Two other awards that were presented in the beautiful Boat House at the Quarterdeck Resort included:
Don Nelson Memorial Big Bass award presented by Kruger Farms:  Brad Leifermann, 4 lb 6 oz
Major Mover Award powered by Wenzel's Farm:  Dave Skallet who increased his weight from the end of the first half of the day to the end of the day by 22 lb's 13 oz.
"Our anglers did a great job on the water today, there was a lot of boat traffic, so keeping them and their Minnesota Bass Nation High School angler boat official's safe throughout the day was top," said Mark Schutz, Classic Bass Operations Manager and Champions Tour Tournament Director.  "It continues to blow my mind just how fortunate we are to have not just quality anglers fishing the Champions Tour, but amazing stewards of the sport!"
For detailed video recaps from the entire list of award winners please visit ClassicBass.com.  You can also look back through to see how the event unfolded at, https://classicbass.com/champions-tour-gull-lake-bass-tournament-8-5-2017 .
"Congratulations to Tadd Johnson on his win, he is a true sportsman and long-time supporter of Classic Bass, so to see him garner this award is very exciting," said Bonnema.
For a full schedule and details regarding the remaining 2017 Classic Bass Champions Tour presented by Skeeter Boats and Yamaha Outboards events, visit www.classicbass.com
For advertising or event inquiries, please contact [email protected].
About Classic Bass:
Since 1994, Classic Bass's mission is to support bass tournament anglers of all skill levels with access to comprehensive information on tournaments, techniques, results and products.  In addition, Classic Bass provides person-to-person boat sales and industry leading news.
You can be among the first to get the latest info on where to go, what to use and how to use it!
---

Dave Mull of Paw Paw, Mich. has spent his career communicating the outdoors experience and runs Inner Viking Media. He enjoys kayak fishing for anything that swims in the lakes and rivers of the Midwest and beyond, and even uses his MirroCraft, from time to time. Available for seminars.
All author posts
---