Fox Chain Report by Phil Piscitello
Happy New Year, everyone. I can't believe we are starting another year—2023. This year is my 50th anniversary fishing, with lots of great memories and tons of good fishing trips. The Fox Chain has been my home body of water since the beginning.
The Fox Chain is better now than ever. There are more fish of all species, a great forage base and lots of big fish as well. The ice fishing this January should be really good if we have some decent ice.Different areas of the Chain provide localized ice fishing opportunities. Here are some of the more promising ones early in the ice season.
Down off the Fox River, south of the Chain, are backwaters known as Neilson's Channels. As the ice thickens throughout the month, the front channels can provide excellent fishing for crappies and bluegills, with some bonus white and yellow bass, yellow perch and largemouth bass mixed in. Fish the channel junctions, any fallen timber in the water and the stretch of channel near the mouth of the Fox River.
Parking is available at Hermann's Rest A While Bar and Grill on Center Street in Fox River Valley Gardens, which is a subdivision of Port Barrington. A small fee is charged. When you are done fishing for the day, stop in Hermann's and enjoy some of Wayne's world-famous chili along with a tasty burger and a cold beverage. Hermann's is a Northwoods-style bar, and the locals are very friendly and welcoming.
On the Fox Chain, Channel Lake is a popular ice fishing destination. The south bay is a consistent producer throughout the winter months. Good catches of crappies, bluegills and yellow perch are common. Search for healthy, green weeds along the shallow flats. Fish the pockets and over the top of the weeds, using small jigs tipped with waxworms or small minnows. The fish typically remain quite shallow throughout the season: 3 to 5 feet is common. Search deeper weed lines for larger crappies and for white bass over the basin, vertically jigging in deeper water.
You can access Channel Lake through the Musky Tales boat ramp, at Chopper's Bar and Grill and at the Thirsty Turtle Marina. Fees are charged at each location, so make sure you find the drop box and put the receipt on your dashboard. You fee helps maintain and add improvements to the access areas.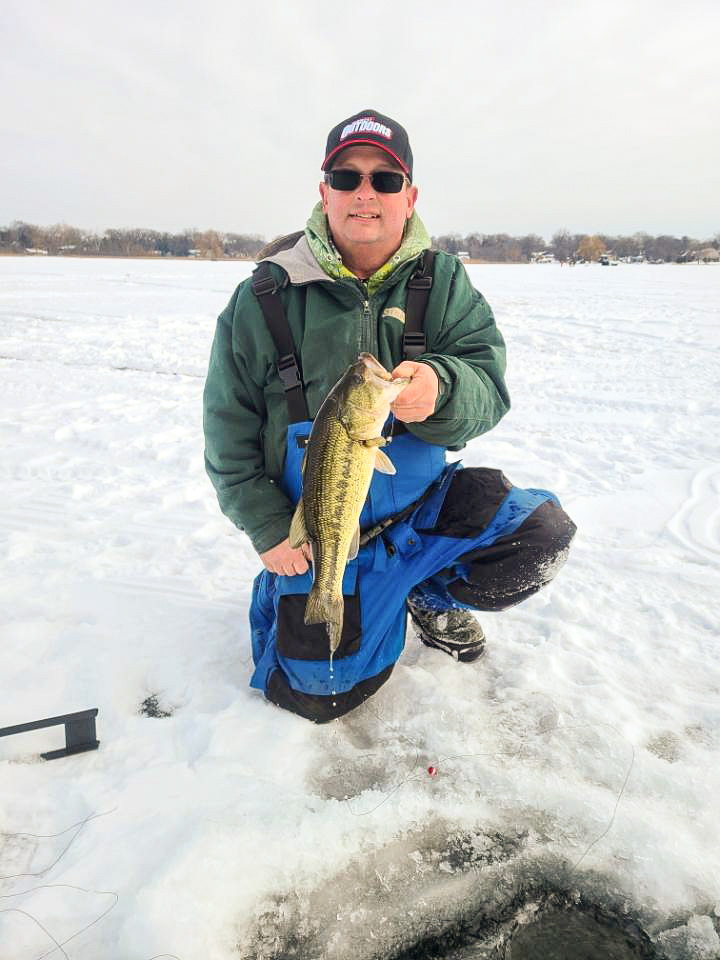 As the ice thickens throughout the month, the lake will completely freeze over, giving you access to the north end and basin areas. These areas have good fishing for white bass, channel catfish and magnum-size crappies, using small spoons or jigs tipped with live bait or soft plastics. Punch lots of holes and cover water to help locate and put some nice fish on the ice. If you are fortunate enough to own a Garmin Panoptix LiveScope, Hummingbird MEGA Live Imaging or Lowrance ActiveTarget Live Sonar unit, locating fish is a lot quicker. Plus, you can see everything happening on your screen. Cool technology.
Lake Catherine has some good ice fishing with less pressure than Channel Lake. You can access the lake through Bob's Marina on the south end of the lake, off Route 173.
The south bay has good, shallow-water crappies and bluegills in the weeds. Check the weed lines for crappies, yellow perch and stripers. Occasional walleyes are possible.
The north end weed flat outside Trevor Creek is a great spot for crappies and walleyes. Northern pike and muskies use the area as well and are a great bonus. Fish large suckers or smelt on deadbait rigs below tip-ups when targeting toothy critters, or smaller roaches or shiners for multiple species. Fish jigs and set tip-ups in combination for a great multi-species day.
Lake Marie is a good mid-season lake for crappies, stripers and walleyes. You can access Lake Marie on the north side through the new Boat Yard Resort, which is the old Barnacle Bob's. They have bait and tackle and serve lunch.
On the south side of the lake near the Bluff Lake channel, the Sandbar Resort provides parking for ice fisherman and have a nice bar and grill. You can fish Dead End Point and the east side breaklines from here.
Are you enjoying this post?
You can be among the first to get the latest info on where to go, what to use and how to use it!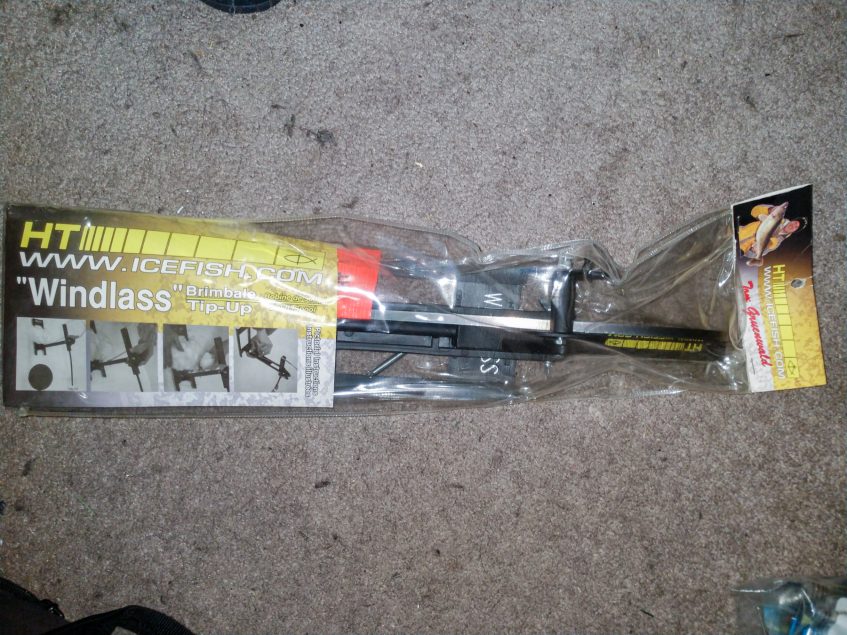 From either location, you can hit the Center Bar. It's a little bit of a walk but can be well worth it. Good crappies, walleyes and stripers are taken here.
Petite Lake has always been an excellent lake for striper fishing. You can access Petite Lake from Cypress Resort on the west side. Channel mouths at the north and south sides of the lake are good for low-light walleye fishing. You can catch some really large fish here as well. Walleyes over 10 pounds have come from these two areas.
The breaklines outside Cypress Resort and running north are good for stripers and walleyes. Fish Willow Point on the east side for nice stripers and crappies.
Fox Lake is a great ice fishing lake throughout the winter. You can access the lake through Mineola Marina on Mineola Bay. The bay has good ice fishing for stripers and walleyes. Lippincott Point is a good walleye and striper spot as well.
Pistakee Lake is the southernmost lake on the Fox Chain. It has good ice fishing at the T Channel and in Pistakee Bay. You can access the T Channel through Famous Freddie's in Fox Lake. To access Pistakee Bay, the Oak Park Motel provides parking.
The T Channel is a great spot for crappies and bluegills. It can get a tremendous amount of pressure, but it continues to put out a lot of fish. Pistakee Bay has crappies, bluegills, white and yellow bass, plus some nice walleyes and channel catfish.
For crappies and bluegills, use a light rod with 2-pound-test line. A jig and wax worm or spike is good. Minnows and soft plastics also catch nice fish.
Stripers can be caught on ice jigs as well, but small spoons like the Swedish Pimple, baited with a red spike, can be deadly. Wigglers are a great bait to hook on your jig or spoon for stripers and bluegills.
For walleyes, use Jigging-Rapala-type lures. Slab Raps, Rippin' Raps and jigging spoons baited with a minnow head also work well. If walleyes are spooky, a plain, ball head jig baited with a small minnow, barely jigged or deadsticked, can be the ticket. You can also set tip-ups with a medium-size golden roach or sucker minnow.
Deep Lake is in the shadow of the Fox Chain and is a great ice fishing lake. It is the last lake in the area to freeze completely due to its deep water. It lies in the town of Lake Villa. You can access the lake off Deep Lake Road at Jack and Lidia's Resort.
The lake has good crappie and bluegill fishing. Fish weeds on the flats and humps. Crappies suspend in the basin. At low-light, crappies move into the weeds to feed.
Deep Lake is also a good tip-up lake for northern pike and largemouth bass. Set tip-ups along deep weed lines for pike, and up on the flats and over the humps for largemouth bass.
I'm happy to announce that some of the sport shows are back this year! The Chicago Musky Show will again be at the Kane County Fairgrounds. The Schaumburg Fishing Show and the All-Canada Show are also back. Check the ads in this issue for more information.
You can be among the first to get the latest info on where to go, what to use and how to use it!
---

Phil Piscitello has 45 years of experience as a multispecies angler on ice and open water. He is a fishing guide, master charter captain and seminar speaker guiding in northern Illinois and southern Wisconsin. Picitello is also a regular guest on Chauncey's Great Outdoors radio show and MidWest Outdoors TV show. He has fished all five Great Lakes and many major rivers, lakes, and reservoirs throughout the Midwest.
All author posts
---