Fishing can be Tough during the Hot Days of August
August is typically known as "the dog days of summer" because of the heat and humidity that sets in. The water temperatures have settled into the mid-80s and the algae bloom is as thick as pea soup in some areas of the lakes. August can also produce thunderstorms, which can affect the fish. All of these factors combine to make some very tough days on the water. When you encounter a tough bite, a little change in strategy or location can make a big difference.
In most cases, the fish may have moved a little deeper in the water column or tighter into cover. The cover in Castle Rock and Pentenwell lakes means deeper, submerged wood along the channel edges of the old bed of the Wisconsin River.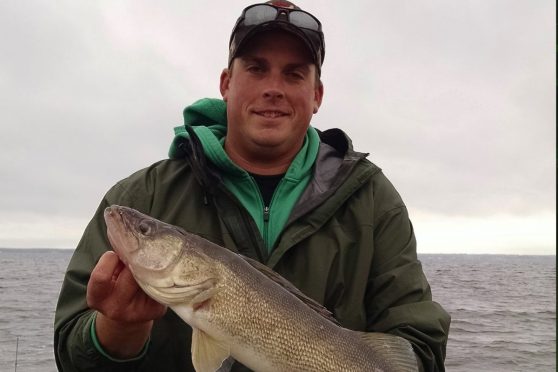 Jigging is probably my favorite presentation early in the morning. Working jigs tipped with a big fathead minnow, a leech or half of a nightcrawler are good choices for this presentation. A slip-sinker rig is another option to try, but with all the wood so prevalent throughout the lakes the snags can be a problem. For this presentation I use a 7-foot Berkley medium-action Lightning Rod spooled with 10-pound-test FireLine. I'll also slip a 1/8- to 1/4-ounce bullet weight onto the line and then attach a number10 barrel swivel. To this, I tie on a 3- to 6- foot leader of 10-pound-test fluorocarbon and tie on a floating jig or weedless hook baited with a leech, minnow or 'crawler chunk just as I do when jigging. Slowly work this rig along the break at various depths with a bow-mount trolling motor while incorporating a slight pumping motion. Try to keep it as vertical as possible to reduce hang-ups.
Trolling with planer boards is one of the most effective ways to put a lot of fish in the boat in the shortest amount of time. The use of planer boards affords you the opportunity to spread your lines out to the sides of your boat and run multiple lines with different styles and colors of lures.
My typical trolling spread consists of six inline planer boards and two flat lines, all with different lures running at different depths and with various colors. The fish will let you know what color scheme they want and at what depth they would like it severed.
Don't let the dog days deter you from enjoying your favorite pastime and just remember to tweak your presentation a little. You can keep an eye on my message board for reports on my website listed below for what is biting. You can also click on "Gallery" to view pictures of past catches.
You can be among the first to get the latest info on where to go, what to use and how to use it!
---
Jerry Tipping is a multispecies guide fishing Castle Rock and Petenwell Lakes in central Wisconsin. He has 40 years of experience fishing these lakes, and over 30 years as a licensed guide. More information is available on the web at: anglerspride.com or phone 608-564-1267.
All author posts
---