Fall Fishing Frenzy on Rainy Lake
Upper Midwest anglers know the fall fishing season is the best time of the year to catch lots of fish, as well as big ones. It's a time when our favorite gamefish feed heavily to build up energy and fat reserves for a long winter locked beneath the ice. With hunting fever also kicking into high gear, the months of September and October provide countless opportunities to get outside and enjoy nature's bounty. If we only had more time, right?
I've seen it many times over the years, where wicked cold fronts—known for knocking down fishing success during the spring and summer months for walleyes and bass especially—trigger aggressive feeding in these same species (as well as pike and muskies) during the fall season. The blustery weather quickly cools water temps and the fall in barometric pressure signals to gamefish that the days of bountiful forage are coming to an end, and a key to survival is to eat as much as possible.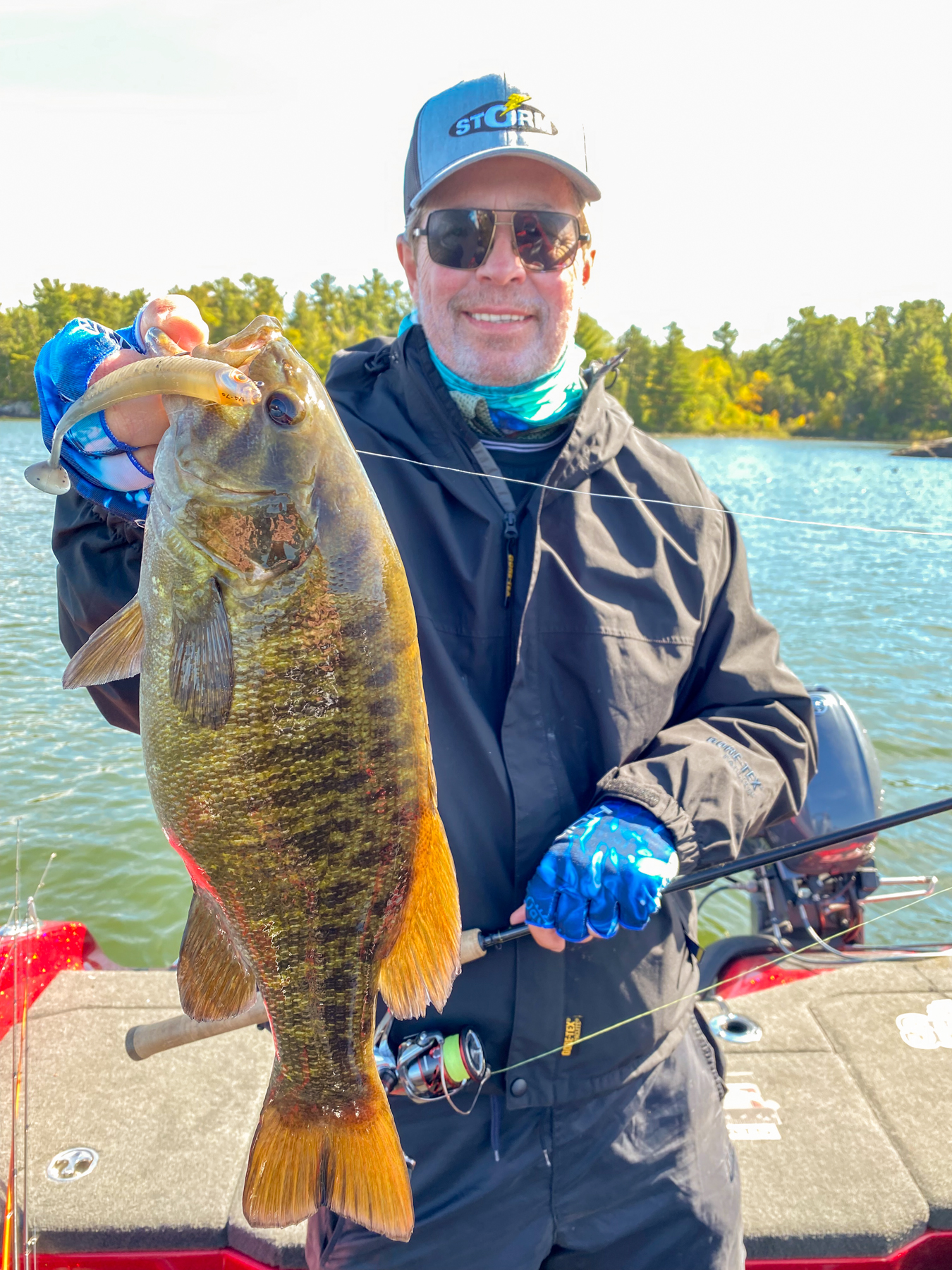 In fall, many baitfish have reached their biggest size at the end of the growing season. Muskie and pike anglers know that fall is the time of year to throw the biggest baits in the arsenal. Fishing with big-profile lures offers a welcome change from the multitude of finesse tactics often required for finicky summer fish.
For walleye anglers, subtle jigging tactics or stealth presentations like live bait rigs practiced in early summer give way to trolling patterns, and anglers fishing with live bait after turnover choose "big bite" minnows such as redtail chubs.
Largemouth and smallmouth anglers alike rejoice that their target species (especially on pressured fisheries) no longer require Ned rigs or other slow plastics to trigger bites. Now, power fishing with large swimbaits, deep cranks or big spinnerbaits is the key. The best part is, strikes from gamefish typically are voracious during the fall fishing frenzy.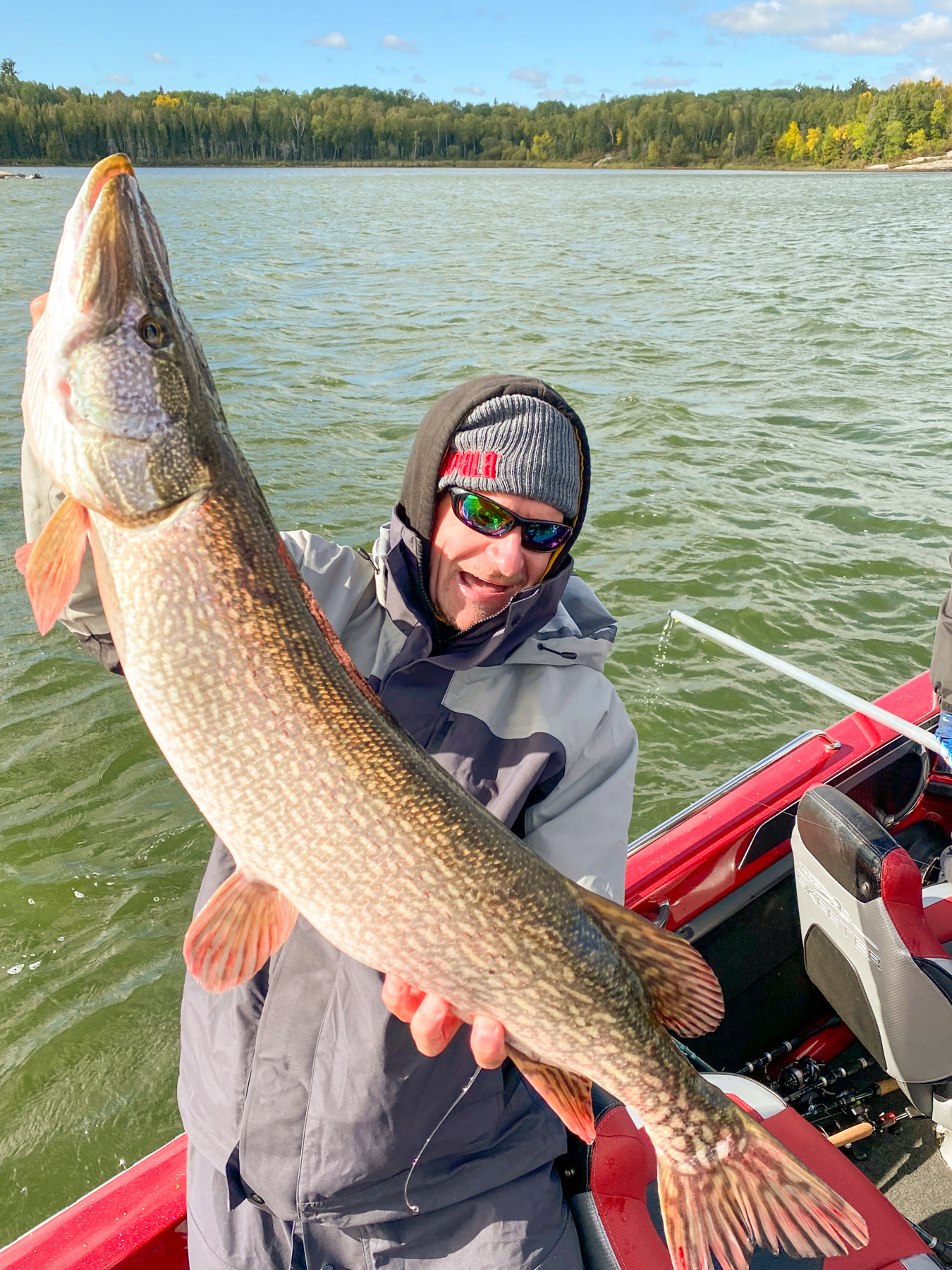 In far northern Minnesota, Rainy Lake has been on fire for the entire open-water season. Within days after ice-out in May, a heat wave spiked water temps quickly and sparked a shallow water invasion by the three primary gamefish in the fishery: walleyes, smallmouth bass and northern pike. Throughout summer, bass fishing has been incredible, and the number of big walleyes caught has been off the charts as well. Rainy Lake already is one of Minnesota's most productive walleye lakes, with historical catch rates well above the state average, in tandem with an impressive average size. Huge northern pike prowl these waters, too, with many 40- to 46-inch fish caught every year. The anticipation for how good this lake will be in September and October is off the charts!
Walleyes are rafted up on the numerous deep reefs scattered throughout the vast lake basins. We say, "Basins," because there are several different, large sections of the lake, many miles long, that make up this 225,000-acre lake. The popular East Arm—essentially two large basins connected by "Brule Narrows" (a shallow, current-laden stretch between them)—spans more than forty miles along the Minnesota/Ontario border and sees most of the attention from anglers because it offers so many productive fishing spots. It's also the deepest basin on the lake.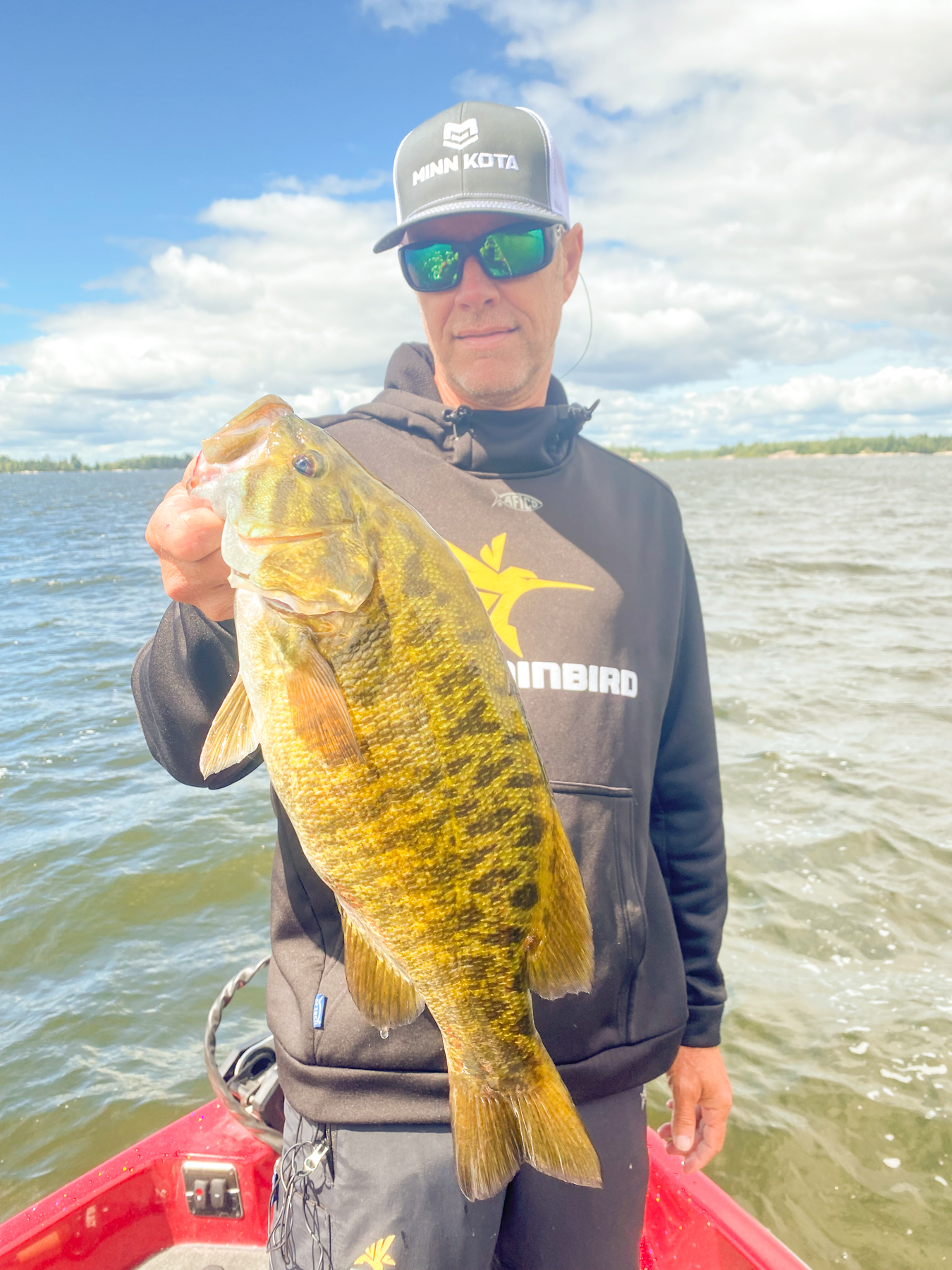 Are you enjoying this post?
You can be among the first to get the latest info on where to go, what to use and how to use it!
Although 80% of Rainy Lake lies in Ontario, relaxed regulations allow U.S. anglers to cross by boat into Canadian waters to fish, with current provincial fishing licenses in hand and following Canadian fishing and boating regulations. If you don't touch shore or anchor, you're not required to check in with Customs & Immigration officials. This policy opens a truly vast expanse in which to fish, and the number of good fishing spots for all species is truly mind-boggling. I've fished the lake for hundreds of days for nearly 30 years, and every time I venture forth, new (and very productive) spots are discovered. What a fishery!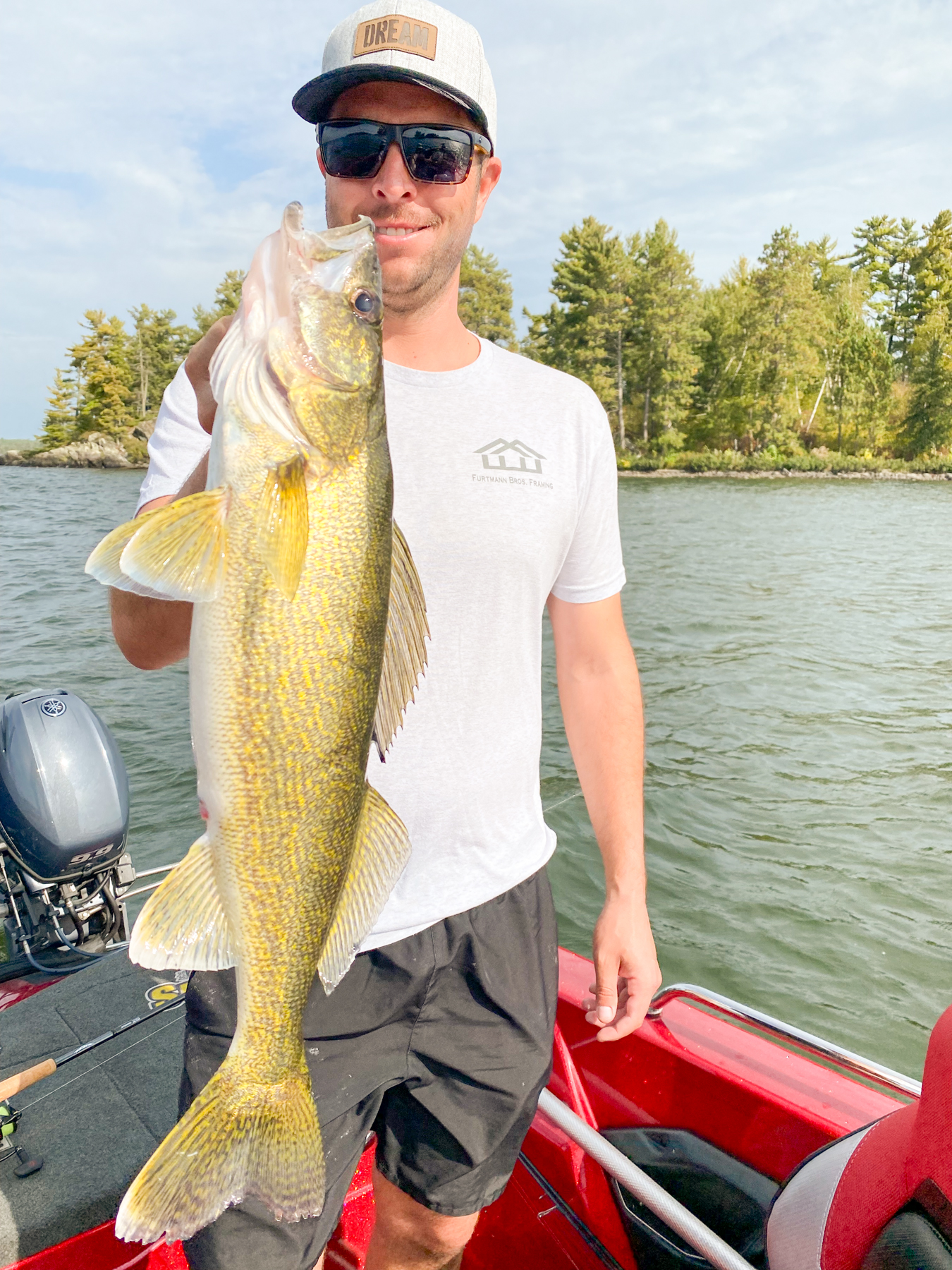 While live bait jigging and rigging methods will always catch walleyes here, many anglers now employ aggressive vertical jigging with artificial lures—a technique that in many cases will out-fish live bait, especially during the fall season. With walleyes feeding heavily in fall, the darting snap-fall of a #7 or #9 Jigging Rap, the slightly slower plummet of the Jigging Shadow Rap, or the brand-new "heavy metal" option with Jigging Rap Magnums (coming out later this year, but I've been fishing with early introductions) all produce lots of quality bites from reef-dwelling walleyes.
A key to keeping these fish hooked on a Rap is the rod and line choice. A medium-power, extra-fast spinning blank, 6'8" to 7'2" (such as St. Croix's Eyecon EYS68MXF) paired with a 2500 or 3000 series reel spooled with either 100% monofilament or fluorocarbon line is important. The "give" in the extra fast rod tip combined with 8-to-20%-line-stretch (rather than stiff braid) keeps the hooks from pulling out of a heavy vertical jig. With potential for 30-inch walleyes in Rainy Lake, you need a balanced rod and reel presentation to lead those brutes to the net.
One of the most cherished aspects of fall fishing on Rainy Lake is the number of smallmouth bass and trophy pike you'll catch in shallow water as the open water season winds down. In May, it's possible to catch huge northerns in the shallows if the water temps stay below the low 60s. But as waters warm in June, big pike flee to cooler temps below the thermocline in the deep basin areas, because biologically speaking, they don't tolerate water above 65 degrees well and will swim deeper to avoid it.
Rainy Lake walleye anglers occasionally encounter them from late June through August when reef fishing: Huge pike attack their hooked "eater" walleyes and sometimes hold on all the way to the boat—adding a real thrill to any walleye fishing day!
In September and October, with water temps again below 65 degrees, trophy pike return to the shallows to feed. It's fun because you catch them the same way you catch dozens and dozens of smallmouth bass: fishing with jerkbaits, 4- to 5-inch swimbaits, and 3/4-ounce spinnerbaits. Experiment with colors, because the fish will show preferences for a variety of options, especially depending on what section of Rainy Lake you're fishing. In some areas, primary forage are perch, in others, shiners and smelt. And of course, the smallmouth always hammer on crayfish all season long.
Depending on what's molting where, the craws can be a spectrum of colors from dark or rusty brown, to brilliant orange, to blue or grey, to iridescent shades of green and chartreuse. It's no accident that lure manufacturers offer incredible ranges of crayfish-imitating colors. And for anglers, imitating the greens, yellows and oranges of perch, the whites of baitfish, and the spectrum of craw colors with jerkbaits and swimbaits will increase the number of fish you catch.
Rainy Lake is truly a sportsmen's paradise, and an awesome destination for families as well. In fall, the grouse and duck hunting can be spectacular. Nestled in Voyageur's National Park, with a wide variety of accommodations, dining, shopping and boating to choose from, it should be high on everyone's list for regular visits. As a water-based National Park with no horsepower restrictions, boaters of all stripes can explore the bounty of spectacular Rainy Lake.
You can be among the first to get the latest info on where to go, what to use and how to use it!