Fall Fishing (Finally!)
It's no secret that I like cool weather, so the hot, humid summer days in Northern Minnesota can be tough. The hot weather forces walleyes to feed often or die; their metabolism is very high. Warm water is like warm soil in a garden that makes plants grow fast. However, it's not how high the water temperature gets. It is more about the amount of time a lake is above 70 degrees that has a bigger impact on the growth rate of a walleye's length. On most lakes during summer, walleyes actually get thinner when water temperatures are pushing 80 degrees.
The exception
There is always an exception. The exceptions are deep lakes and the Great Lakes with smelt, ciscoes and whitefish. The fall feeding binge adds big girth to the walleyes' frame. It's a great time of year to catch the largest and heaviest walleyes in the fishery. As trophy whitetail hunters head into the woods knowing that big bucks have attained their full mass, walleyes in fall are hulks ready to battle – and walleye seasons on all lakes and rivers are open. While some states never close the walleye season, in Minnesota, inland seasons are closed for walleyes in spring (with the exception of border waters) when walleyes are full of eggs. So, fall walleye fishing is my go time for big walleyes on inland lakes.
Choosing a lake
Choosing a lake or river destination for a day or a week is all about stacking the odds in your favor. This is not as difficult as it was 20 years ago—or even 5 years ago—as the stream of available fishing information is unlimited. Find information on the internet, DNR lake surveys, tournament results, fishing reports and fishing forums. Don't forget to check out the forage available in a lake's survey. This will give you clues that the lake can produce size and numbers of large walleyes.
Large lakes with a lot of diversity—bays, structure and good forage—are going to have large walleyes. Smaller lakes have some bigger walleyes, but not as many—and they eventually get caught. Large lakes have better odds. Popular trophy lakes such as Lake of the Woods, Leech, Rainy and Vermilion kick out trophies every year.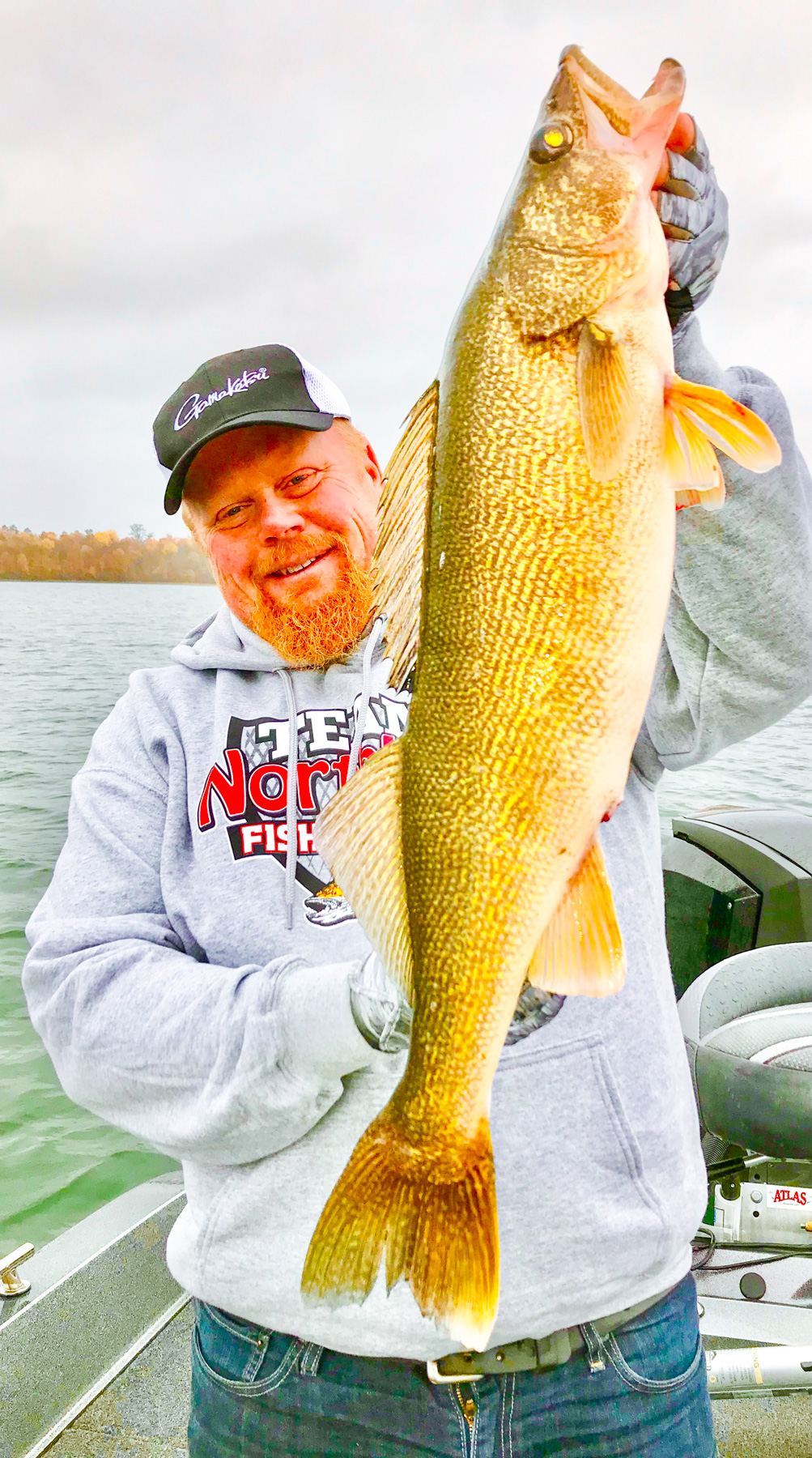 Walleye wants
In fall, it's worth noting that bug hatches are over and crayfish become less desired (like the same bologna and cheese or peanut butter and jelly sandwiches from a guide's lunch). Walleyes are feeding heavy on minnows, but the minnows grew up during summer, too. If you offer a fathead minnow on a jig, walleyes might give you the middle fin.
Trophy bait catches trophy fish. Large creek chubs or red tails trigger the biggest bites. Sucker minnows and big golden shiners will work, but they are lazy on a hook; they are better for jigging. Look for minnow sizes of 5 to 6 inches, and some pushing 8 to 10 this time of year. Large minnows work everywhere that there are big walleyes but some states in the walleye belt don't allow anglers to use them. And some bait shops don't carry large creek chubs because they are hard to get. Many years ago, you could more easily find creek chubs in the Dakotas and other Western states—and big walleyes crushed them!
Are you enjoying this post?
You can be among the first to get the latest info on where to go, what to use and how to use it!
Angler's Note: It is illegal to bring bait across state lines for good reason, due to invasive species. Check with local regulations or the fisheries department to find out more.
In Minnesota the past few years, the hardcore bait shops have been stocked with large creek chubs and red tails further into fall, popularized by fall walleye tournaments. Always call ahead to see which shop has them in stock. They sell out fast. Some anglers with longer stays will buy large numbers or buy them out. Keep in mind, minnow availability is also based on water levels and water temperature.
The rig
A live bait rig or Roach rig is a sinker above the swivel with a clear, 4- to 8-foot leader to a hook. My rig consists of a small tungsten bullet sinker (or a bottom bouncer in rocky terrain.) Weight is dependent on depth and minnow size. Then, a small bead above the swivel, and 8 feet of Sunline FC Leader material snelled to a Gamakatsu Finesse Walleye Wide Gap in size #4, #2 or #1 hook, depending on minnow length/bulk. Anglers want a large enough gap for the walleye's big jaw bones. Nose-hook your creek chub through the bridge of the nose deeply enough so they can't rip their own mouth to escape, but not so deep as to injure the minnow. I use a 7' 6" St. Croix Legend Elite Medium Extra Fast to wield long rigs and large minnows.
I find fish using electronics such as an Aqua-Vu AV 722, along with my Humminbird Helix Sonar using 2-D or DI (down imaging) under the boat in deeper water. I use side imaging in hard-bottom areas or flats. When I see fish, I use my MEGA Live Forward Viewing Sonar to help me drag my creek chub past the walleye in a half-circle. This is so my minnow travels by the fish, but the boat doesn't pass over the fish and scare it. Keep the bail open with a finger on the line. Feed out line when the fish hits. Let them have it for 30 seconds, up to 2 minutes for big fish. Set the hook by reeling in fast. When the rod loads up, sweep the rod. Fish on!
Pitching
In some scenarios, I drag bait past fish using my Minn Kota Ultrex front trolling motor. Other times, I use the Minn Kota Spot-Lock feature to anchor. Throwing a bobber with a large, fluffy leech or creek chub over the walleye will get you bit. Just throw past the fish shown on your MEGA Live, reel your leech or minnow up to the fish and let it soak. The walleyes will eat it even if they are not hungry, because it's in their personal space. You can pitch a chub on a jig. They are too big to double-hook, so I use a Northland Fire-Ball jig which has an extra eyelet to add a clip-on stinger hook. Northland has a weedless Fire-Ball jig with a titanium weed guard to help you fish through vegetation. A 6'8" St. Croix Legend Elite Medium Extra Fast works flawlessly for this approach.
My new favorite jig became available this summer: the Northland MVP jig with a wicked-looking Gamakatsu Big River hook. It's like a rig and jig all in one. When walleyes hit the big minnow on the MVP jig, feed out line just like on the rig, then reel the line tight before you sweep the rod tip. Anglers can also use jigs with a large minnow or leech under a large, 1 1/4-inch Northland Lite-Bite bobber. I use Sunline SX 1 10- or 12-pound round braid as my main line in most situations—even with slip bobbers. In clear water conditions, 8- to 10-pound Sunline Super Natural mono really makes a difference.
Expect the unexpected
When fall weather cools, walleye instincts tells them to feed to store up fat to survive the long cold winter. The wind can also blow in fall as weather fronts collide; this creates walleye chop and gets them to move. To be prepared for any type of weather, my boat of choice is the Lund 219 GL Pro. It eats big waves and rides like a dream. It's armed with two 36-volt Amped Outdoors lithium batteries connected in parallel to keep my Minn Kota Ultrex running all day in wind and waves without dying out.
Fall weather is unpredictable. The air temp could be in the 30s or the 80s. Prepare for the worst—and one day you will be right! I keep myself from melting from the above-average temperatures with my AFTCO Samurai Long Sleeve Performance Shirt. I always have Fish Monkey Guide Gloves for the heat and sun and waterproof Stealth Dry-Tec gloves to bait hooks. Creek chub and red tail slime will crack even the toughest fingertips after a while!
You can be among the first to get the latest info on where to go, what to use and how to use it!
---

Outdoor communicator Brian "Bro" Brosdahl lives in northern Minnesota. He is a walleye guide in the Cass Lake, Leech Lake and Lake Winnibigoshish areas. He is sponsored by Northland Fishing Tackle, Frabill/Plano, Aqua-Vu, Humminbird/Minn Kota, St. Croix Rods, Ranger Boats, and Evinrude. Guide inquiries: brosguideservice.com. Follow on social media.
All author posts
---