Fall Brings Yellow Perch Fishing Tradition and Walleye Derbies
For the past several years, fishing on Lake Erie in the fall months has not only included trying to find some friendly perch to fill the freezer. Rather, it has featured some weekend walleye tournaments and months-long walleye derbies.
Perch
Concentrating on yellow perch fishing beginning during Labor Day Weekend and is a hard-to-break tradition that goes back generations.
Years ago, equipped with a pail of always-abundant emerald shiners, a day of "perch jerkin" would invariably result in a long evening of fish cleaning and a couple of fish dinners for that week.
After a couple of trips on the lake, we would have all the waxed cardboard milk cartons we wanted filled with perch fillets, topped with water and stored in the chest freezer to provide multiple fish fries during the coming months.
However, changes in the species feeding habits have made our almost-guaranteed success less certain than it was when my grandfather first took my dad and I out 60 years ago. I used one of his 4 ½-foot J.C. Higgins perch poles, still equipped with an Akron Pflueger reel, braided black line and a wire spreader last fall to catch its first perch in 50 years.
Invasive spiny water fleas have attracted the attention of yellow perch, making shiners less effective in recent years. The stomachs of many fish species, including steelhead trout, are often densely packed with these prolific European zooplankton.
Ohio Division of Wildlife fisheries biologists offered some advice to frustrated anglers about how to cope with this change in perch behavior. Namely, they suggest fishing when the spiny water flea numbers are less dense, such as during the heat of the summer, and after water temperatures cool in fall.
Labor Day offers neither of these conditions, but anglers were rewarded for their patience last fall when schooling yellow perch and cooperative October weather combined to provide anglers with limit catches of good-size fish in the Western Basin (30 per day) and the western portion of the Central Basin where limits are now set at 10 per day.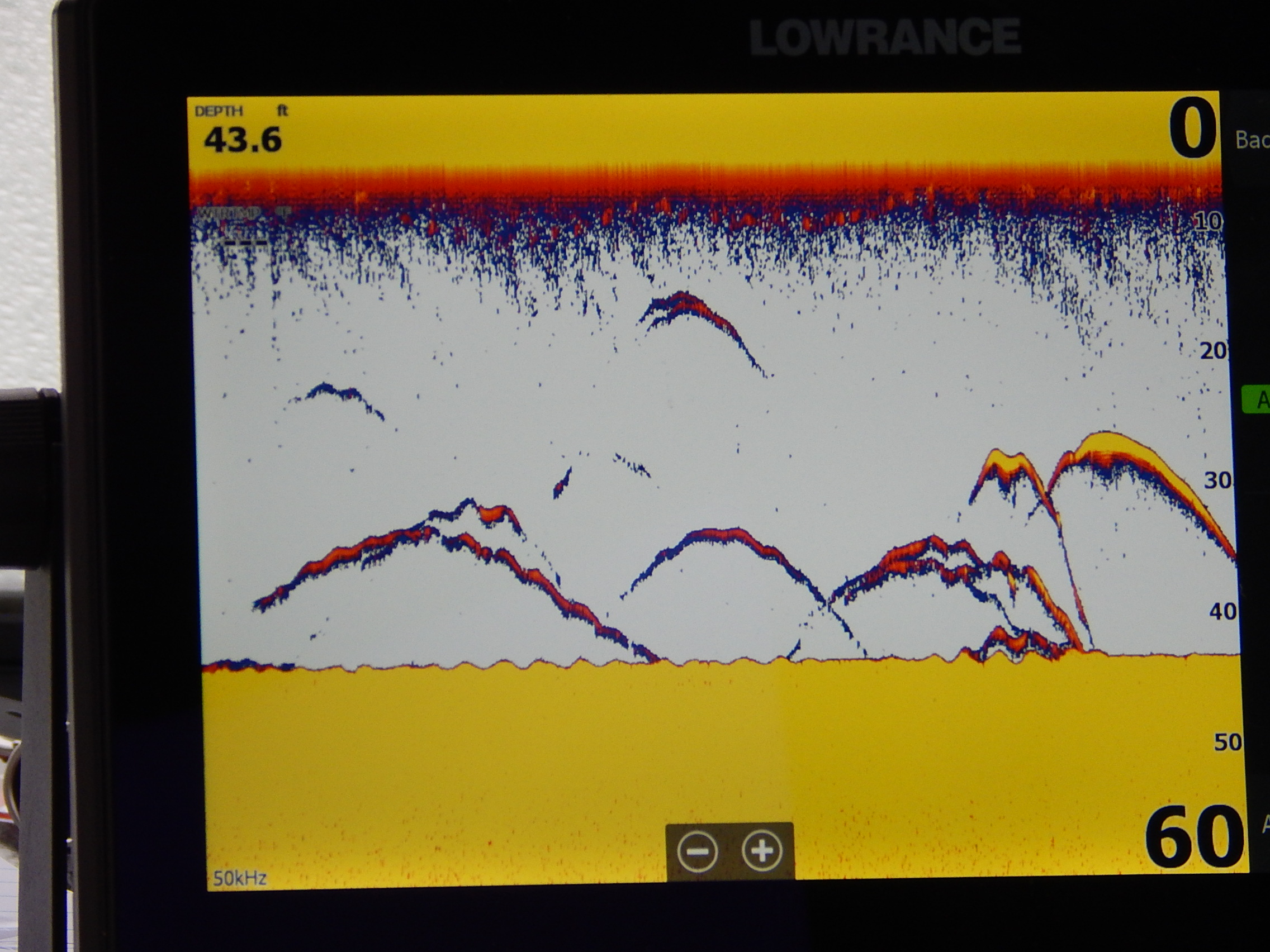 Fall walleyes
After the well-publicized cheating that occurred at the Lake Erie Walleye Trail tournament in Cleveland last September, there was some reluctance within the angling community about participating in a pair of walleye derbies known respectively as the "B'laster Fall Brawl" and a newer one named the "Walleye Slam" beginning in October.
Widely circulated rumors suggesting that the same two contestants caught red-handed cheating in the LEWT tournament had gotten away with doing the same in previous tournaments, and the fall derbies had many questioning the reliability of walleye contest results.
When the dust settled, thankfully, after seeing how Jason Fischer, the owner of the LEWT and B'laster Fall Brawl, decisively handled the lead-packed walleyes in the LEWT tournament, thousands of anglers signed up for both derbies and there were no indications of any foul play in either derby.
The 2023 Walleye Slam begins on October 20 and ends on December 3, 2023. This one is being hosted by Erie Outfitters in Sheffield Lake, Ohio.
First place is a fully rigged Warrior V238, with cash prizes ranging from $50,000 for 2nd place descending down to $5,000 for 10th place based upon a full field of contestants.
The cost to enter is $36.00 plus a $4.25 processing fee, open until October 17. See walleyeslam.com for the rules, prize list and other necessary information.
The 2023 B'laster Fall Brawl begins October 14 and ends December 3 and is once again offering a grand prize of a fully equipped Ranger 622FS Pro Fisherman boat with a value of approximately $125,000. Second place is another fully equipped 621FS Ranger Pro Fisherman boat worth approximately $110,000.
Cash awards for 3rd, 4th and 5th Place are $65,000, $55,000 and $45,000 respectively, with other prizes to be determined, in part based upon number of contestants. The deadline to enter the B'laster Fall Brawl is October 12. See lakeeriefallbrawl.com to register and see rules, full prize list, where to weigh fish and other details.
The Fall Brawl is being highly anticipated by long-time Lake Erie Charter Captain Mark Cahlik, who operates a) the Mark l fleet of fishing vessels; b) Dead Eye lures; c) Marine Mat boat flooring and Bays Edge-branded items: d) Bait and Tackle Shop; e) fish cleaning house; f) marine services shop; g) luxury townhouse rental units; h) Green Phantom trolling rods; i) Dead Eye and Bays Edge hats, hoodies, tanks and tees; j) gourmet snacking pickles; k) fine chocolates; l) Amish-made patio furniture; and more. He's a busy guy!
Are you enjoying this post?
You can be among the first to get the latest info on where to go, what to use and how to use it!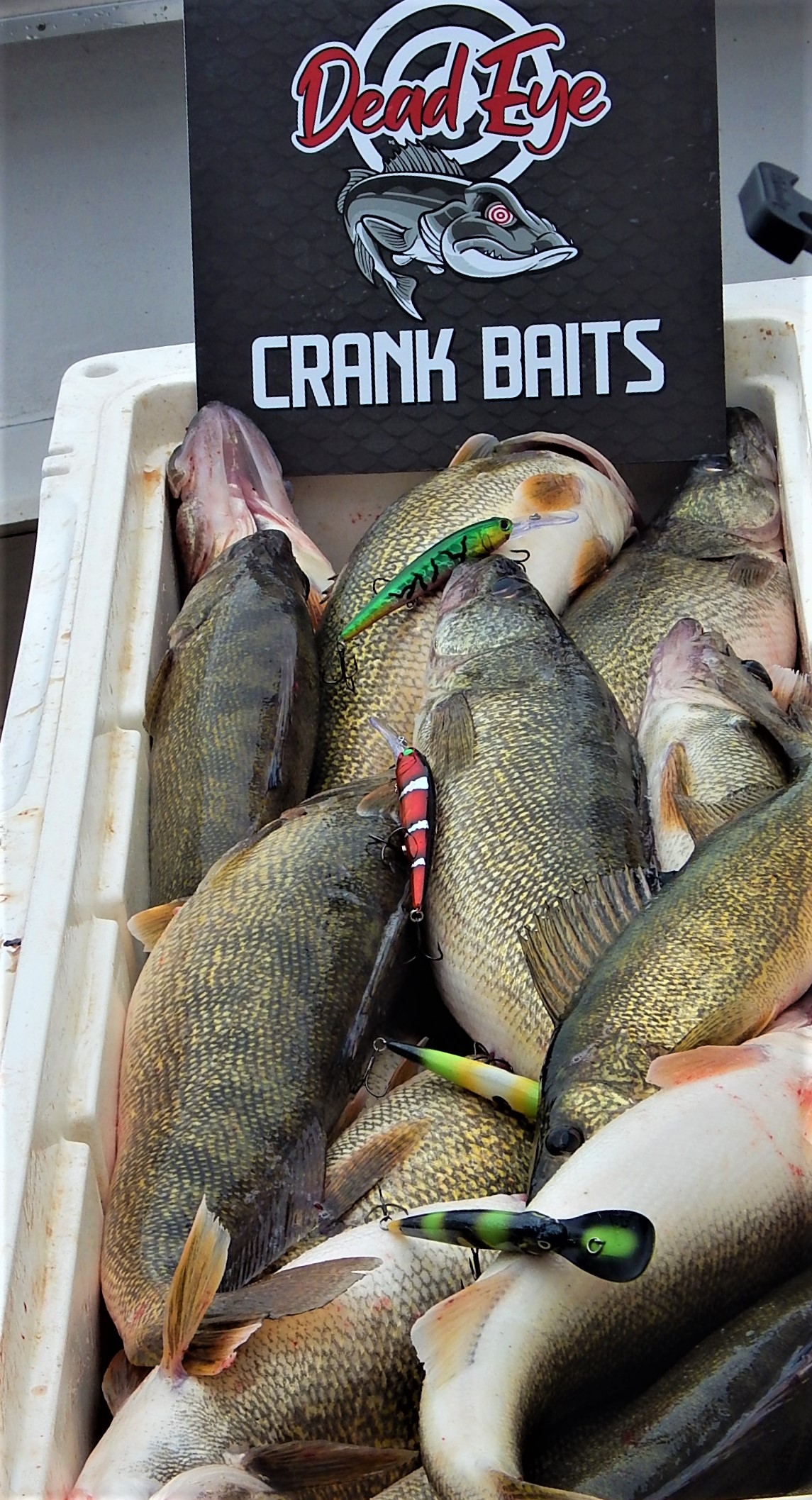 Despite wearing half of the alphabet of hats, what excites him the most these days is the overwhelming success that his Dead Eye crankbaits are enjoying, after overcoming supply-chain hurdles that stymied their launch last year until August.
Although superficially similar to the Bandit Walleye Deep lure, these rugged, deep-running, custom-painted crankbaits differ by having 8 dual-size ball-bearings in their 2 body chambers, Triple Grip hooks and enhanced eyes and gill details.
Since their release, they have proven to be very effective all-season for catching large numbers of the trophy-caliber Walleyes that it takes to win the derbies.
Anglers from the Finger Lakes to West Coast rivers have been ordering so many of these lures that he was forced to hire a manager just to handle Dead Eye sales and shipping. They are being offered as custom painted finished lures $11.99 + shipping and unpainted bodies in chrome, foil, clear and white.
The Dead Eye lure was selected to be the official lure of the B'laster Fall Brawl and two custom lure painters from Sandusky, Ohio are each offering two commemorative lure patterns.
Steve Hammer of Hammertime Lures created two pink/purple paint schemes and Darrell Woods of Hi Tech Custom Baits composed a pair of green/black patterns.
Cahlik will offer a special prize package to be announced later for anyone catching a prize-winning walleye using a Dead Eye lure during the B'laster Fall Brawl.
Contact Dead Eye Crankbaits Manager Lola James at 419-271-2691 to order these or other patterns, available for viewing on her Dead Eye Facebook page. In the Port Clinton area, they are available at Sandusky Bait, Hi-Way Bait and of course, at Bays Edge Bait and Tackle.
Not satisfied with being a "one-hit wonder" lure maker, Cahlik is now in the process of launching two more models of Dead Eye lures.
A shallow-diving Dead Eye Junior and Dead Eye Baby will be launched soon, the latter said to be similar to a Cotton Cordell Ripplin Red Fin.
Capt. Cahlik says that when he uses his Dead Eye Baby lures behind Luhr Jenson Dipseys or #50 TruTrip Divers, they have often caught the biggest walleyes of the trip.
The Huron, Ohio area attracts tens of millions of walleyes to the massive schools of gizzard shad that assemble in the Sandusky Sub-Basin, area but anglers target walleyes into December from the islands all the way to Cleveland.
Capt. Cahlik's winning tip #1
Beginning in September and continuing through the end of the year, trollers should switch from spoons and harnesses to crankbaits to catch the biggest walleyes of the year.
Capt. Cahlik's winning tip #2
Experiment with color, speed and especially trolling direction. Sometimes it is best to run with the waves, but if not, try troughing or quartering them to see which angle puts more fish in the boat, while maintaining speeds of 2.0 down to 1.4 mph as the water temperatures cool.
Winning walleyes for derbies are based on weight, and by registering for both contests, anglers have won prizes from both derbies in the past with a single trophy fish.
You can be among the first to get the latest info on where to go, what to use and how to use it!
---

John Hageman was manager of Stone Laboratory, Ohio Sea Grant's Biology Station at Put-in-Bay, for 25 years and formerly a licensed Lake Erie ice-fishing guide. He is active with the Outdoor Writers of Ohio and several sportsmen's conservation organizations. He may be contacted at hageman.2@osu.edu.
All author posts
---