Do-it Essential Series Paddle Tails and Soft Plastics
There aren't too many lures that can be used to catch just about anything, including the salty species, but the Do-it Paddle Tail plastic swimbait is one. Anything that eats other fish or baitfish can be caught on the Paddle Tail, and is a must for every angler's tackle box.
Do-it's Essential Series are molds that are cast out of aluminum like their jig molds rather than machined, so the cost to make them is significantly less, making them affordable. No corners are cut though, when it comes to design and engineering. These baits look and fish as well as any commercial soft plastic bait on the market.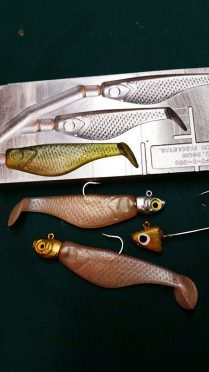 Now, you can make them in any of the six different sizes available, from 1 3/4 inch up to 5 inches long. Also, you can make them any color you can imagine. These Paddle Tail mold sizes cover all the applications you can imagine. The two smallest sizes are perfect for crappies, stream trout and smallmouths, while the 2 1/4- and 3 1/2-inch molds are perfect for most largemouth bass applications around the Midwest as well as for walleyes and pike. These two sizes are also good for Great Lakes trout and salmon. The 4- and 5-inch sizes can be used for largemouths too—big ones—but these two are even more suited for pike, muskies, stripers and other gamefish. All of these molds contain multiple cavities, from two in the larger sizes to 12 in the 1 /34, so it's easy to shoot a bunch at a time.
You are the boss when it comes to colors, so with any of Do-it's X2 colorants, Hi-Lite powders, glitters and even glow powders, the sky's the limit. I love experimenting with colors so this is a blast for me to try things you don't see in the tackle shop catalogs. For instance, their Pink Bubble Gum Shad is rarely found, and so effective on bass. Black Shad can be a great nightfishing bait for bass and walleyes too. If you aren't sure about color, it's hard to beat a standard silver- or gold-colored Paddle Tail body. There isn't really a "silver" or "gold" soft plastic color, but I have come up with a variation on both colors that is a great representation. For silver, add a little Pearl White powder to clear plastic and then add one drop of their Black per 4 ounces of plastic. The drop of Black darkens up the Pearl White just enough to make it light grey so it has that shiny, silvery look. If you want it jazzed up even more than that, add some Silver or Holographic Glitter.
For gold, add about 4 drops of Motor Oil color to 4 ounces of plastic. That gives you that great amber motor oil color. Now add some pearl powder and bam—you get a nice gold look that imitates golden shiners, juvenile perch and small bluegills. Between gold and the silver, you can cover a lot of ground.
I've been playing around with a dual injector lately. With these you can shoot two colors of plastic at the same time, which don't mix, but come out and enter the mold side by side. These paddle-tail molds are tailor-made for this type of bait since you can use a light-colored belly and a dark-colored back. Do-it makes one of the most affordable dual injectors on the market if you want to try making bi-color paddle tails.
There have been a lot of shads on the market in the past 40 years, but the proof is in the action. Many of these shads look good, but when you fish them they either have poor swimming action or poor action at slow speeds. In my opinion, paddle tails like this one must have a good swimming action, even at slower speeds. When fishing them in the ice-cold waters of Lake Michigan I'll want this tail to swim, even when I am just barely turning the handle of a reel. I'm very picky about this and the Do-it Paddle Tail passes the test. They have a great swimming action and have that slight side-to-side roll that really puts them over the top when it comes to realistic action.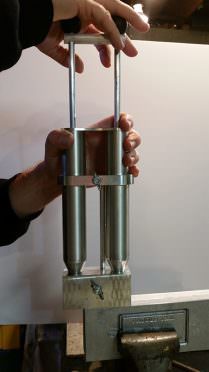 Paddle tails are fished on a jig head. A simple round head has been around since the first paddle tail hit the market 40 years ago, and still works well. But we have come a long way now and can match a baitfish shape to the paddle tail now. Do-it's Bullet Jig is one good choice. More specifically designed for this type of bait are their Shad Head Jig, Shad Head Rig Jig (umbrella Rig head) and Style 9 Shad Head Jigs. Another, and my personal favorite, is the new Herring Head Jig poured without the chin spinner. I really like the realism and balance of this head matched up with their Paddle Tails.
Hooks should be chosen so they exit the body of a paddle tail right about at the point where the dorsal fin would be. Hooks that are too short will cause missed strikes. Also, hooks that go too far back into their Paddle Tail will kill some of the tail action.
Their Paddle Tails are simple to fish. Cast them out and let them get to a desired depth. Then, reel them about three to four cranks at a time, allowing a pause to maintain or reestablish depth. I like to keep the rod pointed at the lure so I am in a position to set the hook. I know it's a jig, but resist the urge to actually "jig" it—think of it as more of a lipless crankbait.
Paddle-tail swimbaits are an incredibly versatile soft plastic lure that will catch nearly anything. Make the sizes and colors that you need with the new line of Paddle Tail molds. There is nothing better than catching a fish on a lure you made yourself.
You can be among the first to get the latest info on where to go, what to use and how to use it!
---

Marc Wisniewski is an avid Wisconsin angler specializing in Lake Michigan shore and inshore fishing. He also chases bass, pike, and muskies anywhere he can. He has built custom rods for 35 years and makes lures from wood, lead and soft plastics. Wisniewski has been writing fishing articles for more than 30 years.
All author posts
---