Elephants Eating Peanuts: Micro Baits can be the Answer for Clear Water and Spooky Trout
A reoccurring theme of this column is dealing with a problem that I never had when I first started this shore-fishing obsession in 1974: clear water. It's a double-edged sword. And whether it's an intentional or unintentional cleanup, I prefer crystal-clear waters most of the time and seeing the bottom under 25 to 30 feet of water. But this clearer water has also caused so much change as to how we fish Lake Michigan for trout and salmon.
You can see in an accompanying photo which lures were the norm in the '70s and early '80s. The water was always murky and bigger lures with bright paint jobs that made noise were the way to get a trout and salmon to take notice.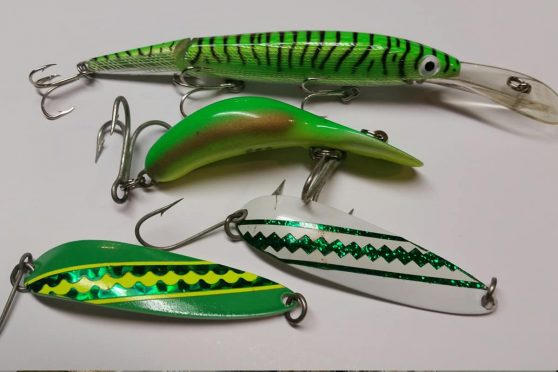 Boy, has that changed with the lures in general, having been scaled way down and given less brash paint jobs. But there still are days when you have to get real small. And when conditions get really clear, sunny and calm, it's then time to get those really small lures ready for trout and salmon.
The start of this system is light line and a rod that can cast a light lure, yet still land a big trout. It's a tough order to fill, and the rod should be something in the medium-light range that will handle 4- or 6-pound-test line and be able to cast lures at 1/8 to 3/16 ounce. The reel can be a little larger at 2500 or even the 3000 size since the line capacity and retrieve ratio will help. The drags are also a little smoother on the larger reels, which will be needed to land these big fish on the lighter line.
The line can be a little tricky, but 6-pound-test line is perfect if you can get away with it. But there are times when 4-pound test is the only choice. When the water is even clearer, get the braid out; fluorocarbon or monofilament is the only way to go here. Even light braid is visible in gin-clear water, so if you want to get really light you have to go with the clear line.
Where the approach really gets small is in lure selection. In super-clear water the fish get spooked by the bigger lures, so scale the offering way down. As I mentioned, we have gone to smaller lures in general due to the clear waters in the lake. But when the water gets clear and there are no clouds and not a breath of wind, we need to go even smaller—panfish small. There are lures that will give you a chance to get a fish or two in the toughest conditions.
Are you enjoying this post?
You can be among the first to get the latest info on where to go, what to use and how to use it!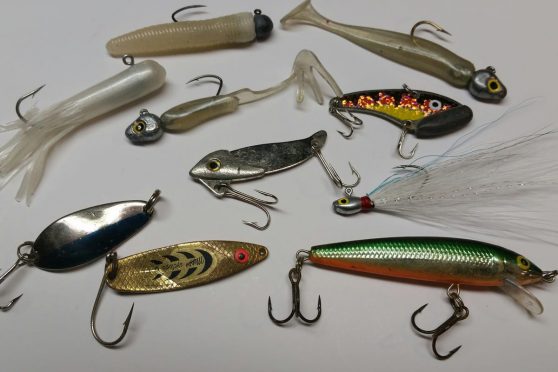 Many of the baits that work for trout in these conditions were originally intended for crappies. Let's start with the tube jigs. Pearl tubes are a staple for me, and if you scale them way back they're perfect for spooky fish. I prefer a 3 1/2-inch tube, but under clear conditions I cut back to 2 or 2 1/2. Not only are these shorter in length, but also a lot smaller in diameter.
Another one in the category of soft plastics is a 2-inch swimbait like a Sassy Shad or an ordinary twister- type tail in a white or silver. Rig these on 1/8- to 3/16-ounce jig heads.
Those of you who follow my articles know how much I love the "goose turds" for smallmouths. It's a 3/16- ounce worm head jig fitted with 2 inches of a stick-worm tail. They also work under tougher conditions for the trout. A watermelon color is good for imitating gobies, but a pearl white version is a great mini-baitfish imitation.
On the topic of no-frills plastics, I can't forget the smaller 2- or 2 1/2-inch fluke like the Zoom Tiny Fluke or Lunker City Fin-S Fish. These can also be rigged on a light jig head and fished on lighter line. Also, hair jigs are tailor-made for this presentation. Sparsely tied bucktail or marabou jigs at 1/8 to 3/16 ounce are perfect. White, yellow, or olive colors will imitate baitfish or gobies. These may be the best choices for using finesse baits in the clear waters of Lake Michigan.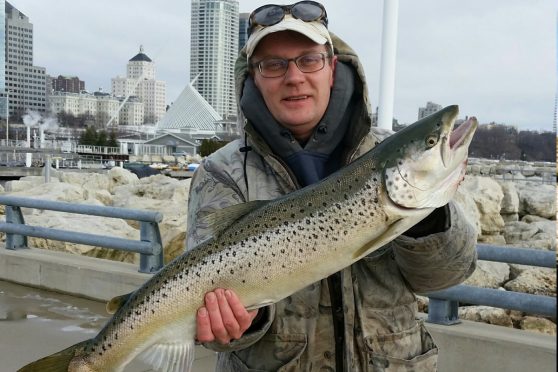 Jigging spoons such as Swedish Pimples, Kastmasters, or Do-it's Flutter jigs are deadly in tough clear-water conditions. These can be worked by casting and ripping along the bottom or simply jigged vertically along a deep seawall. For normal casts and using wind spoons, a size 0 Mepps Syclops or 1/4-ounce Little Cleo are just big enough to get a trout's attention without spooking them. Stick with the subdued flash of a gold spoon over a silver one in these conditions. For crankbaits and minnow baits, a number 5 Rapala Shad Rap or a 7 CountDown Rapala are both good options.
Clear water can be our friend, but also our enemy. The answer is to downsize lines and lures. Six-pound-test line and crappie-sized baits can help you connect in these conditions. These trophy trout will eat smaller baits, so be prepared with more scaled-down tackle this spring and summer.
You can be among the first to get the latest info on where to go, what to use and how to use it!
---

Marc Wisniewski is an avid Wisconsin angler specializing in Lake Michigan shore and inshore fishing. He also chases bass, pike, and muskies anywhere he can. He has built custom rods for 35 years and makes lures from wood, lead and soft plastics. Wisniewski has been writing fishing articles for more than 30 years.
All author posts
---