Elton Hiscoc wasn't exactly positive when he and his friend Wilson Hitchcock ran a 12-foot plywood boat 800 miles from Saugatuck to Sault St. Marie and back years ago, but he is certain why they did it.
"Because I was young and stupid!" he says, emphatically with a big smile.
I met Elton at the barbershop of my friend, Mike Eberstein. We had the place to ourselves for about an hour that afternoon as Elton answered questions about the trip. He was pretty sure the year was 1952. He'd been employed as a radio technician for about a year after returning from the Korean War.
Single and in his early 20s, his friend Wilson convinced him that they needed to attend an Elks Club convention that June and that Elton's 12-foot Wagemaker Boat was how they should get there. Bought used, the boat was made of molded plywood in Grand Rapids. He figured it was about 10 years old when they made the journey. A new 25-hp Johnson outboard was the power, and the boat had a fairly narrow beam. The steering wheel was set in the middle of the rear cockpit, where Elton drove, protected by a windshield; Wilson sat in a separate bow cockpit in front of Elton.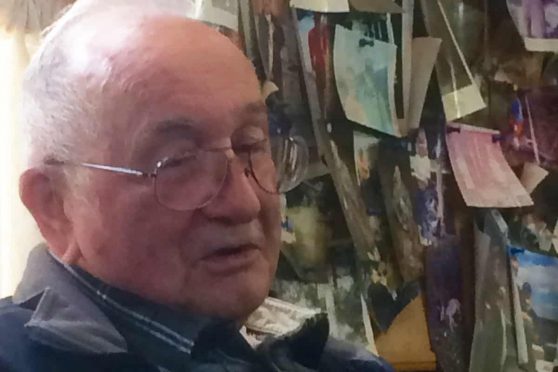 "He had it the worst, sitting up there going through the waves," Elton said, clapping his hands vertically to illustrate the pounding Wilson took at times. "We tested it on Lake Michigan by running from Douglas to Holland and back before we went to the Soo."
Elton said since that 14-mile round trip went without a hitch, they decided they were ready for 800 miles.
One person not on board with the plan was Wilson's wife.
"She called the Coast Guard to see if they could stop us, but they said they could come out and rescue us if we needed it, but couldn't keep us from going," Elton says.
Elton said that his Wagemaker was a quick little boat, easily cruising at 25 mph. Blessed with fairly mild winds and moderate waves, it was easy to log 100 miles per day. Instead of nautical charts, they had a Michigan road map, the kind that gas stations used to give away. Fuel was in a 6-gallon can that attached to the outboard via a hose; they had a second 5-gallon gas can for extra gas. They also took along oil to mix for the two-cycle outboard motor. When gas got low they started looking for somewhere they could go ashore and walk to a filling station to refuel.
The first day the duo made it up to Ludington—trouble-free until they tried to beach the boat to camp. Rolling surf came over the transom before they could drag the little boat all the way out of the water, soaking all clothes and bedding.
But, for the most part, the weather was kind.
Are you enjoying this post?
You can be among the first to get the latest info on where to go, what to use and how to use it!
"Looking back on that, I can't imagine having eight days in Michigan that were so nice," Elton says. "No rain and not bad for wind."
While the weather was nice, critters were ruthless, at least one night.
"We decided to camp on the St. Marys River before we got to the Soo," Elton recalls. "The mosquitos were horrible. We pitched our pup tent and I zipped my self right into my sleeping bag—pretty sure some mosquitos got zipped in with me."
Aside from the mosquito bites, the only other malady from the trip was sunburned lips, Elton said.
The one exception to great boating weather came when returning from the Soo, heading out the mouth of the St. Marys River into Lake Huron, bound for Mackinac Island and Mackinaw City on Lake Huron. Elton says the waves were big enough that when he ran the boat in the trough between two of them all he could see on either side was water.
That leg of the trip was trying enough, and instead of camping that night they took a motel room in Mackinaw City.
The duo had no radio and no spare propeller, although Elton remembers packing a repair kit with shear pins. They did wear Army Surplus life vests, the heavy ones made of Kapok.
He said that was as adventurous as he got in this boat, which was subsequently used to pull water skiers the rest of the time he owned it. Wilson did try later to convince him that they should canoe through Chicago to the Mississippi River and on to New Orleans.
You can tell Elton is glad he did the trip. Now long retired, he spends time in his woodshop where, among other projects, he made Mike's barber pole. But looking back, he does wonder what really possessed him to travel 800 miles on big, choppy waters in a 12-foot plywood boat.
"I would have had fits if any of my kids had told me they were going to try and do it!" he exclaims, again with a smile.
You can be among the first to get the latest info on where to go, what to use and how to use it!
---

Dave Mull of Paw Paw, Mich. has spent his career communicating the outdoors experience and runs Inner Viking Media. He enjoys kayak fishing for anything that swims in the lakes and rivers of the Midwest and beyond, and even uses his MirroCraft, from time to time. Available for seminars.
All author posts
---