Devils Lake ND ON FIRE week of September 11
Devils Lake Fishing Report
The Devils Lake fishing report for the week of September 11-17, 2017. Brought to you by Mitchell's Guide Service.
Devils Lake Transition
Again this week, Devils Lake was in transition. Early in the week we had some of the hottest days all summer with temperatures reaching into the 90s and surface water temps in the shallows as high as 78 degrees. By week's end we saw air temps of 41 degrees and water temperature in the shallows as low as 51 degrees.
What a change it has been.
Sunday, Monday and Tuesday of this week our guides reported good catches of mature walleyes in 4 to 6 feet of water. By week's end, the shallow bite was blown and anglers took good walleyes in much deeper water. A 26-degree drop in water temperatures makes that happen on a body of water.
Since the lake is in transition, anglers have found walleyes shallow, deep and everywhere in between. Despite these changes, our staff of knowledgeable, experienced guides have made some outstanding catches with their clients.
Furthermore, the number of trophy walleyes taken this week was impressive. Equally impressive: Our clients chose to release most of the big ones.  In addition, excellent catches of eater walleyes made it into our livewells. Jigging and trolling worked well, plus, some of our groups ran bottom bouncers and spinners for good catches last week. The walleyes are very fat. Since spring these walleye have noticeably grown and put on weight. Now they're getting ready for winter and that means they're eating. Now is a great time to join in the fun of fall fishing at Devils Lake, North Dakota!
Are you enjoying this post?
You can be among the first to get the latest info on where to go, what to use and how to use it!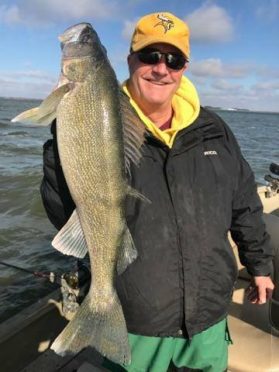 Book a Walleye Trip
Mitchell's Guide Service has openings yet in September and October with guides available on short notice for day trips or two- and three-day guided packages. One thing for certain, our staff of professional, experienced guides will work hard to see that your day of fishing is both memorable and productive. There is no better time than right now to get in on the incredible fall fishing that Devils Lake, North Dakota offers! Just pick up the phone and give us a call at 701-662-5996 extension 1. Or for more information on our guide service check us out at fishdevilslake.net.
In conclusion, all of us at Mitchell's Guide Service work hard to see that you're not disappointed experiencing the fantastic fall fishing the Devils Lake basin has to offer!
Submitted by MGS Guide,
Pete Harsh / MR.TILLER
You can be among the first to get the latest info on where to go, what to use and how to use it!
---
We believe being outdoors is good. With more than 1,000 articles each year, MidWest Outdoors magazine is all about sharing outdoor experiences with you—where to go, what to use and how to use it… whether you're close to home or on that trip of a lifetime.
All author posts
---