Customize your Gear
For several years ice anglers have found a great advantage in using lures that glow. My tackle box is filled with my favorite Custom Jigs & Spins glow colors, especially in the Demon and Ratfinkee. However, what would you do if you wanted to try a "glow on" out on something that is not available in that color or pattern?
Recently I was looking for something to paint the front sights on my Browning 1911-22 and 1911-380. It was by accident that I stumbled on a product called Glow-On, a water-based paint that glows after drying. It is a concentrated phosphorescent paint that is nontoxic, non-flammable and non-radioactive. And it worked great on these pistols. I don't recommend using it on sights Henry's rifles have with the Buckhorn/White diamond rear sight and brass bead front sight; these work great as they are.
While playing around with it on the guns I thought this would be great for lures. There are several glow colors available, including Red, Original, Yellow, Orange, Aqua, Pink and Blue. I opted for their Red, Original, Yellow and Blue, as these colors are perfect for using to contrast the lures that I use.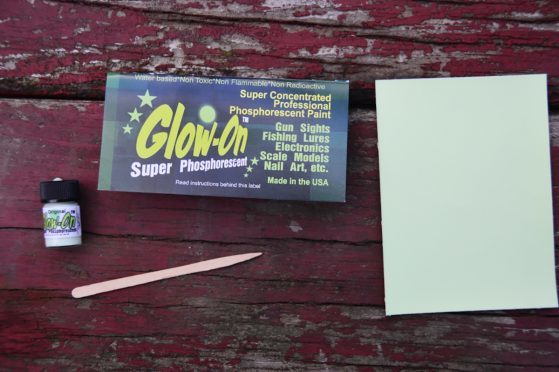 First, I tried painting blue eyes on a Black/Blue Blitz Finesse jig. They looked great and are still holding up after half a season's use. Next was to paint an unpainted lead B-Fish-N Precision jig head. This was a definite test, as an unpainted lead doesn't always hold paint. Well, it did and is still holding.
Other ideas for lures are eyes, stripes or other patterns on crankbaits, blade baits and spinnerblades. This especially holds true for lures such as a heavier Rat-L-Trap that may be allowed to sink deep when fishing water with depths of Bull Shoals Lake and others.
The actual painting process is quite simple. It can be done with a toothpick or the stick provided. Again, the paint is water-based, so it can be thinned out with a little water. Also, remember to shake the "small" vile, and I do mean small. It doesn't take much of this paint to do its job.
There is also a preparation for some surfaces, especially on something like a gun where there may be some oil. Before applying the paint, clean off the surface with rubbing alcohol and let it dry.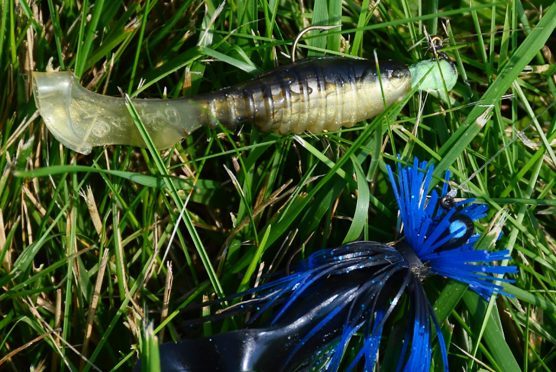 Getting back to the lures and the ice jigs first mentioned, think of what can be done. For one example, there are few if any glow/flash jigs made. There are a lot of ice spoon/teardrop jigs made in a gold/silver flash or glow, but not the combination. So, paint one side of silver or gold jigs with Glow-On of whatever color is needed. Now you have the best of both worlds, a double whammy you might say.
There is also a version of Glow-On with a stick-on backing, but I haven't tried this and don't really think it would work for the purpose of lures. (This paint can be used for crafts or on whatever needs to glow, like a light switch.) If you would like more information go to glow-on.com.
So, the next time you want to paint a gun sight or do some color variations on ice or open-water lures, try to "glow on" it.
You can be among the first to get the latest info on where to go, what to use and how to use it!
---
Dan Galusha has fished all of his life, worked more than 45 years in the outdoor/media industry, and was inducted into the Fresh Water Fishing Hall of Fame as a Legendary Communicator.  Direct questions through dansfishntales.com, facebook.com/dansfishntales and facebook.com/shootnplink.
All author posts
---