Catching Northern Minnesota Bass and Walleyes in Fall
One of my favorite fisheries anywhere is spectacular Rainy Lake, a vast body of water spanning over 225,000 acres situated on the Minnesota/Ontario border at International Falls. The nation's only water-based national park, this is home to Voyageur's National Park. Recognized as both one of the state's best walleye fisheries as well as a trophy smallmouth bass destination, Rainy Lake is a true multi-species mecca. In addition to walleyes and bass, huge northern pike, massive crappies and muskies inhabit this lake, making it an angler's paradise in all four seasons. As the calendar turns to September, the best fishing of the year occurs on Rainy Lake. Here are some tips and tactics to help you catch fish in northern Minnesota this fall.
As a border lake, anglers have the option of fishing only U.S. waters with a Minnesota fishing license, or also purchasing an Ontario license to cross the water border by boat to fish on the Canadian side of the lake as well. As long as you don't anchor your boat, touch land, or come in contact with other boats when in Ontario (as well as, obviously, abide by Canadian boating and fishing regulations), you're not required to check in with either U.S. or Canadian border services when fishing on both sides of the lake.
With approximately 80 percent of the fishery in Ontario, there are some huge advantages to giving yourself this flexibility simply by purchasing the proper license. The Canadian side is more remote and more challenging to navigate than the more populous U.S. side, so you'll find vast swaths of shoreline and numerous reefs all to yourself. I run LakeMaster GPS chips on my Skeeter's Humminbird units that provide precise depth contours and channel markers to make navigation easy and safe throughout the lake, even in Ontario waters.
Crappies
At times, slab crappies can be hard to locate on Rainy Lake. The populations are concentrated in certain bays, but novice anglers can ask for intel at the local bait shops or resorts. The Outdoorsman's Headquarters and Rainy Lake One Stop are two good sporting goods retailers for live bait, local tackle tips and fishing reports. Black Bay is one popular crappie hole, with fish coming to the boat easily with a simple slip float rig tipped with a minnow. Sometimes, casting small spinners or crankbaits like Rapala ULs are productive options. With potential to catch crappies that are 16-plus inches, anglers are encouraged to keep only a few of these prized specimens and return most of their catch to the lake.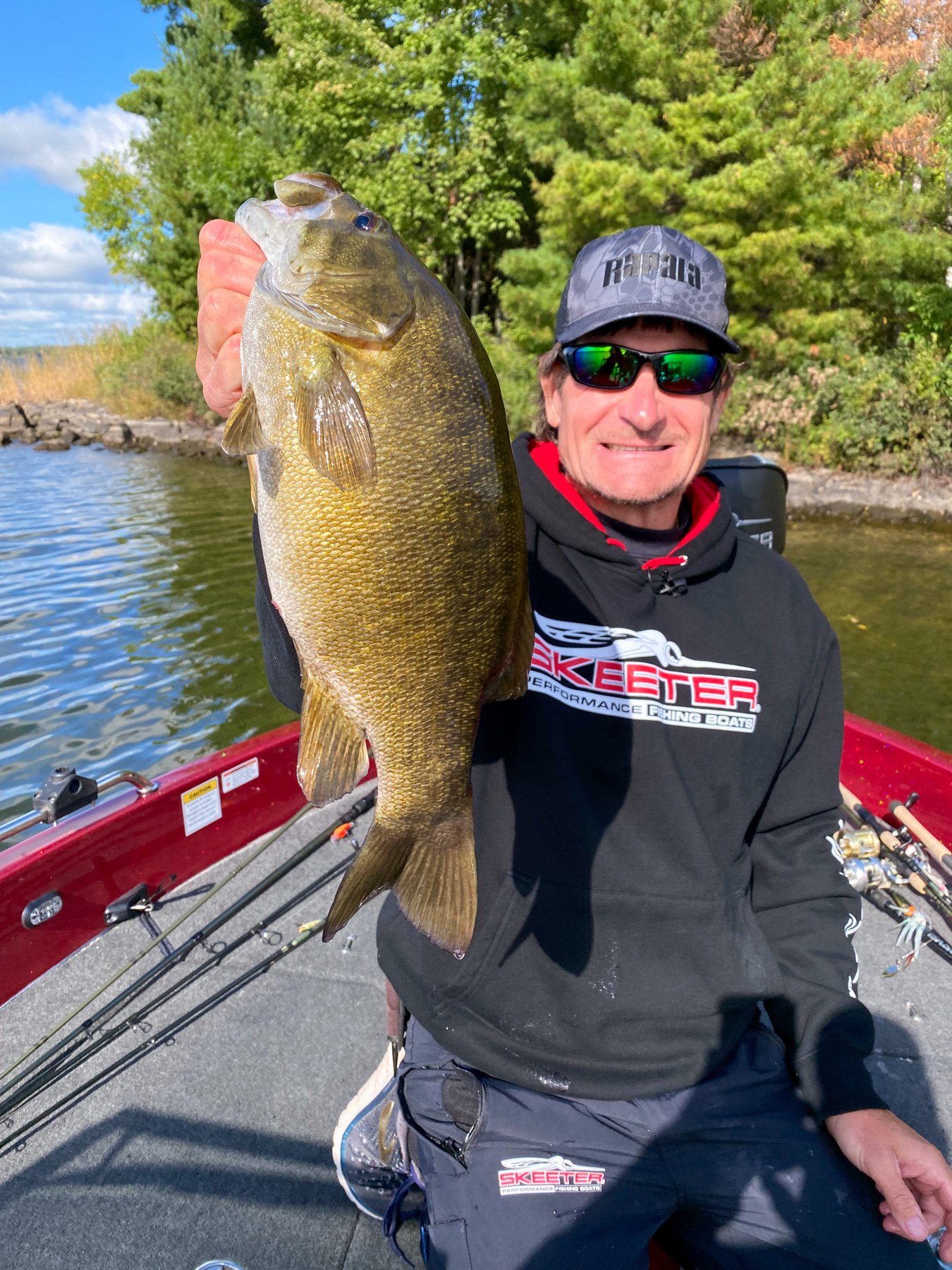 Are you enjoying this post?
You can be among the first to get the latest info on where to go, what to use and how to use it!
Smallmouth Bass
Rainy Lake is my favorite destination for bronzebacks. It's a numbers game here, with opportunities to catch-and-release dozens of bass in a day's fishing. In these far northern waters, near the upper geographic range for smallmouths, you won't see the massive size structure that you find on other noted trophy smallmouth waters, but the sheer numbers of quality fish here is pretty astounding. DNR studies indicate that an 18-inch smallie is 18 to 20 years old on Rainy Lake (nearing the end of their lifespan), and multiple fish in this size range and larger are often caught in a day, as well as countless other fish in the 14- to 17-inch range.
While it's hard to beat May and June fishing on Rainy Lake for bass—when the entire population inhabits less than 10 feet of water during the spawning season—the bass fishing in September and October is spectacular. Top fall season tactics include casting crankbaits like Rapala DTs or 3- to 4-inch swimbaits along deeper shoreline breaks, on shallower rock and gravel flats, as well as around shallow reefs, and fishing deeper breaklines and rock humps with drop-shot rigs. Jerkbaits and topwater lures always are in play for Rainy Lake smallmouth, and for a little variety try casting a 3/8- or 1/2-ounce white spinnerbait on windy days—both along windswept shorelines as well as reef tops and edges. You will be surprised and delighted by the number of smallies you hook on a spinnerbait—and the fish absolutely crush the lure when they strike. As a bonus, you'll catch some nice-sized walleyes on spinnerbaits when you're fishing windblown structure on Rainy Lake.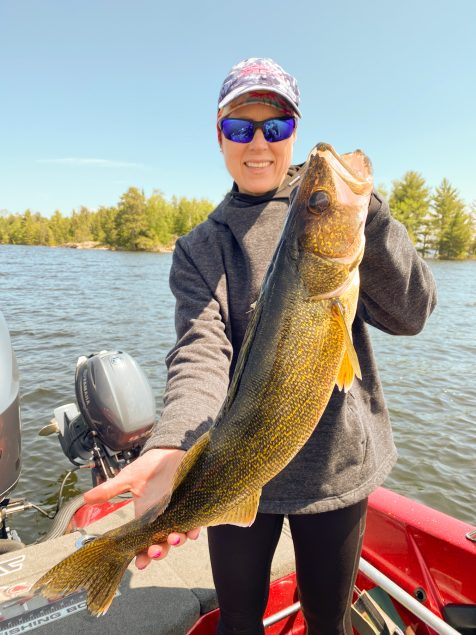 Walleyes (and Northern Pike)
While lots of walleyes are caught in shallow water in May and June, by late summer, most of the population has migrated to the deeper rock reefs in the basin areas of Rainy Lake. Schools will hold on this deep structure through fall. Fish with slip bobbers; live bait rigs tipped with leeches, minnows, or nightcrawlers; or jig with live bait. Rainy is full of big walleyes and northern pike; on some days, anglers struggle to catch eater-size fish below the protected slot of 18 to 26 inches. However, as a bonus, Rainy Lake also harbors saugers, and anglers may possess four of this species in addition to four walleyes, as part of an aggregate 8-fish limit.
Fishing with Jigging Rapalas on the reefs is a productive technique for Rainy Lake walleyes as well. Originally designed for ice fishing, Jigging Raps are now popular as an open-water walleye lure throughout the Walleye Belt. Bring a smorgasbord of colors in sizes #7 and #9, with some of the natural colors like Silver, Gold, Glow Yellow Perch, and Helsinki Shad all good options. Also experiment with Glow Blue and Glow Green Tiger, Orange Tiger UV and Silver Fluorescent Chartreuse. The proper rod/line is important for fishing with Jigging Raps: Choose a 6'8" to 7'2" rod length, with a medium power and extra-fast action. You need that tip flex in the rod blank to avoid pulling the hooks on the hookset or when fighting the fish. Steer away from braided line for this technique, because you want some line stretch during the fight for the same reason. Some anglers prefer mono for this application; I choose 10-pound Sufix Advance Fluorocarbon.
A common occurrence when walleye fishing on the Rainy Lake reefs is to encounter some massive northern pike, which have a thrilling habit of attacking hooked walleyes and adding a memorable footnote to an angler's fishing day. Perhaps you'll be one of the lucky ones to try to get a walleye netted while it's in the jaws of a big pike, or at least get some cool phone footage of it at boatside!
If you're interested in specifically targeting toothy critters, fall is a great time to troll deep-diving crankbaits along shorelines adjacent to the main lake basin. And once water temps drop below 60 degrees (usually in mid- to late-September), plenty of big pike will be in shallow water and susceptible to casting techniques. Big crankbaits, bucktails and 5- to 6-inch swimbaits all produce strikes from northern pike on Rainy Lake.
Rainy Lake is a top fishing destination in any season, but especially in fall, and fishing and boating in Voyageur's National Park offers a spectacular backdrop. The communities of International Falls and Rainy Lake cater to fishermen and families, and you can choose from some classic Minnesota resorts, two houseboat operations, or a variety of hotels and motels (including two brand-new chains) for your accommodations. There are numerous restaurants and shopping options in town as well. And for river anglers, don't forget the Rainy River starts here, and runs for 100 miles along the Minnesota/Ontario border all the way to Lake of the Woods. River anglers target bass, walleyes and sturgeon in the Rainy River.
For more information…
rainylake.org
MidWest Outdoors staffer Roger Cormier is an avid photographer and writer who has been contributing content to MWO magazine and television since 1992. He calls Minnesota home, but ventures far and wide to enjoy the outdoors and share his experiences.
You can be among the first to get the latest info on where to go, what to use and how to use it!