Handling Occasional Big Fish on a Panfish Outing
It was over a cup of coffee one morning that ice angling legend Dave Genz and I got into a discussion about the "occasional bigger" fish that is caught while on a panfish outing. We both agreed that when a group of anglers get together for a day on the ice, someone in the group usually sticks an unexpected quality fish.
Just days after this conversation, long-time fishing companion Charlie Simkins joined me for ice fishing. As we planned our adventure, we decided to try out a couple of lakes neither of us had fished for some time.
Once at our destination, we used our GPS to locate the edge of a significant break that dropped off into a deep basin. There were also a number of ice houses along this break that helped outline the contour.
It took some serious looking, but we finally did manage to locate a few suspended crappies. It was during a short lapse in the action that the big blip showed up on my Vexilar. It took very little coaxing for me to get a hit. I instantly knew it was not a crappie.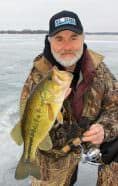 Once Simkins realized I had a better fish on my line, he reeled up and came over to help. That is the first tip in landing a bigger fish on light panfish rigs: Two people can deal with a quality fish better than one.
Judging by the way the fish were making long runs, we both figured I had hooked a northern. If it was lip- hooked, I knew the 2-pound-test Berkley Micro Ice line would not let me down—this line is extremely strong for its weight and rarely breaks.
Are you enjoying this post?
You can be among the first to get the latest info on where to go, what to use and how to use it!
We both realized that it never hurts to give our panfish rigs a little extra help fighting a fish. By flipping off the anti-reverse feature, we can back-reel to assist the drag. This is an important process when struggling with a frisky fish on light gear.
It took several tries and a lot of patience, but eventually we were able to turn the head and get the northern started up the hole. Once at the top, Simkins worked the fish onto the ice while I kept the line tight.
Although this northern was only 28 inches, it was still a lot of fish for a panfish rig. It had given us quite a tussle and had provided plenty of entertainment.
It was a few hours later on lake number two that Simkins had his turn to battle a nice fish. His brute turned out to be a 19-inch largemouth bass. Like the northern from earlier in the day, it put up an impressive fight.
Catching larger fish on a panfish outing is not an uncommon occurrence. And, it helps to know how you are going to deal with getting the big fish on the ice. By working as a team—back-reeling to assist the drag, spooling on quality line and patiently wearing the critter down—large fish can be landed on very light tackle.
You can be among the first to get the latest info on where to go, what to use and how to use it!
---

Jerry Carlson began his writing career in 1987 and covers both hunting and fishing topics. He currently writes for numerous media outlets and does radio work with WJON AM in St. Cloud, Minn. He has authored a book called Details for Locating and Catching Fish.
All author posts
---