Bass Pro Randy Howell raises money for abused women and kids
This is the letter that Randy wrote, soliciting tax-deductible raffle donations for King's House—you could win a bass boat worth $84,000.
Hey Folks,
This is Bassmaster pro Randy Howell.
The fishing season has come to an end and now it's time for our favorite annual event, the King's Home kids fishing event and boat giveaway.
At the bottom of this message you will see the link to donate for your tickets for the boat giveaway on Nov.18.
We have a goal of 2,000 tickets this year and if everyone helps spread the word, we can break our record from last year.
King's Home is an independent, faith-based ministry. It helps kids, teens and mothers with children that have suffered abuse, abandonment, and neglect. The operating budget at King's Home depends on private donations, and that's why this boat giveaway is so important. The fishing family across the nation has helped us raise over $800,000 in the past six years with our boat giveaways, and this year we want to break ALL the records!
This has become the largest fundraiser of the year for these kids and ladies homes, and they appreciate your help.
Thanks for your time and know that you're making a difference in the lives of hundreds of kids, teens, and ladies in need! Even if you don't need a boat, we've got guys waiting in line every year to buy it from the winner.
Triton/Mercury bass boat package
This year's boat is a 2017 Triton 21-TRX Elite with a Mercury 250 Pro-XS. It's loaded with 2 Lowrance HDS 12- 3D units, Motorguide troll motor and a Bobs Machine Shop hydraulic Backplate. It also has two, 8-foot Power-pole blades. It has Custom Bluewater LED lighting package on boat and trailer, 4 Odyssey batteries, T&H marine accessories and Hydrowave. The trailer has stainless steel fenders and 17-inch Rock Star wheel package. Retail value is over $84,000.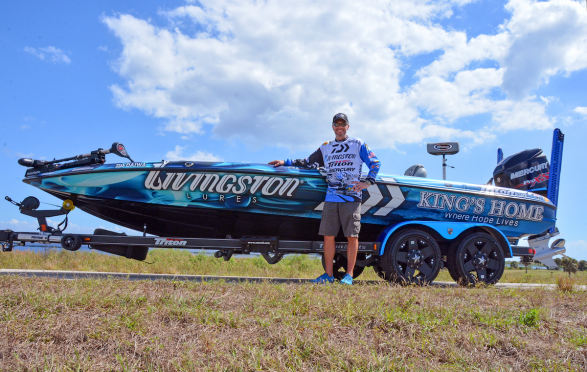 Buy raffle tickets NOW
Tickets are tax deductible and $100 each, there are NO limits on the number of ticket donations you can make, and you DO NOT have to be present to win. The drawing will be live-streamed on Kingshome.com and https://www.facebook.com/RandyHowellFishing/ at 2 p.m. CST on November 18. Ticket donations will be taken until noon tomorrow. Follow the link below to donate online, or call the King's Home office at 205-678-8331.
Please share this info with your friends, and thanks again for your donations.
Together WE can make a difference!!
God bless!
Randy Howell
You can be among the first to get the latest info on where to go, what to use and how to use it!
---

Dave Mull of Paw Paw, Mich. has spent his career communicating the outdoors experience and runs Inner Viking Media. He enjoys kayak fishing for anything that swims in the lakes and rivers of the Midwest and beyond, and even uses his MirroCraft, from time to time. Available for seminars.
All author posts
---