A Basic Approach to Ice-Fishing
After a long work week filled with life's pressures, Saturday morning has finally arrived. For the ice-fishing enthusiast, there is nothing better than a day of relaxation on the hard water. Whether a person uses a simple bucket with or without a cushion, hub, portable flip-over shanty, or a full-fledged ice house with the latest amenities, a quality day of enjoyment is on the horizon. The fish are hungry and waiting to provide exciting hooksets, interesting moments, and fresh memories.
Icing fish on a budget
Some budget ice-angling equipment can be borrowed from a family member or fishing buddy. Be prepared for a fish story of how the gear was used to catch a prized fish. Preseason swap meets, ice-fishing shows and local fishing shops normally provide good discounts where deals are plentiful. Don't overlook smaller spinning reels, around the 500 or 1000 size, that might already be in the open-water angler's arsenal. Simply strip the open water line off, lubricate, and place fresh ice-fishing line on the reel. Attach the reel to a light or ultralight ice rod with 2 to 4-pound-test ice line and grab some small tungsten jigs (around 1/64 or 1/32 ounce) tipped with small soft plastics or fresh spikes. With these adjustments, the panfish starter rig is finished.
Then, gather a bucket or a comfortable portable seat to provide a dry place to sit. An ice scoop or, in a pinch, a low-budget flexible cup can work to clear slush out of the hole. The ice provides a temporary place to sit or kneel. Over time, though, it becomes quite cold and hard for long periods. Next, drill a hole with a small hand or powered auger, usually a 4 to 6-inch-diameter model and begin jigging for quality bluegills and crappies.
Fishing, not swimming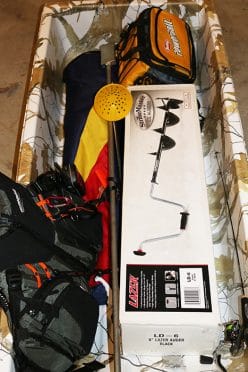 Safety is of course one of the key components of a successful ice season. Simply providing a friend or family member with information on where you are going to fish and the estimated time of return is imperative. If possible, invite buddies or relatives to participate in the hard-water fishing adventure. A lifejacket, floating waterproof flashlight, ice boot cleats, ice safety picks, spud, rope, toe/hand warmers, bucket, sled, cell phone, vhf radio, and quality outerwear are great gear items to consider before the first hard-water trek. The fishing lifejacket is not limited to assisting with keeping a person afloat. It also provides a very convenient place to store items.
Angler information including name and emergency contact information placed in a waterproof or sealed pouch is a key item that easily folds up into a lifejacket compartment. Tools, cell phone, vhf radio, small tackle-storage boxes, and quality reflective floating rope are great choices to fill the pockets of this type of vest.
Sit and store
Five-gallon buckets provide adequate storage for ice anglers who travel with a small auger, a couple of rods and a minimal amount of tackle. When more storage is required, an ice sled is a great piece of equipment that allows for a hard-water angler's bulky gear to be placed in one spot. Generally, these ice-venturing containers are thicker than traditional snow sleds. Sacrificial runners can be attached. Snowmobiles or Utility Task Vehicles (UTV) can pull without damaging the plastic with a hitch when weight capacities exceed traditional snow sleds. Plus, the weight of the gear can be dispersed throughout the container, allowing for better weight dispersion. For exercise and thinner ice situations, gear can easily be transported by one person pulling a rope harnessed to the sled. An ice-fishing sled provides tackle to be organized and stored in one place while adding protection. This allows for ice tackle to stay in good shape during bumpy transport operations.
Huddling around an ice-fishing hole with old friends, relatives, and fellow anglers on a frozen lake retrieving interesting fish provides for great, lasting memories. This ice season, trek safely and enjoy capturing quality species of fish. Whether you are a seasoned ice angler or this year will be your first time, the initial strike of the season is always exciting. Your wonderful ice-fishing adventure awaits and the fish are ready for tasty morsels.
You can be among the first to get the latest info on where to go, what to use and how to use it!