A Fly-in Adventure Filled with Variety
Being able to return to Canada last summer was an incredible blessing after a couple of years of Covid restrictions! Our neighbors to the north offer some of the most fabulous fishing anywhere, and annual trips to fishing hotspots in Saskatchewan, Manitoba and especially Ontario always are high on my list each year. The adventure of being on the road with friends and family, exploring new destinations, and returning to favorite old haunts is a treat, and the experiences last year were more tightly embraced after being absent for a couple of previous summer seasons.
A return fly-in trip to Slippery Wilds Wilderness Lodge in Ontario last June was among the season's top highlights. I've been filming MWO TV shows here since the 1990s, and this lodge offers a somewhat unique experience compared to many others. It's not so much that the individual aspects are unique, but rather that so many different experiences are bundled into one fishing adventure that makes the trip so rewarding.
Fantastic walleye fishing is a huge draw to visiting Ontario. Remote lakes offering catches of 100-plus walleyes per person per day can be found at lodges and outposts throughout the province. The thrill of nonstop action is a primary reason to invest in these trips. Of course, trophy potential as well adds to the allure, and for me, so is the fact that these fish bite so aggressively on so many different presentations.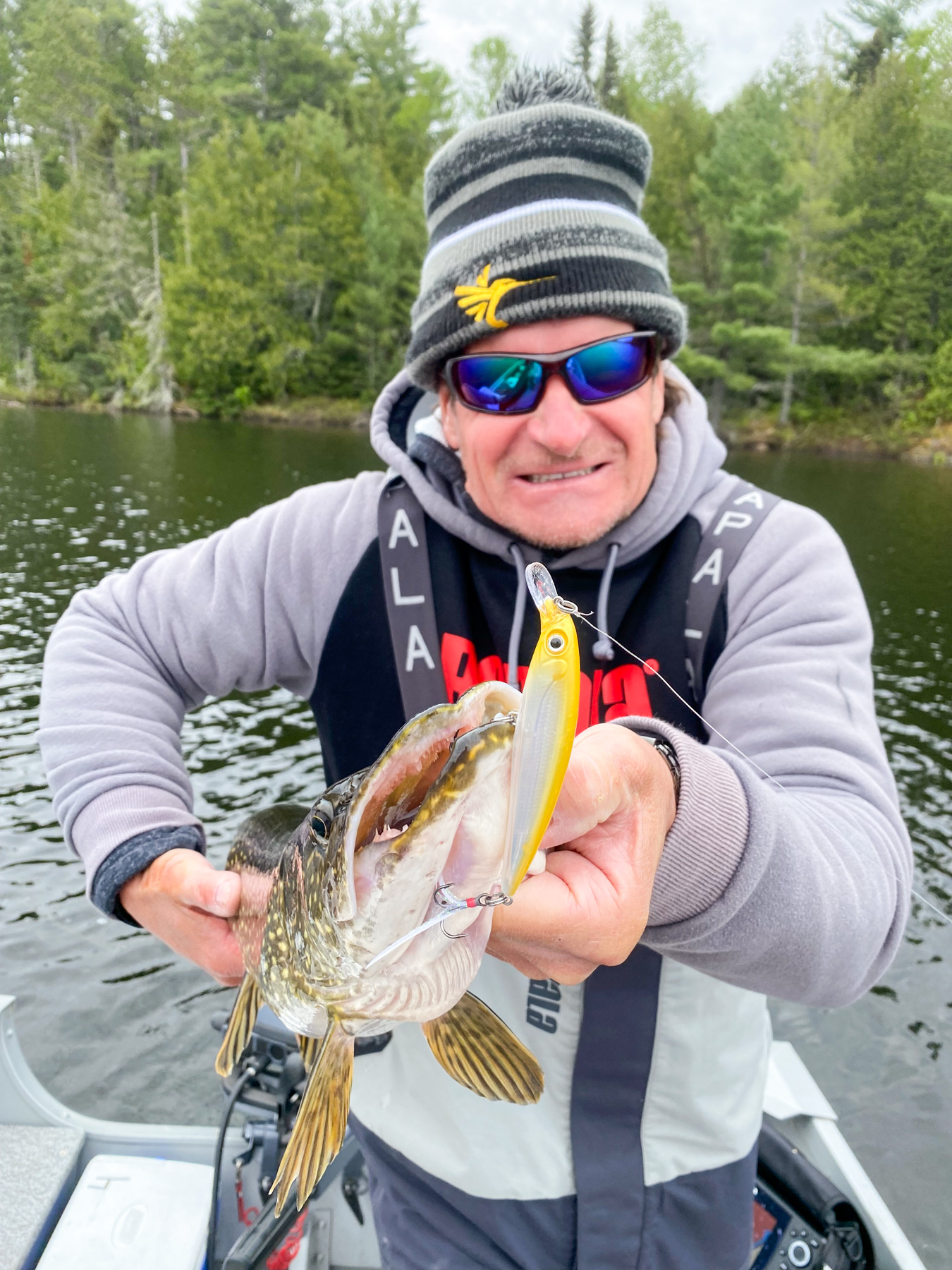 It was at Slippery Winds six ago when Storm's 360GT Searchbait cut its teeth as a huge confidence lure for me. It was a newly introduced product, and I watched the 3.5-inch size out-fish a jig and minnow combo cast after cast after cast with my fishing companion. Then, casting the bigger 5.5-inch profile over the tops and around the sides of shallow rockpiles in the evenings produced numbers of huge walleyes that absolutely choked the lure they wanted it so bad. Yoke Lake, the body of water where Slippery Winds is nestled in, is well-known as a big walleye fishery. The average fish run 22 to 26 inches and are numerous throughout the system.
Big walleyes are one thing, but another big draw to fishing in Ontario is variety in fishing. Whether your flavors of the week are walleyes, bass, pike, muskies or lake trout, fisheries across Ontario offer shots at each, and trophy potential for all of them. Smallmouth bass, easily one of my favorite freshwater species to catch, are a top species in Ontario lakes in lower latitudes nearer the U. S. border, but along with largemouths they start to thin out as your travel further north. Slippery Winds is located only 30 miles from the Minnesota/Ontario border, not only a convenient drive followed by a short float plane flight out of Fort Frances, Ontario, but also far enough south to remain prime bass habitat. Both species are numerous here, with lots of 18-inch-plus smallies, although the largemouth bass are more of a numbers game as and range 1 to 3 pounds for the most part.
The best fishing anywhere for muskies is in Ontario. Lake of the Woods on the Canadian side, with its endless expanse of 14,000 islands and countless miles of awesome muskie structure, is a legitimate mecca. Many other lakes, however, offer fishing that can be just as good, just as productive and just as record-setting. Some big muskies roam Yoke Lake, with specimens over 50 inches caught and released every year. Along with the lake trout in this body of water (more of a numbers game, but with potential for fish in the 20-pound class), and of course northern pike, you have true variety in fishing at Slippery Winds, being able to target six different gamefish species at one location.
Are you enjoying this post?
You can be among the first to get the latest info on where to go, what to use and how to use it!
The experience gets more varied when you factor in five other lakes that are connected to the main fishery via short portage hikes through the woods. The resort places boat caches with motors and gas at each lake. The adventure of fishing in Canada, exploring remote waters, and booking trips with fly-in operators throughout the province who drop you on your own lake with its own cabin for the week, is what the best Canada fishing memories are made of.
At Slippery Winds, you can enjoy your own lake for a day by portaging into any of these five other lakes. Many guests choose to fish one lake on each day of their stay. And while not all six species are available on all the lakes, you can pick your favorites. On my trips to Slippery, it's always been a highlight to portage into either Crossroute Lake or Bluffpoint Lake to catch (literally) a hundred bass and dozens of lake trout in a day's fishing. This variety in fishing is hard to beat!
No matter what destination you choose in Ontario, the tackle selection runs the gamut of popular presentations, and you can really fish with your favorites and enjoy good success.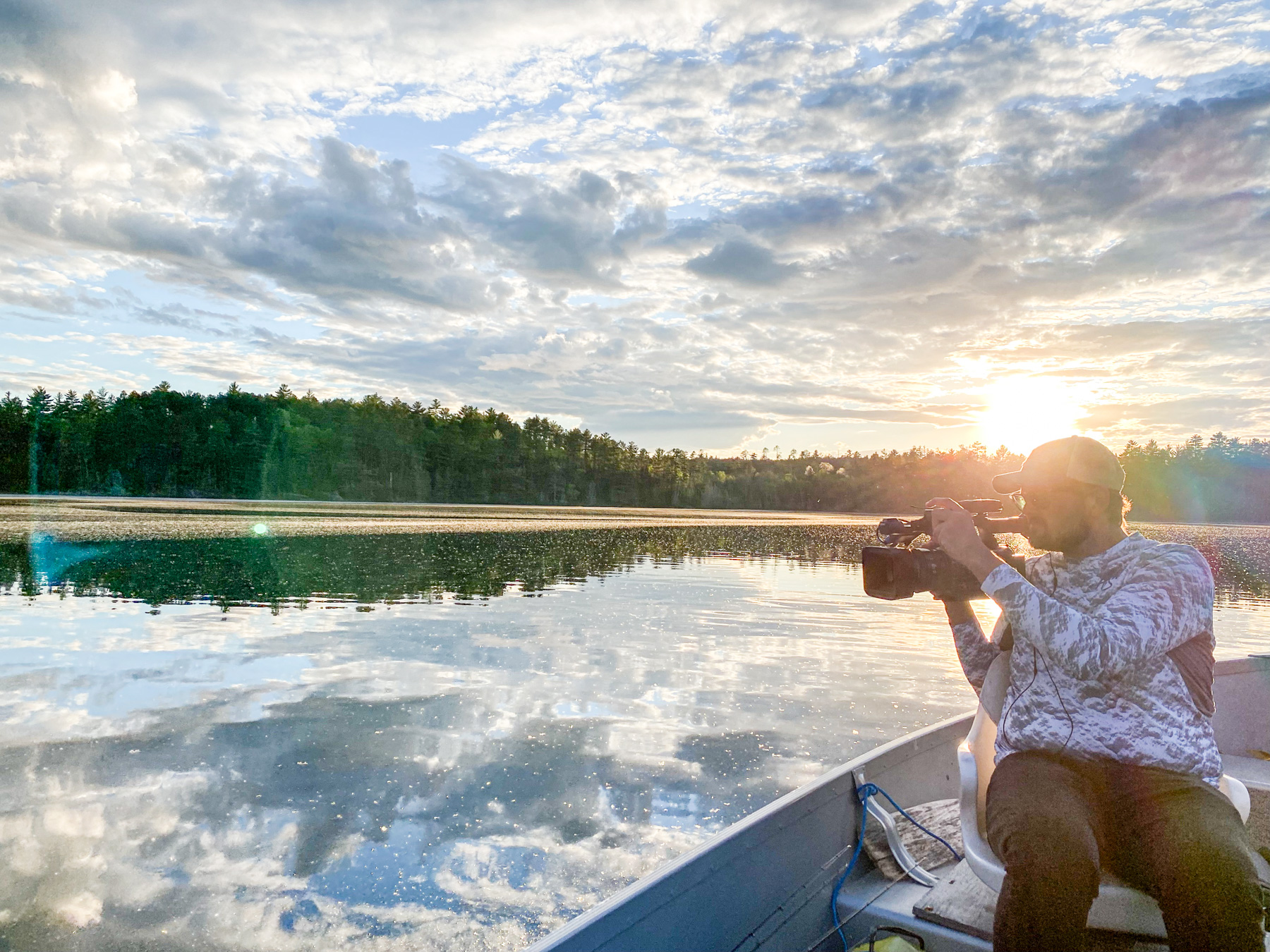 When I'm targeting Canadian walleyes, I'm relying less and less on live bait and really focusing on catching fish on artificial presentations. A healthy supply of #7 and #9 Jigging Rapalas, 3- to 4-inch paddletails rigged on swimbait jigheads, bulky hair jigs like VMC's Moontail, and lots of diving crankbaits and jerkbaits round out the walleye arsenal.
For Canadian bass (largemouths and smallmouths), it's even more swimbaits, plus a handful of 1/2- and 3/4-ounce spinnerbaits, bags of soft plastic worms and creature baits, 4/0 and 5/0 worm and wide gap hooks, shaky heads and a variety of other jigheads, black and brown hair jigs, plus an arsenal of crankbaits, jerkbaits and topwater lures.
For muskies and pike, it's big bucktails and crankbaits, 6- to 10-inch swimbaits, and big topwaters.
Depending on where you're fishing for lake trout, you might need some 1- to 2-ounce white or UV jigs rigged with big white tube jigs or twister tails, big vertical-jigging spoons or deep-diving crankbaits. At Slippery Winds, we often catch lake trout trolling Deep Husky Jerks over the open basin areas.
No matter where you venture in Ontario, fantastic fishing awaits you. And now, with Covid restrictions ended, everybody can travel to Canada to go fishing. Isn't that awesome! I am so excited for this summer's trips north of the border!
You can be among the first to get the latest info on where to go, what to use and how to use it!